History of Pirate Radio
In the 1980s, pirate radio stations in London broadcasted from tower tops with a discreet and creative attitude

September 20, 2023 at 12:00 AM PT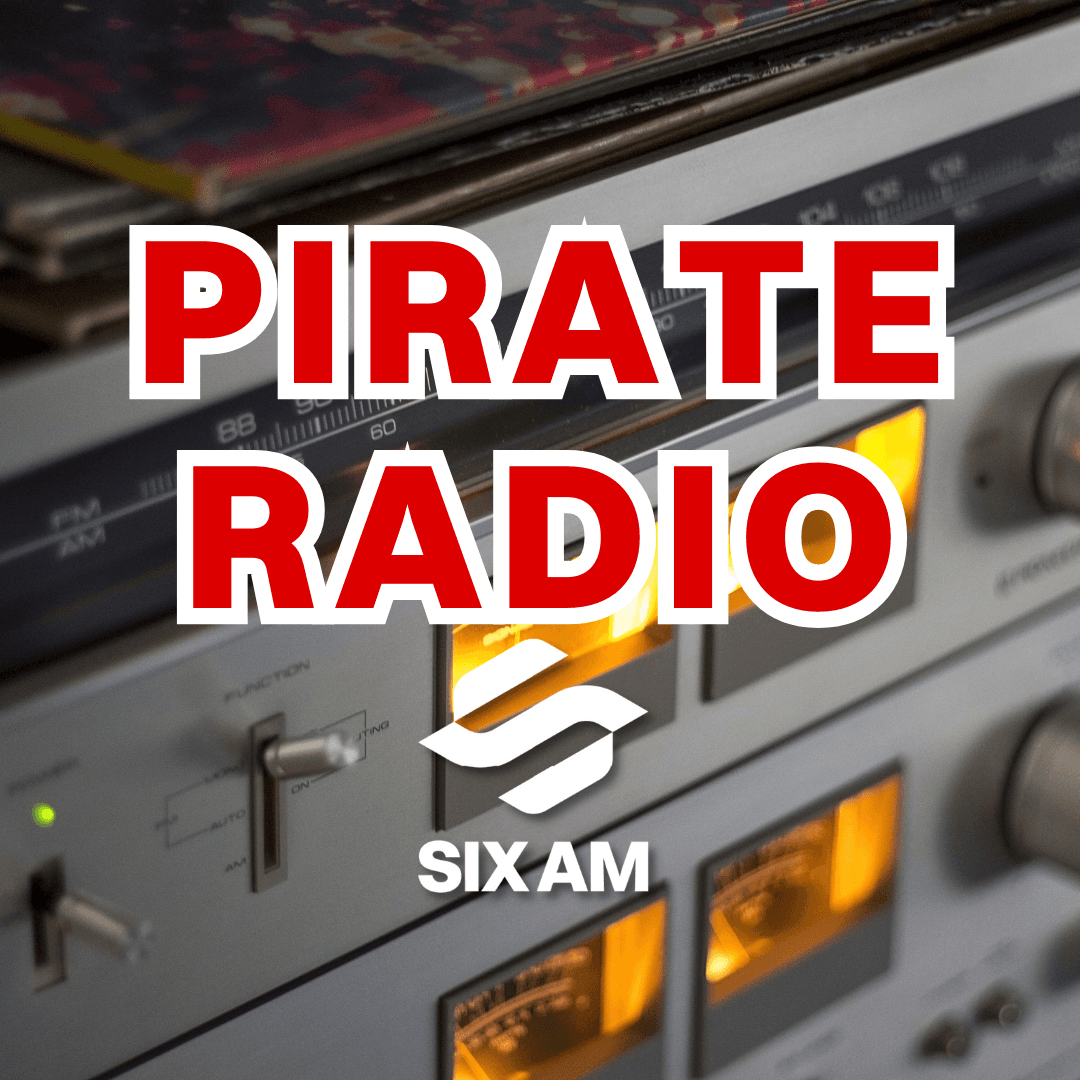 In the 1980s, pirate radio stations in London broadcasted from tower tops with a discreet and creative attitude, learned from the first stations of the 1960s.
The Beginning
UK pirate radio stations operated outside of the UK's two-mile radius on ships and old war towers, taking advantage of a legal loophole. They were a major influence on millions of people, introducing them to new music that was not being played on commercial radio at the time.
Watch Now: The Last Pirates - Britains Rebel DJ's -- BBC Pirate Radio Documentary
Radio Caroline was the first pirate radio station, and it introduced the UK to the music of the British Invasion. The station's first broadcast on Easter 1964 featured the song "Not Fade Away" by The Rolling Stones.
By 1967, there were ten pirate radio stations operating in the UK, with a combined audience of 15 million. However, the Marine Offenses Act was passed in that year, making it illegal for UK citizens to operate pirate radio stations. Radio Caroline was forced to close down, but it later won the licensing lottery and resumed broadcasting as a commercial station.
Watch Now: History Of DJ – Part 6 – Pirate Radio (Part 1 – Pirate Ships)
The BBC created BBC1 Radio in September 1967 in an attempt to compete with the pirate radio stations. However, the station failed to live up to expectations, as it continued to broadcast mainly sunshine pop, classical music, and easy listening. It did not play heavier rock music or soul music by black artists.
The pirate radio stations had a significant impact on the UK music scene, and they helped to introduce new genres of music to a wider audience. They also played an important role in the British Invasion, as they helped to promote the music of British bands to a global audience.
While the UK was facing a wave of racial discrimination and hate crimes, commercial radio stations ignored the soul and Motown music of the United States. This changed when former Caroline broadcaster Tony Blackburn joined BBC1 and became a champion for black music on commercial radio. It seemed that pirate radio was now obsolete.
Watch Now: History Of DJ – Part 8 – The Pirate Forts
However, pirate radio stations like Radio Invicta had already been playing soul music for years. They were inspired by the socio-political events of the time, such as the Civil Rights Movement and the assassination of Martin Luther King Jr., and they saw soul music as a way to reflect the experiences of black people.
Radio Invicta was the first pirate radio station to broadcast soul music in the UK. They started out broadcasting from Tony Johns' bedroom, but they eventually moved to a tower block where they could reach a wider audience. They were known for their eclectic mix of soul, funk, and disco, and they helped to introduce these genres to a new generation of listeners.
The success of Radio Invicta and other pirate radio stations eventually forced commercial radio to take notice. In 1967, the BBC launched BBC1 Radio, which played a wider variety of music, including soul. This marked the beginning of the end for pirate radio, but their legacy lives on. They helped to break down barriers and introduce new genres of music to a wider audience.
The government caught on to these stations and there were frequent raids, but stations used the method of hiding transmitters in biscuit boxes. The legal loophole allowed broadcasters to keep their frequencies.
Pirate radio was flowing. Invicta had competition including JFM and Dread Broadcasting Corporation, London's first black-owned pirate station playing reggae, rock, African music, soul, and funk. In addition to exposing new sounds, DBC broke barriers in terms of black representation and had a listenership of 60,000.
Watch Now: UK Pirate Radio Documentary – Making Waves

The '80s
Those stations lasted till 1984 when the Telecommunications Act went into effect. The act allowed authorities to raid pirate stations and confiscate equipment without a court order if suspected of illegal radio broadcasting and it was $1300 fine if a station was caught and many of them shut down thereafter. New stations such as Solar Radio established themselves as Soul Pirate Radio until the government made a false promise to offer community radio licensing applications if stations went off the air. Other stations like JFM radio ended in 1985 due to court orders after a final studio raid.
Gordon McNamee—known as Gordon Mac—was a former pirate who entered the club scene as resident DJ for Kisses Nightclub in south London. McNamee played soul, hip-hop, and disco much like the early turntablists in New York, incorporating scratching and beat juggling. McNamee recruited Greek Radio founder George Power, Tosca Jackson (a DJ at Camden's Electric Ballroom), Jonathan More, Matt Black, Norman Jay, and Jay Strongman, to establish KISS FM.
On October 7th, 1985, KISS broadcasted their first 24-hours of soul music. Three days later they had their first raid by the Department of Trade Industry, but it didn't stop them. They began throwing parties at Kisses to promote both KISS FM and the streaks of time they evaded raids.
Inviting fans of the station to party in-person united radio listeners with the ever-growing London scene. KISS held the first acid house party in the UK at Wag Club's KISS night.
UK Rave Scene
Wag Club was once the center of club culture. Opened in 1982, Wag Club showcased various genres and had high-profile club-goers from Prince to Bowie, mod nights to jazz nights to new wave shows at the peak of the subculture's London scene. It was simply a place for anyone who wanted a place to dance and be themselves. The first hip-hop show in London happened during their opening year and invited New York DJs such as Grand Wizard Theodore and Fab 5 Freddy to perform. This was a breakthrough moment in both the club and DJ world.
KISS DJ Colin Faver was known for his knowledge of the underground club scene. He had worked as a concert promoter in the late 1970s and early 1980s, booking shows for bands like The Birthday Party, Throbbing Gristle, and Bauhaus. He was also one of the first people to discover and DJ acid house music.
Acid house was a new genre of electronic dance music that originated in Chicago in the early 1980s. It was characterized by its fast tempo, repetitive beats, and psychedelic sound. Faver quickly realized the potential of acid house and began playing it on KISS FM. The station quickly became a major source for acid house music, and Faver's mixes helped to popularize the genre in the UK.
KISS FM was also known for its innovative use of live mixing. Unlike other pirate radio stations, KISS FM DJs would mix their tracks live, transitioning fluidly between singles. This gave the station a unique sound that appealed to listeners.
Despite its popularity, the station faced many challenges. The station was constantly under threat of government raids, and its equipment was often stolen by rival stations. The DTI, the government agency responsible for regulating broadcasting, also tried to discredit the station by spreading false rumors about it.
Despite these challenges, they continued to grow. By the end of the 1980s, the station had a listenership of over 500,000. However, it was not until 1990 that the station was able to obtain a legitimate license from the International Broadcasting Authority.
KISS FM's success helped to pave the way for other pirate radio stations to obtain licenses. It also helped to popularize acid house music and other underground genres. The station's legacy continues to this day, and it is considered to be one of the most important pirate radio stations in history.
Conclusion:
Pirate radio played a vital role in the emergence of the rave movement in the UK. Even as illegal parties were shut down by the Pay Party Unit, pirate radio stations continued to broadcast live from raves like the Castlemorton Common Festival. This gave the parties a wider audience and helped to spread the word about the rave scene.
Pirate radio stations also played an important role in promoting new genres of electronic dance music, such as breakbeat and drum and bass. These genres were often ignored by commercial radio, but pirate radio stations gave them a platform to be heard.
By 1991, the rave scene was in full swing, and pirate radio was still playing a major role. Despite the government's efforts to shut them down, pirate radio stations continued to broadcast and promote the rave scene. They helped to change the face of modern music consumption and helped to make electronic dance music a global phenomenon.
While pirate radio is illegal in many countries, it is often tolerated by the authorities. This is because pirate radio can sometimes provide a valuable service to the community. The challenges, pirate radio continues to exist in many countries. It is a way for people to express themselves and to reach a wider audience. It is also a way to challenge the status quo and to promote alternative viewpoints.
The future of pirate radio is uncertain. It is possible that it will continue to exist in some form, but it is also possible that it will eventually be replaced by new technologies, such as internet radio. Only time will tell what the future holds for pirate radio.