Top Electronic Music Acts That Are Perfect for 'The Sphere'
Now that the gargantuan venue has officially been broken in, which electronic music artist should go up?

By Kevin C
October 2, 2023 at 4:26 PM PT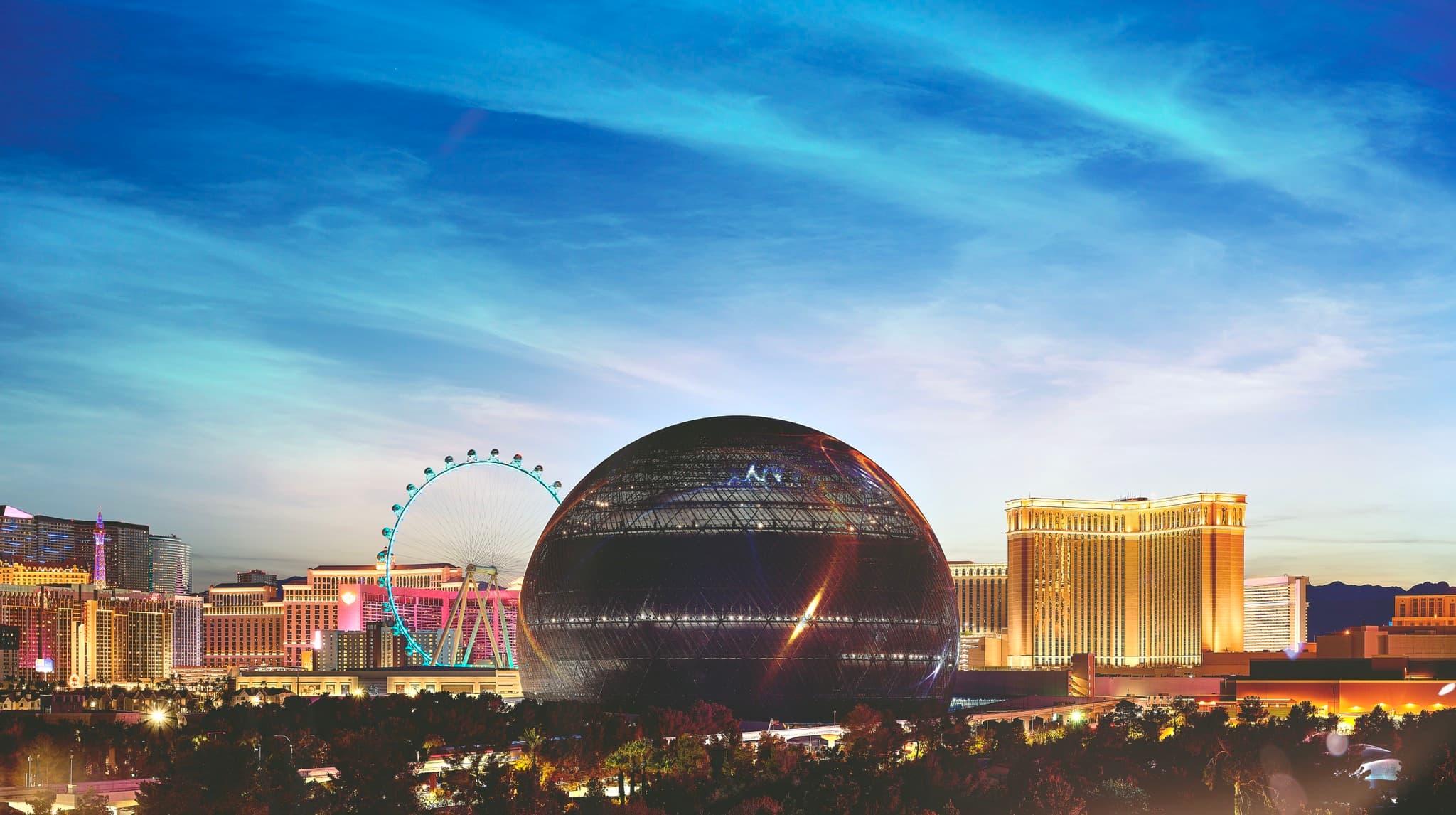 Title image source: https://www.facebook.com/SphereVegas/
In case you locked yourself out of social media for a while, Las Vegas launched the immense Sphere venue. Much of social media was on fire when the globe began it's visual testing during the summer which looked activating the eye of Sauron. The collossal venue features the from the world's largest highest-definition screen made of 580,000 sq feet of LEDs. The Sphere also includes haptic seats and in-auditorium climate-system and a 167,000-speaker array that immerses the audience in sound. This past weekend on Sep 29, 2023 the legendary band U2 christened the sphere with its first live music performance that shook the internet.
Knowing that this is just ripe for an insane visual experience for any artist one can't help but wonder who would be a great dance music act for this venue. But it has to be noted that a venue such as this isn't fitted for any and all artists. The sphere is really only useful for artists that are typically associated with a visual aspect to their performance. So its a good chance it's not going to fit your underground no frills house and techno artist.
As potentially awesome it could be to see some of your favorite hard techno artists such as 9x9 in such a place; let's face it, the vibe wouldn't fit. Warehouse associated artists probably are not too keen on this idea to begin with, so for the underground purists this list isn't for you. Also since (from what we can tell) its mainly theater seating, there's not much room for dancing and feet stomping. Musically the best artists that would fit would probably be those that lend themselves to more slower groove tracks that can be enhanced by enchanting immersive visuals even if the artist themselves don't necessarily have a signature visual performance.
So without further ado here are some of the top electronic music artists that would be perfect for the Sphere.
Eric Prydz / Pryda / Cirez D
Let's start with the most obvious one. Eric Prydz holo is universally infamous for its over the top hi-def visual experience. He also already has his own sphere shaped visual show so just dial that thing up to 11 and you're good to go. Although the theater seating will be a hamper to pound your feet to the drive of his techno alias Cirez D. But at least you can just completely lost in the insane visuals the veteran producer already provides with his music under various aliases.


Deadmau5
Another obvious pick since Deadmau5 is renowned for his elaborate stage setups and impressive visual displays blasting from his signature "Cube". Probably one of the first EDM artists to have a signature visual performance, the Sphere's spherical projection capabilities could take his already mesmerizing shows to a whole new level, creating an immersive experience like never before. Although Deadmau5's music would probably be difficult to just enjoy in the confines of a theatre chair, The Sphere + The Cube... it's like a geometry math teacher's light show heaven.
Kaskade
Kaskade... because we're already here so why not? Kaskade already has a residency in Las Vegas, and is a true icon of the house/edm music scene. Although Kaskade doesnt necessarily have a signature visual experience, performing in the Las Vegas Sphere would allow him to showcase his signature melodic and soulful sound in a visually stunning and immersive setting. Let's face it the "trouse" artist already plays in massive stadiums and uses lightshows full send.
Ben Böhmer
Ben Böhmer's emotive melodies and melodic beats are known for their emotional depth. The Sphere could provide a visually enchanting backdrop that complements his music, creating a captivating experience for fans. Bens music isn't known for stomp inducing thrills, and fits the aformentioned slow groove tracks, so theater sitting space would work just fine. In fact take a look at his Le Cercle performance where you technically don't even need to be touching the ground to go full Bohmer.
Stephan Bodzin
Stephan Bodzin is a force in the melodic techno world, famous for his live performances. Although not associated with massive visuals in his performance one can definitely vibe out to his tracks with an immersive scenic experience.
Gioli & Assia
Gioli & Assia are known for their ethereal and emotional electronica and live performances. Although being another duo not known to have a visual aspect of their performance, it's a given that a live act could definitely be enhanced with this venue as seen with U2. The Las Vegas Sphere's cutting-edge technology could enhance the dreamy atmosphere of their performances, offering fans a mesmerizing audiovisual journey.
Monolink
Monolink's unique blend of electronic and live instrumentation is a perfect match for the Las Vegas Sphere. His live vocals and guitar playing combined with electronic beats could create a one-of-a-kind experience in the Sphere's immersive environment. And once again, as mentioned with Gioli & Assia, live performance acts are made to be in a giant sphere.
Zhu
Zhu is known for his enigmatic persona and hypnotic deep house/techno music. The artist does have signature visuals but the main reason why this longtime mystery act would fit would be his live music performance aspect along with his groove bouncing music that doesn't require too much space to enjoy. The Las Vegas Sphere could serve as the canvas for his unique blend of music and visuals, creating an immersive experience that leaves fans mesmerized.
Tale of Us
Tale of Us has mastered the art of melodic techno, creating immersive and emotive experiences with their music and also having a signature massive visual experience. Tale of Us music also fits the potential minimal dance space available. The Sphere's capabilities could enhance the ethereal and introspective nature of their sets, making it an ideal platform for their sound.
Daft Punk
(if only...)
Obviously the whole music world heard a big cry of pain with the official breakup of the iconic French duo, Daft Punk. But can you imagine if just for one night the two reformed and dawned their signature helmets to blow your mind at the spehere? Music is too energetic and you need more room? Well then just buy two seats. Just shut-up and take our money. Let's make this happen. The Las Vegas Sphere would be the perfect stage for their triumphant return, offering a visually stunning backdrop for their futuristic soundscapes.
The Ultimate Light Show
The Las Vegas Sphere has the potential to become a mecca for electronic music performances since it's probably the biggest LED light show you'll ever see. These artists represent just a fraction of the potential headliners who could grace its stage. Once again for now there are going to be limitations and not all artists will fit with the insane venue. But with its state-of-the-art technology and immersive capabilities, the Sphere promises to elevate live electronic music performances to unprecedented levels, making it a potential ultimate destination for both artists and fans.