40 Best House & Techno Clubs in North America
Traveling to North America and need to get your destination dance on? We got you covered.

By SIX_AM
September 14, 2023 at 10:27 AM PT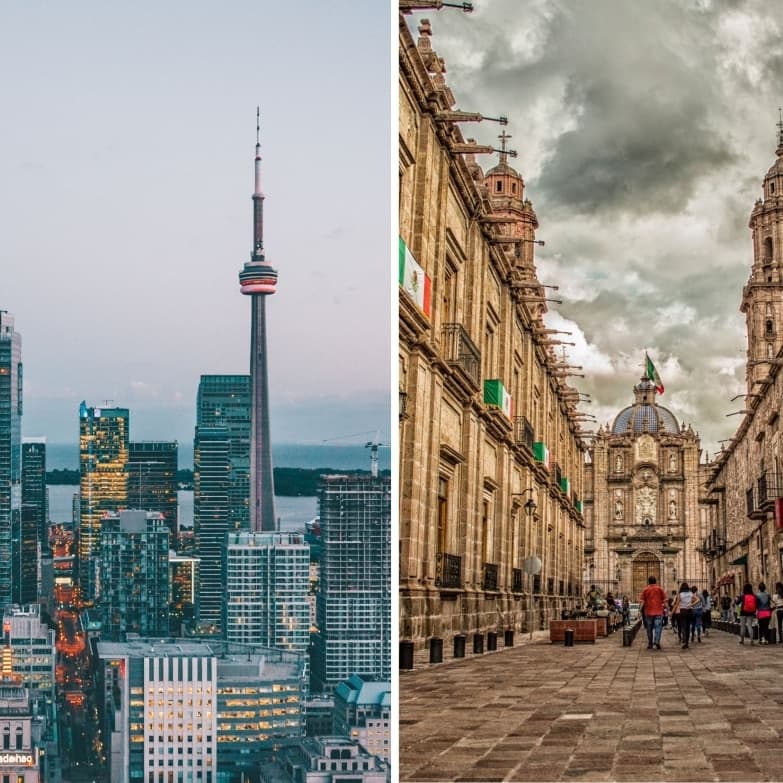 Have you ever wondered where the best house and techno clubs are located worldwide? If yes, consider yourself in luck. In no specific order here are 40 of some of the best clubs for house and techno in North America.
Best in Chicago:
1. Smartbar – Chicago, USA
Chicago's independent nightclub, celebrating 39 years of showcasing the vast and varied offerings of the dance music world, as well as the most cutting edge DJs from around the globe. Smartbar has Located just two blocks from Wrigley Field and steps away from public transportation. The club is the ideal venue for events with the building's historical architecture, friendly staff, and unforgettable environment.
Smartbar
2. Primary Nightclub – Chicago, USA
Chicago's unparalleled intimate club experience features state of the art Meyer sound system, a newly remodeled interior, two full bars, and four VIP booths that face an oversized dancefloor. Primary offers the best DJs that are always spinning the best of House and Techno music. Simply, the club's goal is to bring their listeners the past, present & future of Underground Dance Music.
Primary Nightclub
3. Spybar – Chicago, USA
An underground, yet cozy 4,500 square feet club that is located directly below street level in the heart of the Chicago city's nightlife epicenter. Spybar features minimal and sophisticated decor and mod cluster seating for a table experience that keeps attendees close to the artist and the action.
Spybar
Best in Washington, D.C. :
4. Flash – Washington, D.C., USA
Flash opened its doors in June of 2013 as a collaboration between long-time lovers of music, former DJ's, and music industry vets. Their goal was to present an intimate space where artists can express themselves clearly and fans can hear their favorite artists in an ideal setting. Flash features national and international DJ talents covering a wide spectrum of electronic music, from deep house to techno. Other styles of music are presented numerous nights per week.
Flash
5. U Street Music Hall / 9:30 Club – Washington, D.C., USA
The iconic U Street Music Hall / 9:30 Club started as a DJ-owned and operated basement dance club and live music venue. Its 500-person capacity room featured one of the city's best sound systems, a 1200 square foot cork-cushioned dance floor. Over a decade, U Street Music Hall gained local, national, and international accolades, including Rolling Stone's top 10 dance clubs in America (2013), "Best Place to go Dancing" (Washington Post Express, 2010), "Best Dance Club" (Washington City Paper, 2012), and its sound system designed by ITI Audio was rated the "Second Best Sound System in America" by Beatport in 2012.
U Street Music Hall / 9:30 Club
6. Echostage – Washington, D.C., USA
A spectrum of household names that have graced Echostage's presence has been: Black Coffee, Armin van Buuren, Eric Prydz, and Claude VonStroke. Dripped in state-of-the-art sound and synapse-sizzling visuals, Echostage has been put on the map to be revolutionizing. From booking a range of artists to play both live shows and DJ sets, Echostage is at the level of putting other festivals to shame because of their grandiose production.
Echostage
Best in New York:
7. No Basement – New York, USA
Located underneath the Knockdown center, No Basement creates a liberated environment for everyone. Their goal is to create a space that is focused on music, dancing, and supporting artists that they present. Every night, tickets are limited at the door.
No Basement
8. Schimanski – Brooklyn, USA
An industrial nightclub with DJs playing house & techno music until late hours. This 10,000 square foot, 750 person space has been designed from the ground up to meet the needs of patrons, performers, and event producers alike with top-of-the-line AV systems, modular layout, and full-service amenities. Schimanski has been designed to be the perfect location for parties, art shows, fashion shows, concerts, movie screenings, presentations, weddings, and receptions.
Schimanski
9. TBA Brooklyn – Brooklyn, USA
Founded by veterans of New York's bar, club, and underground party scene, TBA Brooklyn features top-flight electronic music from the best local DJs and promoters with the occasional international artist, all in a relaxed and intimate atmosphere. TBA has 4 beers on tap and numerous craft beers by the bottle as well as custom cocktails and excellent small-batch spirits. TBA also serves empanadas from Empanada Mama. The crowd is a true cross-section of NYC's nightlife culture where discerning and open-minded professionals, artists, hipsters, and foreign nationals enjoy a music and experience-focused scene.
TBA Brooklyn
10. Avant Gardner & The Brooklyn Mirage – Brooklyn, USA
Avant Gardner & The Brooklyn Mirage have can be classified as a venue that always keeps their guests on their toes. The ever-changing venue not only has a track record of having the most aptitude DJs such as: Aphex Twin, Dixon, Disclosure, and RÜFÜS DU SOL, but the venue is also a playground for Cityfox, a New York-based label that also focuses on house and techno.
Now, the venue is focusing on "celebrating community and culture through a diverse calendar" showcasing artists "at the top of their craft" and focusing on figures of "historical importance."
Avant Gardner & The Brooklyn Mirage / Photo Credit: Bryan Kwon & Eric Cunningham
11. Elsewhere – Brooklyn, USA
When you think about underground techno, what comes to mind? If progressive genres come to mind, then this is a club to consider. On the surface, Elsewhere may appear as just a multi-room nightclub, but internally, they express the significance of underground and unbound music of all genres such as rave, old-school house, rock, hip-hop, punk, folk, and everything in between. Elsewhere follows their motto to uplift, diversify, and spread culture through the music and art they showcase.
Elsewhere / Photo Credit: @nietodickens
Best in California:
12. Halcyon – San Francisco, USA
Halcyon is not a stranger to switching up their vibes but creating a safe space in the process. During the early stages of the pandemic, the club hosted their own "Halcyon livestream series" called, "Halcyon Hunnies" where local San Francisco DJs and fitness instructors collaborated weekly. From adding new movers to its lighting rig, upgrading to the Pioneer DJ CDJ-3000s and DJM-V10 mixer, Halcyon intends to stay up to date with all things technological and interpersonal when it comes to their attendees.
Halcyon
13. Public Works – San Francisco, USA
Public Works is a multipurpose space in San Francisco's Mission District, with space for a bar, live music venue and club, art gallery, and workshops. The venue is equipped with hardwood floors, a Funktion-One Soundsystem, and multiple bars, with simple, spare decor to maximize space and allow adaptation to suit all sorts of settings or events. Some highlight acts haved included: Todd Terje (Live), Jeff Mills, Maceo Plex, Robag Wruhme, Acid Pauli, Dixon, Laurent Garnier, Moodyman, Bonobo (DJ set), Lee Burridge, James Murphy, Hot Since 82, Simian Mobile Disco (DJ set), Magda, Claude Von Stroke, Seth Troxler, Danny Tenaglia, Mount Kimbie, Basement Jaxx (DJ set), Four Tet, Questlove, DJ Harvey, John Talabot and more.
Public Works
14. Academy LA – Los Angeles, USA
You can never go wrong with a rooftop veranda; even better, enjoy techno music on a rooftop veranda. Even now in 2022, Academy LA still maintains its vibrancy by providing not only well-known electronic music DJs but also experimental emerging talent as well. As of 2022, Academy LA is still proceeding with Day Trip with the likes of: J.Worra, Chris Lake, Claptone, and many others.
Academy LA / Photo Credit: @stevenGvisual
15. Lot 613 – Los Angeles, USA
LOT 613 is a live entertainment venue and special event facility comprised of a 6,000 SF vintage warehouse and an adjoining 6,000 SF outdoor courtyard encompassing 12,000 total SF.
Awarded "Best Club" by LA Weekly in 2016 and again in 2018, LOT 613 holds a full liquor license, live entertainment, cabaret, and dancehall permits as well as a full catering license.
Lot 613
16. Sound Nightclub – Los Angeles, USA
The Sound nightclub is the bastion of deep house / underground electronic music in LA. It's a small, intimate venue with a one-of-a-kind Pioneer sound system that will rock your socks. The venue has a raw and industrial look with lots of California redwood furniture and walls and offers a fairly spacious dance floor located right in front of the DJ's perch. As suggested in the name, the venue boasts a unique and cutting edge sound system and a killer A/V system, so the visual elements are as stimulating as the unbelievable audio. This is a great place to go in Hollywood that actually books talents who play good deep house and more minimal/artful house rather than your typical top 40 hits and popular house music bangers.
Sound Nightclub
17. Exchange LA – Los Angeles, USA
From being a re-modeled historical building from the 1930s to a four-story venue that accommodates 1,500 guests, Exchange LA doesn't dwindle their flare when it comes to doing it big and memorable. Paying homage to its rich and opulent Art Deco past, Exchange LA intends for its venue to be the landmark for booming art and entertainment. From hosting premier parties, corporate events, fashion shows, film shoots, and charity galas, Exchange LA truly showcases the California dream.
Exchange LA / Photo Credit: @troyacevedo
18. Avalon Hollywood – Los Angeles, USA
If progressive house and trance are your preferred genres, then this is definitely a club to keep on your radar. During the early stages of lockdown from the pandemic, Avalon hosted many live streams with international trance superstars. In 2021, Avalon started off with a bang with Wolfgang Gartner, Hook n Sling, Borgeous, Morgan Page, Julian Jordan, and Thomas Gold, among many others. Now, with Avalon's state-of-the-art sound, lighting, and visuals, the venue is looking at a long and steady position.
Avalon Hollywood
Best in Florida:
19. Do Not Sit On The Furniture – Miami, USA
Do Not Sit on the Furniture, opened by two local DJs, Behrouz and Will Renuart started the concept of a club scene without the bells and whistles of exclusivity and VIP. Coming from their experiences in the music scene out in San Francisco their goal is to do away with the harshness of Miami's club scene. Don't Sit is more about the music and less about the high-profile Miami nightlife. If attendees are looking for a chill place to dress down and not worry about spending a fortune on a bottle of vodka, then Do Not Sit on the Furniture is a great place to venture into.
Do Not Sit On The Furniture
20. Treehouse – Miami, USA
Treehouse is a two-room house and techno joint which hosts the ultimate clubbing institution on Miami Beach. With their kitschy decor and wild clientele, Treehouse creates an atmosphere much like that of an out-of-hand house party. The venue brings all good vibes with the best deep house and techno format in Miami and regularly features Romanian minimal house stars [a:rpia:r] Rhadoo, Raresh, and Prasle as well as selectors like Cassy, Matt Tolfrey, and Scuba. The club has a low-key and casual atmosphere.
Treehouse
21. Club Space – Miami, USA
A one-of-a-kind venue that is considered one of North America's OG superclubs. Club Space has put Downtown Miami on the map from decades of hosting top-shelf artists and maintaining their prolific festivities. With acts such as Gorgon City, Green Velvet, Loco Dice, Nicole Moudaber, Club Space is not the kind of venue that slows down. For Club Space, stagnation is not an option.
Club Space
22. Spin Nightclub – San Diego, USA
Established in 2009, Spin nightclub is a 10,000 square foot, three-level club that prides itself on giving you the ultimate night out. Unlike many other clubs in the area, Spin is open for after-hours as is their kitchen, so if you're hungry until 6am and are fighting with yourself deciding between dancing and eating, you can do both in one stylish spot. While Spin hosts some of the best local DJs, they've also featured some of the biggest names in EDM including David Guetta, Kaskade, Chris Cox, and Paul Oakenfold.
Spin Nightclub
Best in Massachusetts:
23. Middlesex Lounge – Boston, USA
A dynamic lounge with eclectic bites where underground DJs spin dance music. Middlesex Lounge is perfect for that that now only enjoy House and Techno but also appreciate good art. Middlesex Lounge is the place to freely enjoy themselves without judgment.
Middlesex Lounge
24. Bijou – Boston, USA
Boston may be known for its low-key pubs and rowdy sports bars, but Bijou Nightclub proves that there's an audience for posh places too. With neon lights, slick leather couches, and blaring music that's a mix between club, techno, and electronica, it's like being transported to an exclusive NYC or L.A. lounge. There are two areas in the Bijou: Onyx Lounge and Gold Lounge. Onyx Lounge is where you'll find exceptional DJs and patrons dancing the night away. The third level takes VIP to a whole new level, with bottle service and posh tables, and comfortable couches. There are three bars in the Onyx lounge, and plenty of seating at the 19 tables, which offer a variety of views of the dance floor.
Bijou / Photo credit: @dan_mateus
25. The Grand – Boston, USA
The Grand may be a small venue that holds 800 people, but don't underestimate that the venue can pack an unexpected punch due to its impressive roster of booking. Along with an impressive roster, The Grand does well with offering the best of both worlds for their attendees — a performance-worthy platform, but with a cozy undertone from the lounges. With having a 2021 lineup of Steve Aoki, Wax Motif, Vini Vici, Paul Oakenfold, and Hot Since 82, The Grand isn't wasting time from keeping that same energy for 2022.
The Grand / Photo Credit: @finkshotit
26. Re:Set / Phoenix Landing – Boston, USA
Re:Set / Phoenix Landing features weekly Wednesday dance parties that include House, Techno, Disco and more from local and international DJs. The club also has resident DJs such as: Joe Tagessian, Bruno Limma, and DJ Rosé.
Re:Set / Phoenix Landing
Best in Canada:
27. Coda – Toronto, Canada
A PK Audio-equipped dancefloor and speakers that emit powerful and pristine sound, Coda prides its atmosphere in connectivity, unity, self-expression, and community. Throughout the years, owner Joel Smye has honored building up a loyal and dedicated crowd for Coda. With so many amazing artists from Toronto, Coda also celebrates local talent by booking regulars on rotation to play alongside the international headliners, thus igniting Toronto's music scene.
Coda
28. Stereo Montreal – Montreal, Canada
Stereo was established in 1998 and is situated in the heart of Montreal. Its sole purpose is pure dance floor ecstasy. Aural pleasure is what they are about. The music. Not the commercial radio stuff but the real underground, forward-thinking genres. Their goal has always been to throw the best parties through carefully chosen artists, the best in visual presentations and lighting, in a room that creates such thick energy that attendees can almost cut through it with a knife.
Stereo Montreal / Photo credit: @yuliyaskya
29. Beachclub – Montreal, Canada
Summer is always impressionable, and what better way to spend an impressionable summer than at the Beach? Despite only being able to experience this club during fleeting warm months, Beach Club gives non-fleeting experiences to its attendees. Each year, the club devotes and takes advantage of its lakefront beaches. With its sandy, outdoor venue, and euphoric atmosphere, Beach Club gives attendees the outlook that summer is a season that is meant to be spent carefree.
Beachclub
Best in México:
30. 316centro – México City, México
A high-rise apartment located in the downtown area of Mexico City. 316centros is a Sonora Gallery that plays an array of live music. The club has featured past DJs such as: Santiaguz, Viian, Ruiseñor, DJ Invitada, Practice, and many more.
316centro
31. Yu Yu – México City, México
Yu Yu is a Club installed in an intimate basement in the heart of Mexico City, equipped with a Martyn Audio – Backline X. The club is very dedicated to creating an unparalleled atmosphere through a strictly selected musical programming of the best local and international DJs, with diverse proposals united through avant-garde electronic styles. DJs that have been linked with the club have been: Jon Orve, White Visitation, Soos, Tomás Urquieta, and Monopolar.
Yu Yu
32. Fünk Club – México City, México
A basement club located in Mexico City. Fünk Club is known as one of the best underground electro venues with the best along with a great sound system. DJs that have been showcased at this club have been Jon Orve, Sakro, Rafatel, Joss Martin, and Lost Desert.
Fünk Club
33. Bar Americas – Guadalajara, México
Since 2002, Bar Americas has made an impact of growth in Guadalajara when it comes to the electronic scene. For over 5 years, the club has showcased multiple DJs from around the world. Local and international DJs that have made an appearance at Bar Americas have been: Guti, Jahcoozi, Holly Ghost!, The John Maclean, Rebolledo, Sascha Funk, Heidi, Bloody Mary, Michael Mayer, Bruno Pronsato, Matias Aguayo, Camea, Big Bully, Alyssa, Sierra Sam, Alex Smoke, Ryan Crosson, and Fliying Lotus.
Bar Americas
Best Clubs in the Rest of North America:
34. TV Lounge – Detroit, Michigan
TV lounge is a place where everybody knows your name. It's been referenced time and time again as the "Cheers"of Detroit. The staff is renowned for their attentiveness, courtesy, and skill behind the bar and on the floor. Depending on the night, the music ranges from Techno & House to Hip Hop. The lounge is perfect for a quick bite or when you've had one too many. Weeknights offer a more intimate setting whereas weekends typically provide a bustling club atmosphere.
TV Lounge
35. Hot Mass – Pittsburgh, Pennsylvania
Favorably compared to European nightclubs, Hot Mass is a private gay club and event that indirectly grew out of Pittsburgh's LGBT, disco, and electronic music subcultures of the 1970s, 1980s, and 1990s. Resident DJs include: Aaron Clark, Alex Price, bijoux, boo lean, Clark Price, d'Adhemar, Gusto, Jarrett Tebbets, Naeem, and Paul Fleetwood.
Hot Mass
36. Monarch Theatre – Phoenix, Arizona
Sovereigns of heavy bass, deep house, and genuine downtown performance entertainment, the proprietors mutually known as Solstice Management Group expanded the distinct city presence on the Washington Street block through the investment and development of the Monarch Theatre venue. With an aim to provide the valley with jivey breakbeats, classic hip hop, live acts, fashion events, traveling festivals, and more, this venue is dedicated to the cultivation and production of true industry entertainment.
Monarch Theatre / Photo credit: Michael Murphy
37. Club Vinyl – Denver, Colorado
Club Vinyl features four levels of dance floors with rotating styles of music featured on each floor. The rooftop indoor/outdoor patio is great for all seasons with heaters, fire pits, outdoor sound, and spectacular mountain and Denver city skyline views. Vinyl boasts a state-of-the-art Funktion-One sound system on the main floor with LED video design, multiple screens, and a large, open dance space. Each of the floors of Club Vinyl offers a multitude of options for your night out!
Club Vinyl
38. Marquee – Las Vegas, Nevada
Designed as one of the first venues in Las Vegas with the intention to focus on the specific needs of electronic music performances. Since the pandemic throughout 2021, the club added exclusive sections and cabanas to ensure that the experience could be enjoyed safely.
Marquee
39. Q Nightclub – Seattle, Washington
Q Nightclub is a state-of-the-art, 12,500 sq. ft. multilevel lounge and nightclub located in Seattle's vibrant Capitol Hill neighborhood that sets a new standard for excellence by returning to the fundamentals of what makes a nightclub experience great: innovative interior design, groundbreaking sound and lighting, exceptional service, and our twist on specialty drinks and cocktails, including the club's own signature line of infused and flavored vodkas. Q incorporates world-class audio-visual components as part of its overall design, providing the most memorable experience for our patrons possible. These include a sound system by Funktion One from England that's been designed by Sound Investment AV, and state of the art lighting design by Steve Lieberman of the award-winning SJ Lighting in Los Angeles.
Q Nightclub
40. Kremwork – Seattle, Washington
Kremwerk opened its doors in 2014 and has been the hub for the most eclectic and alternative drag programming along with progressive electronic music from around the globe. In 2016, Kremwerk expanded with the addition Timbre Room, which is located upstairs from Kremwerk. Both spaces now offer a stage, DJ booth, and a bar each of which is transformed depending on the party or event. Also at this time, Little Marias Pizza opened next door. A convenience for nightlife goers, this casual pizzeria is punk-inspired and a hangout for regulars of the club as well as for strangers walking by, looking to grab a late-night slice.
Kremwork