City Travel Guide: DETROIT

By SIX_AM
August 30, 2023 at 6:43 AM PT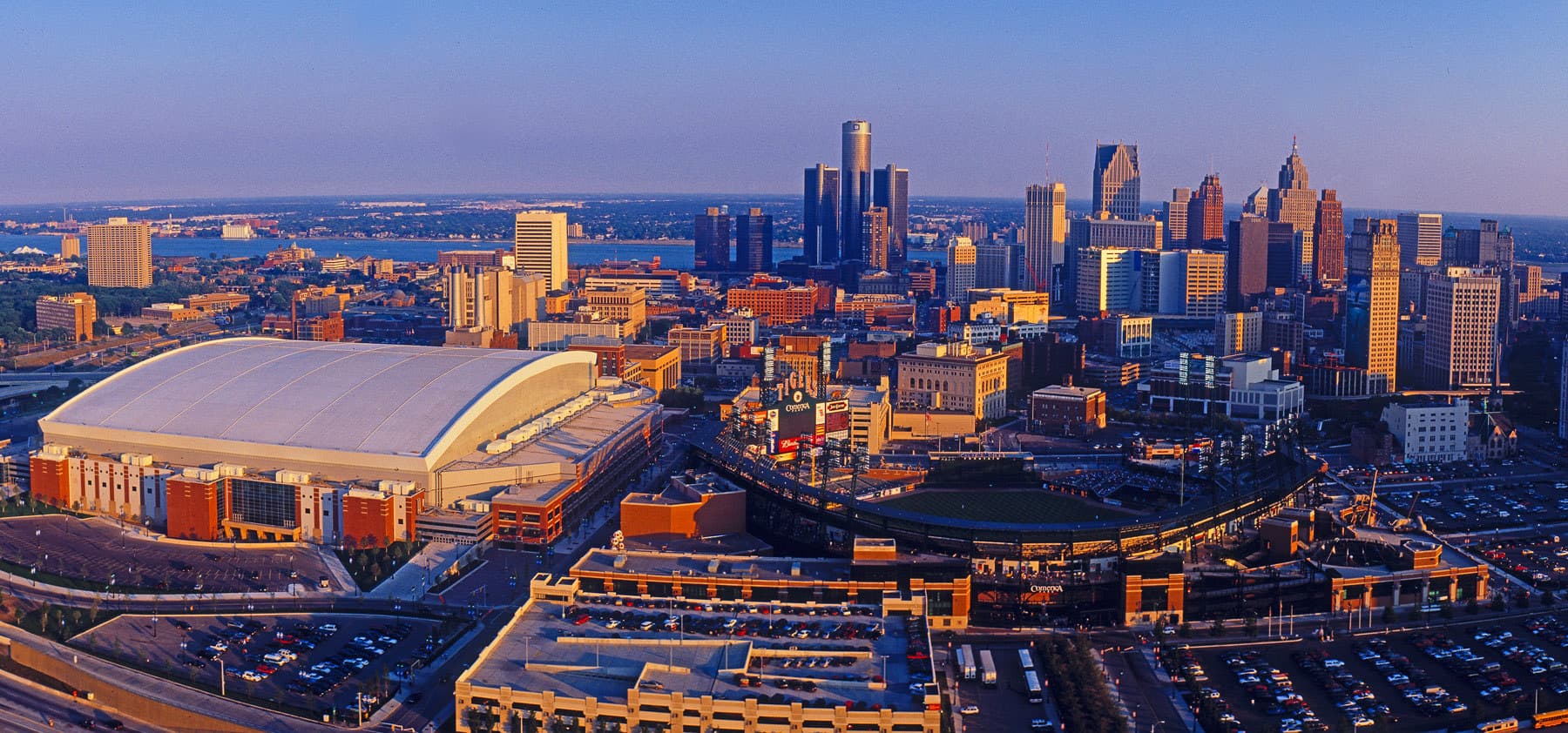 It's likely that if you ever tell someone you're taking a vacation to Detroit, you will be met with a mixture of concern and curiosity. While many don't think of the Motor City as a leisure destination, Detroit holds a special place in America's history and more so in the dance music world as the birthplace of techno and home of Movement Electronic Music Festival – a three-day affair complete with impressive line-ups attracting tens of thousands to the city's Hart Plaza every Memorial Day Weekend. Don't be mistaken in thinking of the city as unsafe or not worth visiting, however, for Detroit is rebuilding and remains a great party and visiting destination throughout the year thanks to its vibrant techno scene, iconic venues and wonderful arts scene.
Throughout this Detroit travel guide you will find everything you need from hotel and food recommendations, transportation tips, things to do away from the music, and of course, a party guide to techno in the Motor City.
GETTING THERE
By plane: The Detroit Metro Airport (DTW) sits in the suburb of Romulus, about 20 minutes drive of the city proper. The airport is a major Delta hub and therefore offers a great range of direct flights from major cities throughout the country and even internationally. Other low-cost airline options include Air Canada, Frontier, JetBlue, Spirit and Southwest.
Once landed, there are three options to reach the city depending on your needs and budget. If you plan to be driving throughout the trip, you can rent a car at the airport – we do not suggest this if you're coming in for Movement as every day and after-party is either a walk or short cab/über drive away. If you're pressed for time you take a taxi with standard fares of about $45-50 to reach downtown. For a cheap $2.00 you can take Route 125 of the SMART (suburban) mass transit bus system that serves DTW approximately every half hour, beginning alternately at the Smith and McNamara terminals (no bus serves both terminals), and takes about 75 min to get downtown. We recommend familiarizing yourself with the route and timetable if you choose this option.
By car: Several interstates converge in downtown Detroit, making driving to the city a popular choice for those coming from any state in the Midwest and as far as the East Coast. Traveling by car from Detroit takes approximately 4 hours via the I-94. If departing from Indianapolis, the shortest trip option will take you about 4 and 1/2 hours via the I-69 and US-24 E. By comparison, if you are coming from New York City, it will take you around 9 hours to reach Detroit via the I-80. This is a good option if you are carpooling and plan to do some driving in Detroit or across to Windsor in Canada – parking lots are fairly inexpensive and there's street parking available too.
By bus:
Greyhound. Popular routes include Chicago (5-8 h), Toronto (5-6 h), Atlanta (via Nashville, Louisville and Cincinnati), Washington D.C. (via Baltimore, Pittsburgh and Cleveland) and New York City (via Newark and Cleveland). The city's terminal is at 1001 Howard St, near downtown
Megabus. 1-877-462-6342 Express bus service to/from Chicago, Ann Arbor and Toledo. Megabus offers double deck coaches with WiFi, restrooms, power outlets and seats starting at $1 – book early! Bus stops are located at and Warren, near Wayne State University and the museum/cultural district, or at the Rosa Parks Transit Center at Cass and Michigan.
By train:
Amtrak remains a viable option depending on your departure point. This is a popular choice for people departing from Chicago, who can take the Wolverine Service (5-6 hours, $25-$50), with many connections also available in the Windy City. Deeply-discounted tickets are often available at Amtrak's Weekly Specials page. If you are traveling from the east, you can use a bus connection from the Toledo Amtrak station, with trains arriving from New York (21 h, $75-$150) and Washington, D.C. (16 hours, $65-$130), The train station is located at 11 W Baltimore Ave.
WHERE TO STAY
As a big city, Detroit offers a wide array of sleeping options that vary depending on budget and location. If you are traveling for Movement or to enjoy the city's nightlife, we suggest staying in the downtown area within a short distance of the festival's home at Hart Plaza. The neighborhoods of Midtown, Corktown and Greektown are all good options and fairly centrally located. When booking ensure you check prices through travel websites (Kayak, Priceline, Trivago, Expedia, etc) as well as the hotels themselves.
Pro Tip: Due to high demand, hotels for Memorial Day Weekend during Movement fill up fast, so we suggest booking as early as November and December. Most hotels accept reservation without payment and give you the opportunity to cancel in advance should you not be able to make it.
Budget:
Airbnb.com: Airbnb can offer a cheap alternative to hotels in the Detroit area, whether you are traveling solo or with a large group. But be careful, ensure you look up the exact neighborhood the property you are choosing is located in by using Google Streetview and other information you can find online.
Hostel Detroit: Located in North Corktown, Hostel Detroit offers beds starting at $30 per night for shared rooms and $45 per night for private rooms. This includes complimentary lockers, laundry and communal kitchens and bathrooms. 4.5/5 rating on Tripadvisor. 2700 Vermon St., Detroit, MI 48216 | (313)-451-0333
Rivertown Inn & Suites: Only a few blocks from Hart Plaza, this pleasant no-frills two-story hotel is cheap and a good choice if you will be spending most of the time exploring the city (or partying) and just need a simple room to crash in. Single bed rooms start at $70 per night. 1316 E. Jefferson Ave., Detroit, MI 48207 | (313) 568-3000.
Mid-Range:
Double Tree by Hilton Downtown Detroit: With two double rooms starting at $119 per night, this mid-range option sits only a 20 minute walk from Hart Plaza and provides spacious rooms with the Hilton stamp of approval. 525 West Lafayette Blvd., Detroit, MI 48226 | (313)-963-5600
Greektown Casino-Hotel: Set in the vibrant neighborhood of Greektown, this Hotel and Casino offers rooms starting at a modest $139 per night. The news have a modern feel with 42″ TVs, walk-in showers and free hi-speed internet. 555 E. Lafayette Ave., Detroit, MI 48226 | (313)-223-2999
Courtyard by Marriott Detroit Downtown: King bed rooms with a pull-out couch begin at around $150 per night, giving you the option of sleeping in the luxury of a Marriott hotel for relatively cheap. Hotel amenities include swimming pool, sauna and gym. The property is connected by skyway to the Renaissance Center and the People Mover (see "Getting Around" section below) links the hotel to the rest of Downtown. 333 E. Jefferson Ave., Detroit, MI, 48226 | (313)-222–7700
High-end:
Detroit Marriott at the Renaissance Center: This iconic hotel soars 70 floors above the Detroit River and is situated on the RiverWalk, next door to Hart Plaza. The hotel partners ups yearly with Movement's promoters to provide rooms for attendees. The property recently underwent a $30M renovation project with modern rooms providing expansive views of Canada, the Detroit River and the city's Skyline. Connected suites in the higher-up floors are recommended for groups looking to spend a little more – the view alone will be worth it. Two double rooms with city views start at $239 per night. Renaissance Center, 400 Renaissance Drive Detroit, MI 48243 | (313)-568-8000
MotorCity Casino Hotel: A recognizable feature in the city's skyline, the MotorCity provides award-winning dining, spa services and luxury rooms. King rooms start at only $179, a fair price considering all the amenities provides. Be aware, however, that it is situate a 35 minute walk and 5 minute drive from Hart Plaza. 2901 Grand River Avenue, Detroit, MI 48201 | (866) 782-9622
MGM Grand Detroit: This award-winning hotel and casino is only a 20 minute walk from Hart Plaza and mixes fun with luxury thanks to its pool, spa and entertainment options. King rooms begin at $250 per night. 1777 3rd Ave, Detroit, MI 48226 | (877) 888-2121
Pro-tip: If you are booking a last-minute trip to Detroit for Movement and rooms seem to be sold out or out of your budget, check for availability in the nearby Dearborn or across the river and into Canada's Windsor. It will require that you drive to downtown but is often a solution for those with limited choices.
GETTING AROUND
By car: Detroit is an extremely drivable city, with plenty of parking options available. This option is recommended if you are planning to explore the city and need to be traveling from location to location several times during the day. Car rentals are available for a reasonable price both at the city's airport and in downtown locations
All major Casino hotels including the aforementioned Greektown, MGM Grand and MotorCity provide free parking lots to visitors . Visitors are welcome to pay to park at the Renaissance Center garage. There are plenty of pay-to-park garages, lots (some only charge $5 per day), and valet near the Greektown/stadium areas.
By taxi/shared rides: There are plenty of taxi and shared ride options in Detroit. Uber and Lyft are both active in the city and offer both a way to call taxis and limos to your exact location as well as a cheap alternative to regular taxis thanks to their uberx program.
If you are using a taxi (without the help of the above apps) always ensure the driver turns the meter on. It's your right to request this and failure to do so may result in the cab driver attempting to charge you more once arrived at your destination. Reportedly, this has happened to several visitors during Movement festival, especially when getting picked up and dropped off at hotels or after-party locations.
By foot: If you are staying downtown, it is likely that you will be traveling by foot for at least part of your visit. The area is full of restaurants, bars and stores that offer basic necessities. And do not worry, despite what you may have heard, the downtown area is in fact both safe and easy to navigate.
By elevated rail: The city does not have a elevated/subway network that covers the entire city. In 1987, however, the People Mover was completed: an automated, elevated rail system that runs a three mile loop in the downtown area. A round trip excursion, covering 13 stations, takes approximately 20 min, and offers great views of the city's downtown landmarks. Standard fares are $0.75
WHERE TO EAT
Detroit's culinary scene is on the up and up, the city abounding with emerging eateries and world-renowned locales. The options are bountiful and vary depending on budget and taste. Below are some of our favorites:
Budget:
Lafayette Coney Island: Cash-only, 1970s-style hot dog diner offers a no-frills menu of chili-topped dogs, burgers & fries. A "Coney Island" is a type of restaurant that is popular in the northern United States and especially in Detroit, named after the Coney Island hot dog it serves. Lafayette is the most popular option in town, and with a reason. 118 W Lafayette Blvd, Detroit, MI 48226 | (313) 964-8198
Green Dot Stables: This slider joint with a chill vibe serves bite-sized eats with global flavors & bottled beers. The beauty of the menu is that you can try a little bit of everything, with a lot of options for $2-3 each. If you feel adventurous enough, they offer a "Mystery Meat" slider every week. 2200 W Lafayette Blvd, Detroit, MI 48216 | (313) 962-5588
Bucharest Grill: Centrally located in the heart of downtown, Bucharest Grill delivers cheap yet good quality Middle Eastern grub. The not-so-secret here is the grilled chicken shawarma, dubbed by many as "the best they've ever had" – a must-try! 2040 Park Ave, Detroit, MI 48226 | (313) 965-3111
Mid-Range:
Mudgie's Deli: Voted "Best Deli" six years in a row (2010-2015), this Corktown deli proudly serves only the freshest, highest-quality food, wine, cocktails, mead and 100+ craft beers. Mudgie's serves sandwiches. But that's not all. The deli also offers up some hearty and award-winning neighborhood goodness in the middle of Corktown. It's the kind of a place that people tell you to visit, and that later remind you again, in case you forgot. Salads start at $8 and sandwiches at $9.50. 1300 Porter St., Detroit, MI 48226 | (313) 961-2000
Selden Standard: Located in Midtown and best described as New American small plates, Selden focuses on providing rustic, fun food with a base menu that undergoes seasonal additions. Sandwiches are around $12 and plates vary $12-18 – the restaurant offers a brunch, lunch and dinner menu. 3921 2nd Ave., Detroit, MI 48201 | (313) 438-5055
Slows Bar Bq: This wood-beamed 1880s locale serves some of the best slow cooked meats in town, paired with hearty sides and craft beer. The abundant BBQ menu items to choose from and the menu's reasonable prices make this a popular destination, so be sure to make a reservation ahead of your visit. 2138 Michigan Ave, Detroit, MI 48216 | (313) 962-9828
Dime Store: If you are looking for brunch, this is your spot. They close at 8pm on weekdays and 3pm on weekends, so bear that in mind. But if you visit try one of the Bennys or the Duck Bop Hash, both to die for. 719 Griswold St, Ste 180, Detroit, MI 48226 | (313) 962-9106
Batch Brewing Company: For a taste of Detroit's brewing renaissance a visit to Batch is a sure bet. Communal tables and micro-batch beers encourage conversation. The food is also surprisingly good and puts many other brew pub ventures to shame. 1400 Porter St
Detroit, MI 48216 | (313) 338-8008
High-Range:
Roast: This steakhouse within the Westin Hotel is best known for top-notch meat entrees as well as trendy, but familiar sides. Its owner, Michael Symon, is a James Beard Foundation award-winning chef, an accolade reflected in the food served here. 1128 Washington Blvd, Detroit, MI 48226 | (313) 446-8360
Republic: Priding itself in serving high quality locally sourced food in an old tavern atmosphere, Republic is also known for its extensive liquor selection and unique location within the historic Grand Army of the Republic Building in downtown Detroit. The pastrami-cured duck breast entrée ($27), comes highly recommended, as do the rabbit pot pie ($15) and duck confit salad ($12). 1942 Grand River Ave., Detroit, MI 48226 | (313) 446-8360
Giovanni's Ristorante: It is not surprising that Frank Sinatra once ate at this mom-&-son-run trattoria famous for rustic Italian fare, handmade pastas and gluten-free options. The quality of the food comes with a price, but if you're looking for authentic Italian in Detroit, look no further. 330 Oakwood, Detroit, MI 48217 | (313) 841-0122
Roast: Chef Michael Symon keeps winning prizes and making friends with his Westin Book Cadillac restaurant, and it isn't hard to see why. With some of the best happy hour specials in town, plus a meaty main menu that would make any carnivore drool, this is anything but your average hotel dining room. 1128 Washington Blvd, Detroit, MI 48226 | (313) 841-0122
WEATHER
Detroit sits in the Midwest and as such is prone to unpredictable Continental weather. Winters are snowy and cold with an even colder wind-chill, while summers are hot and muggy and sporadically characterized by thunderstorms. Spring and fall can be pleasant but often cold temperatures can creep in during late fall and persist through early spring.
As Movement occurs at the tail-end of May, weather can be very different from year to year. Weather could be in the mid 70s and sunny throughout or dip to the 50s with rain. It is recommended to check forecasts before traveling for the weekend and coming armed with at least a light jacket, a hoodie and perhaps even a poncho.
WHERE TO PARTY
Detroit is the birth place of techno and as such remains a prime destination to catch underground DJs that either call the city home or make it a point to visit as part of their tours. Although Movement remains the city's biggest yearly music draw, the city's regular nightlife make it a popular draw nonetheless. Venues differ in style and size and while some host events on a weekly basis, others only come alive for special events or during Movement. Below are some crowd favorites:
Movement Electronic Music Festival Detroit: Granted, if you are reading this it's likely you're familiar with Movement and its place in dance music history. Hosted every Memorial Day Weekend in the city's heart of Hart Plaza by Paxahau, the three-day festival provides an eclectic line-up that focuses on underground house and techno but also features a small selection of hip-hop and other genres of dance music. GA three-day passes start at a low $100 with VIP tickets giving attendees access to liquor, designated VIP entrance, VIP hang-out areas and high-quality air-conditioned bathrooms. For seasoned Movement attendees the real draw of the weekend can be in the day or after-parties, so be sure to keep up to date with announcements leading up to the weekend.
TV Lounge: Music ranges from Techno and House to Hip Hop & R&B depending on the night. The venue offers drinks for an average price of $6 as well as a small food menu that is available until late night. A popular venue during Movement weekend, TV Lounge boasts a large outside patio and plays hosts to top-tier names such as Tale of Us, Maceo Plex, Carl Craig and Stacey Pullen just to name a few. The venue definitely comes alive during Movement weekend with some staple events such as Smartbar's BBQ takeover on Friday, Saturday's House of E-Funk by Soul Clap and Sunday night's OK Cool the yearly appointments at the venue. 2548 Grand River Ave., Detroit, MI | (313) 965-4789
The Works: Home of Blank Code's infamous Scene parties, The Works hosts dark and grungy techno across three small but powerful rooms. If no-holds-barred techno is your thing then this is the place for you. This year The Works will feature night parties from Friday to Monday, with outfits such as Detroit's Blank Code, LA's Droid and Dirty Epic providing the nighttime techno, and a first-time day party on Sunday from 7am-3pm taking over all three rooms with techno acts from Los Angeles, Detroit, Chicago, New York City and more! 1846 Michigan Ave., Detroit, MI 48216
Leland City Club: Primarily an industrial/punk venue, Leland City Club comes alive during Movement weekend and one-off events such Richie Hawtin's Detroit gigs. Housed within what used to be a landmark hotel during the city's motor boom, Leland can serve thousands across three main rooms that include a large main hall and a dark basement. This year only one event has been announced at the venue, and it already sold out: Paradigm Presents Dixon b2b Seth Troxler All Night Long – Official Movement Afterparty. Oh… we are giving away two tickets to it though, so it's worth entering our contest! 400 Bagley, Detroit, Michigan, 48226
Old Miami: If you've been to Movement at least once, chances are you have been or have at least heard of Old Miami. Arguably the host of best backyard party in the entire country, Old Miami truly comes alive every Memorial Day for Need I Say More, a party series hosted by Seth Troxler, Lee Curtiss, Ryan Crosson and Shaun Reeves. Celebrating its 11th birthday this year, the party begins at 7:30am and goes well into the evening with acts the caliber of Maya Jane Coles, Tale of Us, Ryan Elliott, Carl Craig and Ben UFO all called in the past to provide the music. There are no presales and it's likely Troxler or one of the Visionquest trio will be taking turns at the door collecting the $10 entrance fee directly from you. Due to its increased popularity and limited space, lines have been as long as 1.5hrs in the last few years. Time your arrival accordingly. 3930 Cass Ave, Detroit, MI 48201 | (313) 831-3830
Tangent Gallery: Tangent Gallery has quick become one of the new favorite venues in the city, especially thanks to its Interdimensional Transmission takeovers during Movement weekend. The event space, which is essentially a blank canvas able to host any type of event, will be taken over the entire weekend by IT, as they specify on their website: "It was true then, and it is true now. What began as a party that extended beyond boundaries in 2007 has found a new home in the Tangent Gallery, and last year it blossomed into its own kind of festival, with the Tresor party on Saturday Night, No Way Back on Sunday, and The Bunker party on Monday. With the additional events not thrown by us, but that we do production for (Eden on Friday and Industry Brunch in the sunlight on Monday), the Tangent became its own special destination that weekend." 715 East Milwaukee Avenue, Detroit, MI 48202 | (313) 873-2955
BEYOND THE PARTY
"Is there more to Detroit than Movement and techno?" you may ask. Of course! Detroit remains a major metropolis with a rich culture and important place in American history. From the advent of the automotive assembly line to the Motown sound, its rich architecture and rock music, Detroit continues to shape both American and global culture. Many of the city's historic buildings have seen renovation, and the city is bustling with new developments and attractions that complement its world class museums and theaters.
Canada, Windsor: Detroit is only separated from Canada by the Detroit River. Crossing is easy through the Detroit-Windsor Tunnel or the Ambassador Bridge but ensure you bring the needed documents to enter Canada and return back to the United States to avoid problems when crossing the border. Visit Windsor's official website for more information on things to see and do across the river. And if you have time to spare, Toronto is only a four-hour drive away.
Casinos: The three major casinos include the MGM Grand, MotorCity and Greektown, as covered in the hotel section above. Check relevant website for performances and other entertainment information.
Comerica Park – Detroit Tigers: This 41,782 capacity open-air ballpark located in Downtown Detroit, serves as the home of the Detroit Tigers of Major League Baseball. The regular season typically begins in early April with playoff teams playing as late as October/November. The ballpark also offers tours from June – September, on Tuesdays and Fridays. 2100 Woodward Ave., Detroit, MI 48201 | (313) 962-4000
Detroit Institute of Arts: Located in Midtown, the Detroit Institute of Arts contains one of the largest and most significant art collections in the United States. With a more than 60,000 works on display, the collection includes works by Titian, Rembrandt, Michelangelo, and Pablo Picasso just to name a few. 5200 Woodward Avenue Detroit, Michigan 48202 | (313) 833-7900
Ford Field – Detroit Lions: Situation in Downtown Detroit, the home of Detroit's NFL team is a multi-purpose indoor stadium that sits 65,000 people. It also hosts the Quick Lane Bowl college football bowl game and was the site of the Super Bowl XL. Tours are available year around. 2000 Brush St, Detroit, MI 48226
Ford Piquette Avenue Plant: This museum and former factory was the second home of Ford Motor Company automobile production and is best known as the birthplace of the Ford Model T. It is the oldest automotive factory building in the world open to the general public. 461 Piquette Ave., Detroit, MI 48202 | (313) 872-8759
Fox Theatre: This performing arts center located in Downtown Detroit was listed on the National Register of Historic Places in 1985 and was designated a National Historic Landmark in 1989. Once a movie theatre, the impressive room now plays host to a variety of shows and major musical concerts including musicals, classical music shows, hip-hop concerts and comedy tours. 2211 Woodward Ave, Detroit, MI 48201
The Heidelberg Project: This outdoor art project in the McDougall-Hunt neighborhood on the city's east side has become a symbol of Detroit's ever-changing urban landscape. Began in 1986, the project recognized around the world as a demonstration of the power of creativity in creating hope and a bright vision for the future. 3600 Heidelberg St, Detroit, MI 48207 | (313) 974-6894
Motown Museum: Also dubbed "Hitsville USA", Motown's first headquarters were purchased by founder Berry Gordy in 1959 and functioned as the record label's administrative building and recording studio . Since 1985 the building has housed the Motown Museum, welcoming tens of thousands each year who travel from all over the country to tour this historic place in music history. 2648 W Grand Blvd, Detroit, MI 48208 | (313) 875-2264
North American International Auto Show: Detroit has hosted an auto show for over a century. Since 1987 the show shifted its focus from strictly regional and became an international destination for the global auto industry. The show takes place every January. COBO Center, 1 Washington Blvd, Detroit, MI 48226
Urban Exploration: Although the city is undergoing a major series of development and restoration projects, there are several major abandoned sites that remain the perfect location for urban exploration. Visiting these abandoned buildings helps to examine and understand the complicated history of the city. Buildings are what is left of the social bonds that tied together people, neighborhoods, and the city. Trespassing is considered illegal but you can still visit the outside of several diverse locations throughout the city.
MORE QUESTIONS?
For more information in planning your trip please visit:
City of Detroit: Official Website
Detroit Metro Convention & Visitors Bureu: Official Website
If you found this article interesting, sign up for our newsletter to learn more and to stay up to date with 6AM's news and features on the world of electronic music.