An Intro to 90s Techno: History, Artists, & Labels

By SIX_AM
April 18, 2022 at 9:00 AM PT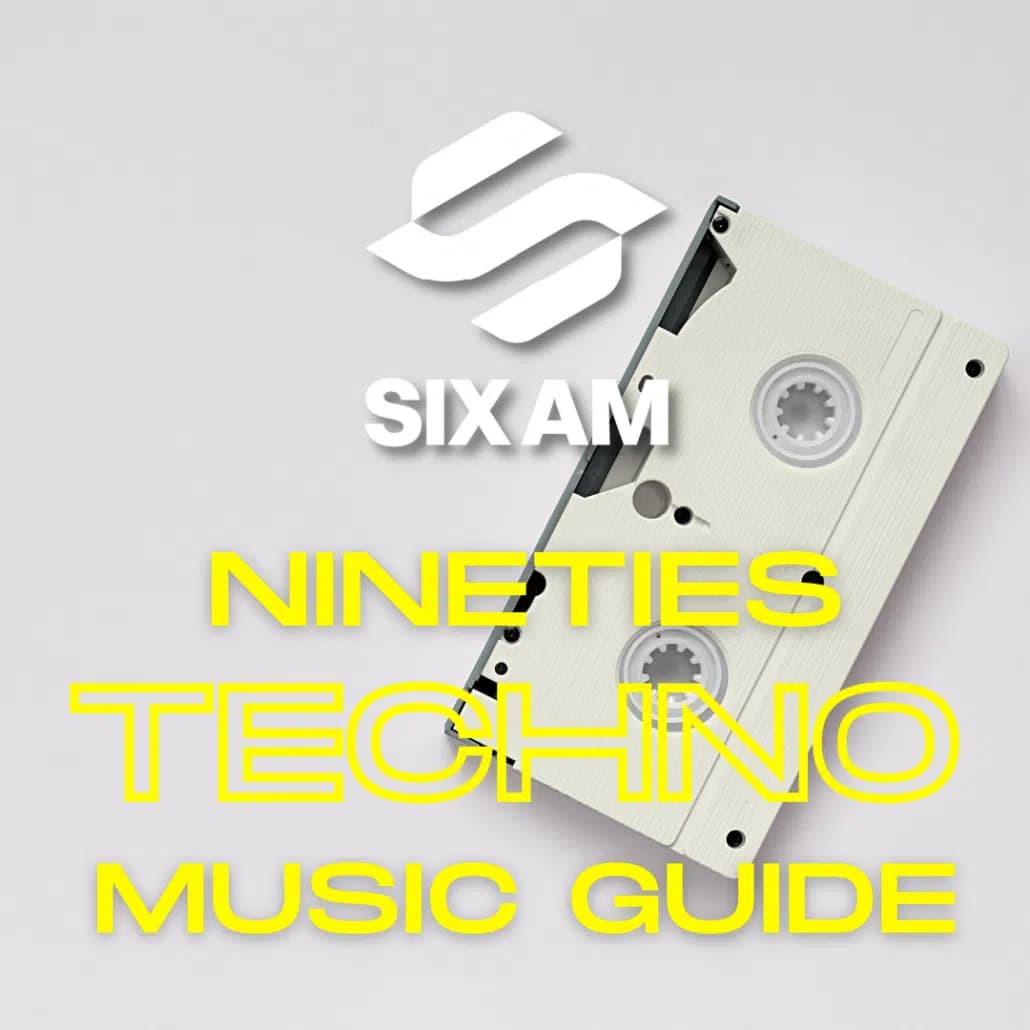 The 90s were a special time in rave history. Though some may describe the period as the glory days of the rave scene, all can agree the 90s laid the foundation for the rise of techno music and its various sub-genres. This is your guide to 90s Techno, covering the history, artists, and labels that have shaped the rave scene we know and love today.
Brief History of Techno in the 90s
Early 90s techno music was influenced by experimental music being crafted in Europe in the late 80s. This sound migrated to North America and soon dominated underground dance parties or "raves." In the United States, raves often took place at illegal and alternative venues like warehouses, sound stages, roller-skating rinks, beaches, deserts, fields and mountains. The 90s rave scene reflected the 60s counterculture movement in many aspects. Whether escaping realities or creating new and better ones, both cultural movements embraced music as means of radical acceptance and community-building.
North American Techno Scene
House music originated in Chicago, and Techno was birthed in Detroit during the early 90s. Techno emerged in response to a bleak urban crisis and economic recession facing Detroiters in the 90s. Techno pioneers invented a new kind of sound, one that challenged the environment that surrounded them and inspired others to redefine themselves. Techno was (and perhaps still is) the sound of resistance.
In New York City, venue owners took advantage of the emerging soundscape. Super clubs in New York City like Twilo, Limelight and the Tunnel fueled the rave culture's expansion into the mainstream. On the other side of the United States, the rave scene found its epicenter in Los Angeles. For example, Electric Daisy Carnival began in 1997 as a warehouse party in Los Angeles. Movie soundtracks, video games, candy raver fashion, rave fliers, and print coverage all popularized Techno and its various offshoots on the West Coast.
European Techno Scene
While the United States fostered pure Techno and an acid house and dance community, the epicenter for Techno in Europe was fast becoming Berlin, Germany. Detroit Techno was imported into Berlin via figures such as "Dimitri" Hegemann, the founder of legendary club Tresor. After East and West Berlin became reunited after the fall of the Berlin Wall in 1989, the city became one large and adventurous playground. For Berliners, Techno was the sound of new beginnings.
It was during the 90s that Techno proliferated and evolved to such a degree that it had birthed countless other sub-genres. For instance, the Netherlands created gabber, while Goa, India became the spiritual epicenter of trance music. In the United Kingdom, "intelligent dance music" or IDM was being pioneered by figures such as Aphex Twin.
90s Techno Artists
The artists and DJs of the 90s Techno scene are considered today's legends. Think Juan Atkins, Jeff Mills, Carl Cox, Robert Hood, Monika Kruse, and Sven Väth. Although there are many others, here's a few names that'll get you started down the rabbit hole.
Plastikman
Plastikman is the alias of Richie Hawtin. As the 90s dawned, Plastikman helmed some of the most intense, mind-bending parties underground electronic music has ever known. They took place in and around Detroit, as well as Hawtin's home town of Windsor, Ontario. The parties were based on those Hawtin experienced as a teenager at Detroit's legendary Music Institute; a black sweatbox of a room, a single strobe light, and the phattest sound system.
K-Hand
K-Hand, aka Kelli Hand, was one of few female Techno artists of the 90s. In 2017, K-Hand was officially recognized as "The First Lady of Detroit." She was awarded the city's Testimonial Resolution certificate which mentioned her notable "skills within a male-dominated industry."
Basic Channel
Basic Channel consisted of German techno artists Moritz von Oswald andMark Ernestus. The pair reduced Techno to to its basic elements and melded it with reggae production techniques. The free flow of static textures, echo chambers, swirling dub clouds, and bass drums eventually characterized an entirely new genre: dub techno.
90s Techno Songs
It's difficult to choose the best 90s Techno songs or ones that were the most popular 90s Techno songs. There are many, many tracks that could be included on those lists. Here's a few 90s Techno songs that characterized the sound of the time.
3 Phase feat. Dr. Motte "Der Klang der Familie"
Dr. Motte organized the first acid house parties in Berlin. Most notably, he was the inventor and founder of the Loveparade there, too. Dr. Motte's "Der Klang Der Familie" on Tresor Records became one of the most important German releases because it helped leverage Berlin's electronic music to international success.
"Go" is a single by American Techno artist Moby. "Go" was the B-side to Moby's debut single "Mobility in 1990 on Instict Records. The track put Moby on the map, and to this day remains a timeless dance floor staple.
DJ Rolando "Jaguar"
"Jaguar" was released on Detroit's Underground Resistance in 1999. The debut came from The Aztec Mystic, better known today as DJ Rolando. After the track was released, it hypnotized the world.
Conclusion
The 90s were an exceptional time for Techno music. In less than ten years, Techno had been invented, distributed around the world, and developed into numerous other sub-genres. For these reasons as well as others, 90s Techno should have a special place in every raver's heart.