The 10 Best Classic House Music Songs

By SIX_AM
June 29, 2022 at 4:13 AM PT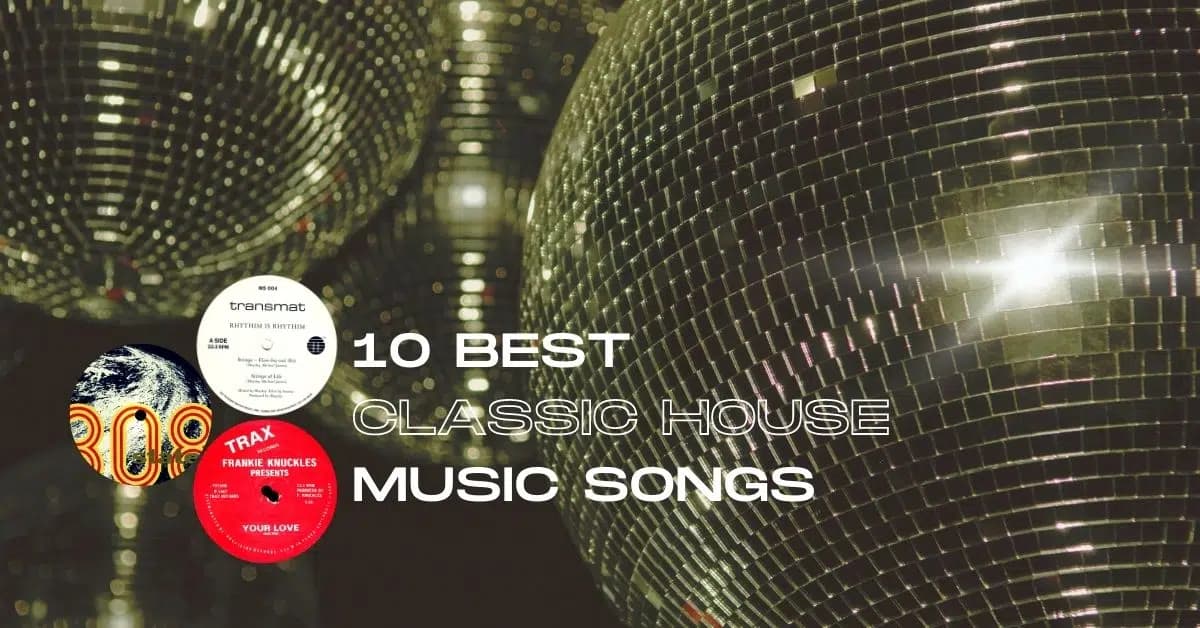 Thanks to folks in Chi-City and globally renowned DJs like Honey Dijon and Black Coffee, we've all come to know and love the vibrant and innovative genre of house music. For better or worse, house music has also invaded the mainstream. That began awhile ago. During the early nineties, pop stars such as Madonna and Janet Jackson were integrating house music elements into their sound. Nowadays Drake is even releasing house music. His new album just broke Apple Music's first-day streaming record. While it's an exciting time for the genre, it's also important to remember perspective. We wouldn't have house music if not for its roots. Here is our non-exhaustive list of the 10 best classic house music songs from the genre's founding artists.
What Makes A Classic House Music Track?
Classic house music is derived from Chicago's underground dance club culture in the early eighties. When artists began experimenting with disco dance tracks, adding 4/4 beats and heavier basslines, the world listened. Since then, house music has incorporated aspects of funk, soul, afro-latin beats and much more. What makes a classic house music track? Time. Good music never grows old.
The 10 Best Classic House Music Songs
808 State "Pacific State"
When The Independent reviewed a live concert by 808 State in 1997, it described "Pacific State" as "the song that made a nation chill out. Mellow but insistent beats, a light garnishing of wildlife noises, and a soprano sax threading through it like a viper in the Eden undergrowth. It was the aural equivalent of throwing a party inside a giant flotation tank. That was 808 State." Listen for yourself, you can't help but bop to the bouncy rhythm like a cute little boat.
Frankie Knuckles "Your Love"
The first version of "Your Love" derives from a 1984 demo by Chicago producer Jamie Principle. Principle's poem that he wrote for his then-girlfriend became the lyrics of the song. Frankie Knuckles plucked the house music classic and played it regularly at his The Power Plant Chicago dance club. The song is perfect, both for wooing love interests, and wooing the dance floor.
Alison Limerick "Where Love Lives"
Alison Limerick's "Where Love Lives" was a massive club hit in the early nineties. In fact, it was also voted Dance Track of 1991 by Billboard magazine. The song is memorable for the funked-up piano intro, upbeat and optimistic vibes. It's now widely regarded as one of the biggest club anthems of all-time, having been remixed and re-released several times by other notable house music artists.
Rhythim is Rhythim "Strings of Life"
"Strings of Life" is based on a piano sequence by Derrick May's friend Michael James. James's piano piece was saved in May's sequencer and was kept there until May decided to listen to it in entirety. May chose portions that interested him, and he began to work his magic. Originally the song was at 80 BPM before May increased the tempo, chopped it up into loops, and added percussion and string samples. Voilà, May had made one of house music's most enduring classic tracks.
The Housemaster Boyz and Rude Boy of the House "House Nation"
"House Nation" continues to be an anthem. The lyrics repeatedly call for "house nation," inspiring crowds of yesterday, today, and tomorrow to be united under the wonderful umbrella that is house music.
Armand Van Helden "You Don't Know Me"
"You Don't Know Me" is an eclectic classic house music track. It features vocals from German-American singer Duane Harden. The strings featured in this song are courtesy of Carrie Lucas's "Dance with You", also used in Phats and Small's "Music for Pushchairs". The drums are sampled from Jaydee's "Plastic Dreams". Interestingly enough, the full version of the track features a dialogue from the Dial M for Monkey segment of Cartoon Network's Dexter's Laboratory.
Pete Heller's Big Love "Big Love"
Pete Heller's "Big Love" was a happy accident. Created during his studio down time, Heller's track—rather unexpectedly—blew up big time. Interestingly "Big Love" is considered "filter house and disco". What the heck is that? It's exactly what it sounds like. The tracks feel like you're listening to loud music that's being played in another room, and you really want to be in that other room. This kind of style was dubbed "French touch" in the mid-nineties, and included producers such as Daft Punk, St. Germain, Motorbass and Etienne De Crecy.
Listen to "French Touch"
Cajmere "Percolator"
By early 1993, all the DJs in Chicago were playing this song. At the time it was an iconic song in Chicago's dance scene, and continues to remain so. The bouncing ping-pong ball sound that defines the track is super catchy, choppy, and freaked. Perfectly designed for the floor and late nights. Go on, brew that espresso.
Fish Go Deep and Tracey K "The Cure and the Cause"
'The Cure & The Cause" is a sexy, slow burning chilled house number. The percussion has a traditional, almost tribal feel to it, effortlessly moving the track along without ever dominating the sound. Nevertheless, the track has a distinctive, keyboard driven melody and is underpinned by Tracy Kelliher's soft, delicate vocals, culminating in a sensual, atmospheric production that is rich in summery vibes.
Kings of Tomorrow "Finally"
Gather friends together, grab a couple Heinekens, and you've got yourself the perfect environment to create something like "Finally" by Kings of Tomorrow, a soulful and hopeful house classic. Fantastically, nothing fancy went into making the song, just a lot of heartfelt emotion and good vibes. For instance, Julie McKnight nailed the vocals in only two takes, and Jay "Sinister" Sealee wrote the lyrics on the airplane. The rest is history.
Keep on Moving
The early nineties was a prolific time for artists to explore house music and create classic house tracks that endure to this day. These tracks endure because they're authentic, they speak to your soul and the human experience. A classic house track has emotion and the ability to communicate these feelings to you on and off the dance floor. A classic house track's beauty lies in its simplicity, which effortless as it may seem, comes from a vulnerable, personal and powerful place within an artist's heart. The message is universal: keep on moving.