Progress Your Knowledge With This Progressive House Music Guide
Progressive house is the birth child of different styles of house and techno inspired subgenres

By SIX_AM
October 19, 2023 at 12:00 AM PT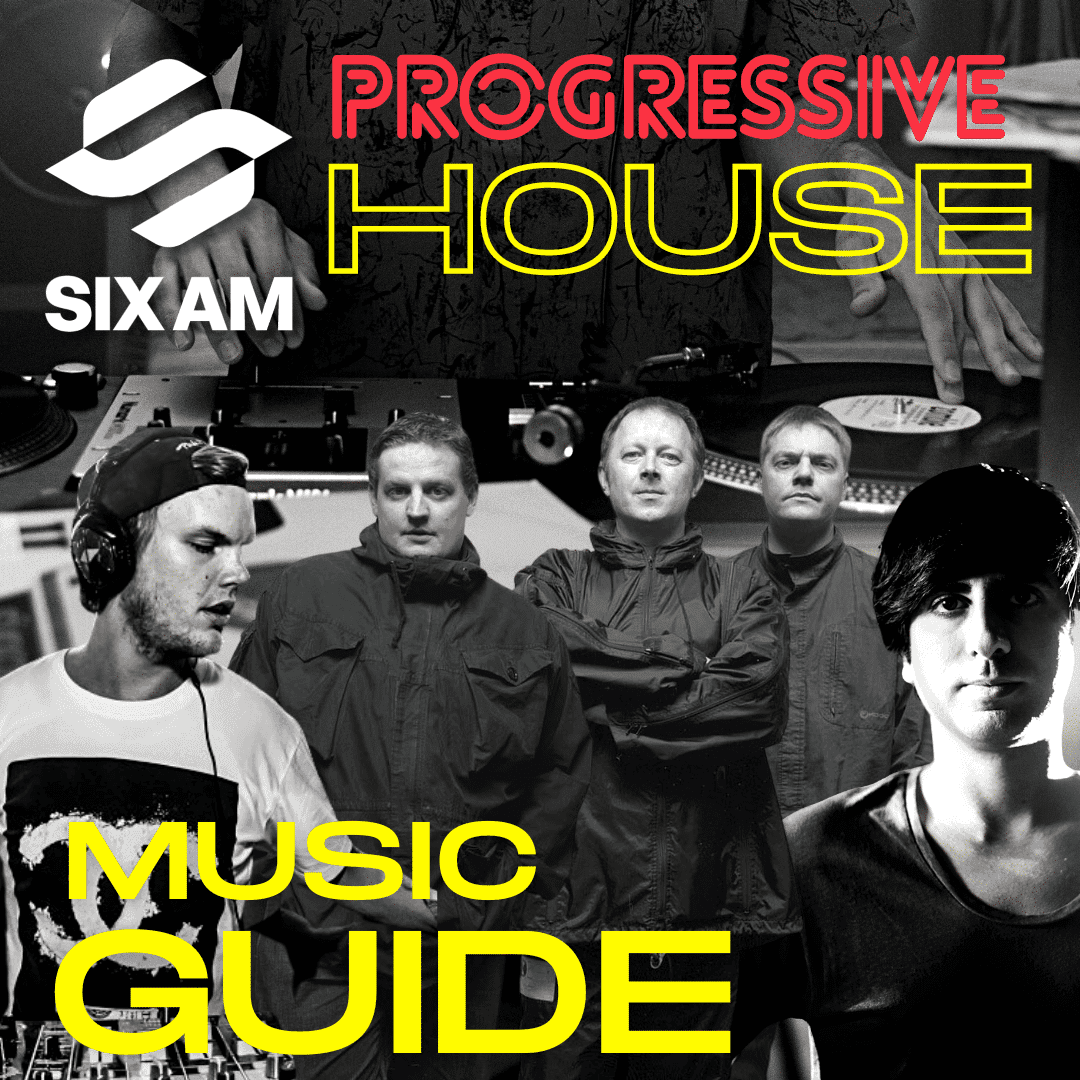 Progressive house emerged after the first wave of house music and is one of the major subgenres of house in the electronic music scene. The term is widely used especially today for a large spectrum of 4 on the floor inspired tunes that don't necessarily fall under the umbrella of a traditional house or techno inspired track. Describing the experimental nature of the music as "progressive" refers to the nuances that cause the new music to differ from what has been considered the normal. If you're a seasoned progressive house head or only recently becoming familiar with the term, we got you covered. Sit back and enjoy the ride as we dive into progressive house.
What Is Progressive House?
Progressive house is the birth child of different styles of house and techno inspired subgenres including but not limited to house, acid house and trance. For instance one could use a driving techno beat, a soulful vocal, bouncy bass line, and a trance inspired pad pulling it all together to create a blend of music that has aspects of both house and techno giving the listener a whole new experience. Depending on what style of techno or house music influences the producer will determine the type of blended elements, creating a fusion style track. Geographical location has played a major role in creating the vast different styles of progressive house that exist today, due to the nuances seen amongst producers from that region. German house music differs from french house music for example so the progressive style derived from those areas will use elements differently.
Characteristics Of Progressive House:
Over the years progressive house has seen many different style trends come and go. Let's go over a few common characteristics of the genre.
4 on the floor style beat (could me more driving and have more emphasis on the kick depending if more techno inspired than house)
Percussion elements ranging from groovy house inspired top lines, to a more minimal techno style top line
Synth layers that are more melodic, thought inducing,
Original drum machine sounds(featuring but not limited to the classic Roland 707, 808, 909 drum machine sounds) are usually featured on the early styles of progressive house, and similar sounds are still used today whether computer generated, sampled or recorded
Vocals typically appear on these tracks and range from a repetitive word, to chants and singing
progressive house tracks can range from 125-135BPM
Brief History Of Progressive House
The term progressive house represents many different things over the years. In the early 1980s Carl Craig mentions, in the book "Generation Ecstasy: Into the World of Techno and Rave Culture, that in Detroit they would refer to Italo Disco as "progressive house". Which was more Euro Disco based as opposed to the more Philadelphia style disco which was more soulful. Later in the 80s in Europe the term "progressive dance" was used to describe a more psychedelic style of house music featuring vocals, twangy style leads, and groovy basslines that differed from the original house.
Dating back to the early 1990s the progressive house roots can be traced to the rave and club scenes in the United Kingdom. With the term progressive house first reaching Mix Mag in 1992, when Dom Phillips wrote an article entitled "Trance Mission '', pioneering the name that has stuck for the last 30 years. Originally Dom was using the term specifically in an attempt to capture a new style of music that was being created. The buzz was really about fresh and innovative new music rather than a word. A lot of it was music that Dave Wesson was playing at his shop Zoom Records in Camden and he also reviewed a lot of interesting records in and around that style for Mixmag's Weekly Update.
"Things are changing." Phillips says in his 1992 article, "There's a new breed of hard but tuneful, banging but thoughtful, uplifting and trancey British house that, while most at home with the trendier Balearic crowd, is just as capable of entrancing up a rave crowd. Once again, it's possible to go out and hear mad but melodic music that makes you want to dance. Progressive house we'll call it. It's simple, it's funky, it's driving, and it could only be British." This time era can be seen as the prime of progressive house as the minimalism and the avant garde essence was very influential and was really just starting to gain traction and popularity, while still mainly being appealing to the dedicated ravers and club goers. As we go toward the end of the 90s is when we see the genre develop into the mainstream more. Buildups and more drop oriented style tracks come to the surface, featuring more pop oriented elements. As time goes on the genre continues to grow. With various sub genres landing on either the more underground or more mainstream side of the spectrum.
Clubs and Where You Can Find Progressive House
Progressive house is usually played at the same style clubs as techno and house music. The more mainstream side of the music will almost always be featured at big festivals in the US and overseas. As for the more underground sound, finding smaller niche venues and collectives will usually pull in well known artists that do not tour in the mainstream scene so check in with your city's local promoters.
The Evolution Of Progressive House
Late 80s Progressive "Dance"
In the late 80s before progressive house was coined, the term progressive dance was used to describe such acts as 808 State and The Orb. These early progressive days allow you to really see just how new and innovative these producers were blending genres and creating a new style.
808 State
Photo source: 808 State Facebook
808 State "Pacific State"
The Orb
Photo: The Orb PR
The Orb "Little Fluffy Clouds"
Referred to as one of the original big time influential progressive house records releasing back in 1990 off the native British label Outer Rhythm. Leftfield's "Not Forgotten" record gave other British producers confidence to expand on their own experimental sound and is a very true representation of the driving, melodic, trance inducing aspects of early progressive house.
Leftfield
Photograph: Steve Double/Camera Press
Leftfield "Not Forgotten"
Route 66
Also released back in the early 1990's Route 66 was one of the pioneers and major influences in progressing the genre.
Route 66 "Love is all around me"
Spooky
Spooky's "Don't Panic" track released off Guerilla Records was another very popular track releasing back in 1992 and maintaining that OG progressive sound.
Spooky "Don't Panic"
Dream House
Dream house started to become popular in the mid to late 90s. Incorporating the more trance style elements. Which will become a precursor to Trance House.
Sasha
A huge label in the progressive house scene was Deconstruction Records. Where artist Sasha found home for his track "Magic" that displays the more trance-esque feel with hypnotizing leads and vocals with a nice heavy kick.
Photo Source: Global underground
Sasha "Magic (Sasha's Voodoo Dub)"
Robert Miles
Robert Miles is also popular within the dream house scene. His track "Children " was released by Deconstruction Record and has. This track shows off the subgenre's characteristics with airy uplifting pads, melodic leads, and trance style bass lines.
Photo source: Robert Miles PR
Robert Miles "Children (Dream Version)"
Trance House and Electro House
Around mid 2000s Dream House moved towards Trance House with Dj/Producer Armin van Buuren leading the way and popularizing the sound. Trance house almost fell off completely around 2008. During this time also we see the other side of progressive house move toward the mainstream with more Electro sound of acts like Tiesto and Deadmau5 who usher the genre along.
Tiesto
At this time Tiesto is known for the more upbeat happy style of progressive house that some consider almost cheesy.
Photo source: Tiesto Facebook
Tiesto "Elements of Life"
Deadmau5
Deadmau5's "Faxing Berlin" from 2006 set the tone in a different direction with a more melancholic feel that drew in a lot of attention. Ultimately catapulting electro house into the mainstream eye.
deadmau5 "Faxing Berlin"
Pop House
As trance falls off completely, we start to see the rise of "pop house" as the go to sub genres. A new league of Top DJ enters the scene with producers like David Guetta, Swedish House Mafia, Sebastian Ingrosso, Axwell, Hardwell, Avicii or Eric Prydz/ Cirez D. Pop house possess more pop style vocals sometimes from big name artists, simple melodies and basslines, sometimes some super saw pads and we start to see the rise of buildups and drops make their way into the song structure which will start to populate the mainstream edm house/progressive house scene.
Photo source: Getty Images
David Guetta "Love is Gone"
Avicii's track "Levels" with now over half a billion Youtube views was what sent him into the mainstream back in 2011
Photo Credit: Sean Erikison
Avicii "Levels"
Deep Progressive
On the other end of the spectrum artists like Guy J and Henry Saiz were blazing trails with a more melodic and deep style of progressive house. Using more organic sounds, the hypnotic analog sounding melodies give off a way different feel than the mainstream saw lead that was popular for Big Room at the time. Catering to the more underground crowd.
Guy J
Photo Source: Guy J Facebook
Guy J "Dizzy Moments"
Henry Saiz
Photo source: Henry Saiz PR
With this Henry Saiz remix of Guy J you get a really good idea of the difference between the 2 genres.
The Progress of Progressive
Progressive house has come a long way. From a fairly fast style of 135bpm or faster down to an earth style of 123/122BPM.
Deep melodic progressive house tunes are still blending into underground trance house of its kind. On the mainstream side big room house blends into electro house and trance.
New house genres like melodic house & techno or organic house spicing up the progressive house genre. Psy trance influences have started to creep in as well. With producers on both the light and darker sides of these sub genres it is going to be very interesting to see what type of new subgenres will spawn as a result.
Progressive house has seen major transformations to get to where it is today. With the term "progressive" covering a large range of styles with their own nuances, there will be new tracks and artists from all over the world showing off their interpretations of the genre.
Article written by Mark Grossane