Get Lost With This Deep-Hypnotic Techno Guide

By SIX_AM
August 28, 2023 at 6:29 AM PT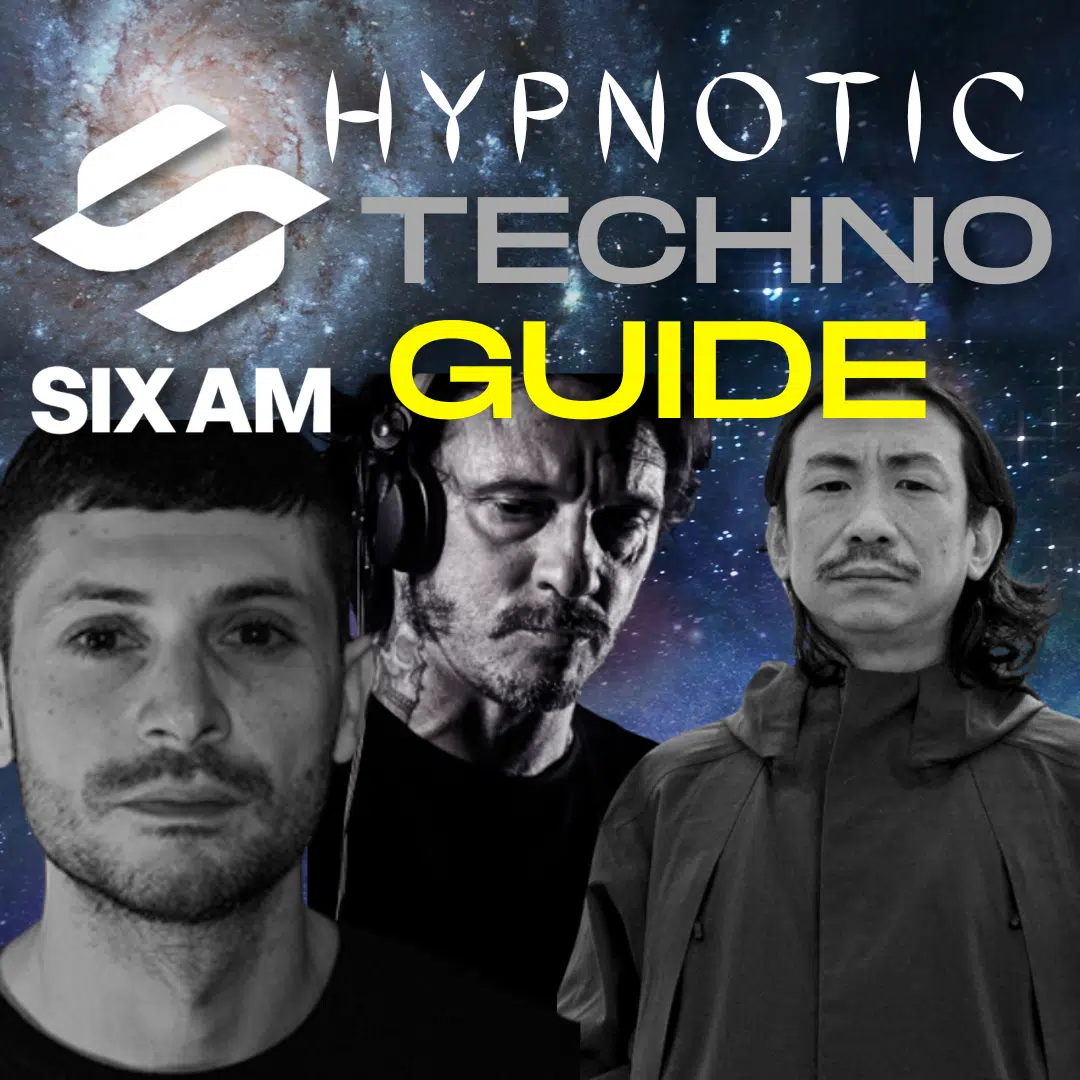 Welcome class! Who's ready to learn about another techno subgenre with 6AM? If you love techno and its rich history, make sure to check out our catalog of other techno sub genre guides, as well as our Beginners Techno Music Guide in case this is your first dive in- But if you've swam in this pool before, take off your floaties and hold your breath because today we leave the shallow end and swim on into the world of deep, hypnotic techno.
What is Hypnotic Techno?
Hypnotic techno is a trip and aptly named as its sound can be defined as loopy and trance-like. Its tracks are made up by carefully constructed layers with lots of repetition. Sometimes the layers are stripped down to its core, while other times they're intensified, with spiral and kinematics made of deep melodies and a narrow sound design. Usually the beat is deprived of snare, and it's much deeper in nature than faster, harder techno. An introspective musical force to be reckoned with, the soundscapes will put you in a daze and make you forget time as you plunge deep into space.
Hypnotic Techno Artists
Throughout the course of the subgenre's lifespan, many different artists have dipped their feet into the pool of deep, hypnotic techno. While there are tons of notable artists floating around, here are a few of the ones that made the biggest splash.
Oscar Mulero
Oscar Mulero is a hypnotic techno producer and dj from Madrid, Spain. The owner of record labels Warm Up Recordings and Pole Group Recordings, as well as the founder of The Omen Club in Madrid, Oscar has solidified himself as one of the staples of the hypnotic scene. Mulero has been putting people in a trance for years past and will continue to do so for years to come, making himself every techno lovers favorite magician.
Claudio PRC
Claudio PRC an Italian DJ and producer born in Sardinia, based in Berlin. He's the boss of record label 012 and has been hypnotizing people with his sounds since 2006. Since 2018 he's been a resident at one of Prague's most poppin' clubs, Ankali, and is known to tear up warehouses at underground raves all across the globe.
DJ Nobu
One of Japan's biggest techno legends, DJ Nobu is a hypnotist with decades of experience under his belt. Something of a cult figure, DJ Nobu has slowly but surely evolved from one of Japans most in demand DJ's, to now one of the worlds, playing everywhere from Europe to America, and even being an ambassador of electronic music and clubbing in his home country in the East. At the helm of his very own label Bitta, Nobu is veteran of the loopy noises.
Lindsey Herbert
Lindsey Herbert started laying down the hypnotic sound at age 16 and has been going strong ever since. Beginning playing shows in her home town of San Francisco to finding herself playing oversea's in Berlin and in many underground warehouse parties in between, Lindsey Herbert is a sound magician to be reckoned with.
Hypnotic Techno Mix
To get a good idea of what hypnotic techno sounds like, here's a set from Claudio PRC that he played in our very own WORK warehouse a while back. Steady, trance-like, and very loopy, this set will have you hypnotized just like everyone else was in attendance that night.
Get Lost in the Hypnotic Sauce
There's no better subgenre to lose yourself in than hypnotic techno. It's captivating, entrancing, and it will take your mind to other dimensions if you let go and allow it to take you. You don't need a magician to hypnotize you, just a proper warehouse party blasting these sounds until sunrise.