By SIX_AM
August 28, 2023 at 7:19 AM PT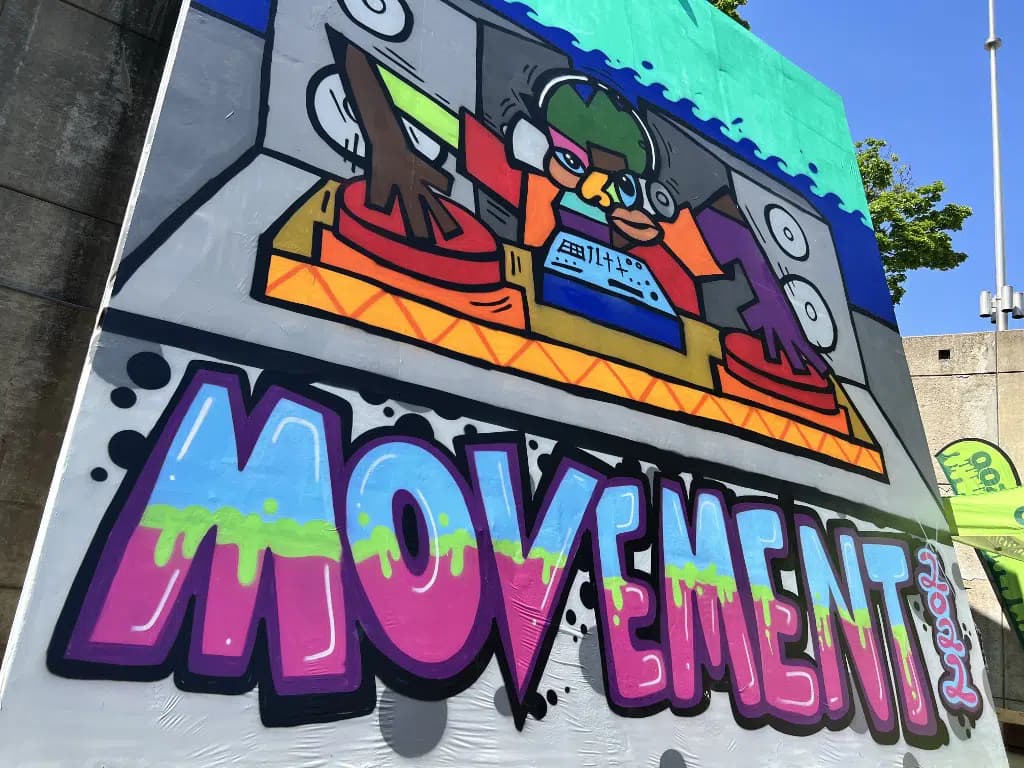 From "bunnies" in tutus to full-blown wedding dresses, Movement Festival is unlike any other kind. 50,000 people from around the world made their way to Detroit, the birth city of techno for the long-overdue Movement 2022 Festival. The energy and excitement were thick in the air as the Motor City came to life for the much-anticipated techno Christmas. It had been three years since Hart Plaza became the center stage for both local and international DJs. If you weren't able to make or simply want to relive some of the goodness from Memorial Day weekend then you're right where you need to be. Make yourself right at home because we're going back in time to reminisce on what this year's Movement Festival 2022 had to offer; techno and then some.
All Sunshine & No Rain at This Year's Movement Festival
So while event organizers had no actual say and has absolutely no control over the weather, it'd be a shame to not give the weather a little shout-out. Was it windy? Hellah yes, but we were blessed with sunshine and blue skies all weekend. Ask anyone who has attended previous editions of the festival, and they'll say it rains at least one day out of the three days. It's usually a quick torrential downpour forcing people to take cover at an underpass, pausing festival activities and throwing set times for a loop. But hey, definitely not referencing day one of Movement 2019. Iykyk.
In all seriousness though, the rave gods were benevolent and gave us the perfect backdrop for a much-anticipated return of Movement.
Oh, and clearly people underestimate the Midwestern sun given the number of red shoulders I saw by day three. Wear sun protection kids.
No Friends Only Family, That's What Movement Festival is All About
I've always been one to arrive early at festivals. Yes, I'm that person. There's something about being able to experience festival grounds before the rush. There's a different energy, almost calming that allows you to fully admire the details that go into planning a massive music event like Movement.
There's unspoken energy that engulfs the festival grounds. It's unlike any other once you step in and even its surrounding area. The locals really give this festival another feel. There's something special about celebrating the roots of dance music in one of its founding cities. Movement Festival is like a family reunion bringing dance music lovers together from all corners of the world.
While no sights were had of the beloved grandma techno, a legend who has attended since 2005, I did see a decent number of rave tots. The sight of kids at the festival was endearing. Some might think, "kids shouldn't be at 'those' things," but why not? After all, they are the future and people's appetite for electronic music is only increasing. Teach them young, right?
Additionally, most of the kids I saw bouncing on their guardian's shoulders were wearing ear protection. Good looking out.
Dancing Your Way Around at Movement 2022 Festival
The High Priestess of the Motherbeat aka Eris Drew and her b2b with Octo Octa was one of the top sets (for me) during the weekend. This by no means discounts the other techno (and house) artists who played throughout the six stages.
Their high-energy set took you everywhere: disco, funk, classic house music and then some. They fed off of each other's vibes and with each track kept pouring more of themselves into the crowd. They took total command of the dance floor at the Pyramid Stage (which so happens to also be my favorite stage).
The newly expanded Underground strange (re)created the murky, sweaty atmosphere you'd find at a warehouse rave. Anfisa Leytago, Nastia, HAAi and Diamondstein were some of the artists who supplied those hard, driving gritty techno beats. Definitely would recommend spending some time at the festival's lower level, but also encourage you to come up for some air. I don't know about you, but my lungs need some freshness. It can get a tad warm, but if you want to stick it out at that stage the whole time, definitely have a handy (non-clacking, iykyk) fan with you!
Listen: Some Tracks Played at Movement 2022 Festival
Just like any festival, there's a mix of familiar names as well as fresh faces. Bristol-native Will Clarke made his debut in a city he now calls home. He's lived in the Motor City for five years now, but 2022 marked his first time playing the city's iconic festival. He hosted an afters on night one alongside Hiroko Yamamura and Anfisa Leytago.
Watch: Will Clarke Hosts Afterparty Leland Club in Detroit
"It's the best, best time to be in Detroit and experience Detroit for the weekend," says Clarke who now considers himself a local as he enters his fifth year of Detroit living. "It's like hometown for me. […] It's gonna be nice to see friends here. You kind of get to see people that you haven't seen in a while."
Having this festival take place in his backyard is a special feeling for him, "It's one of the longest-running techno festivals in America. It's always had a worldwide appeal [compared to] most festivals in America. Like the rest of the world, looks at Movement as a special, special part of the calendar in, in house and techno."
Will Clarke took center stage at Movement's Stargate Stage and you bet he took advantage of playing in front of a crowd to test out a few tracks he's been working on. "I finally started writing music again and it feels good. Like I had like six months off of not actually fully concentrating and just making excuses not to write, but now it's, it's good to be back." If there's one track that's synonymous with Detroit techno for this DJ, whose music is as strong as his beard game, without hesitation says "Jeff Mills 'The Bells'"
Watch: Techno DJ Jeff Mills & Others Play at Movement 2022 Detroit
One of the top highlights over the weekend surprisingly wasn't on festival grounds. It was in a local, intimate yet unassuming movie theatre located about 10 minutes from Hart Plaza. What happened there you ask? Techno maestro, DJ and innovator Jeff Mills hosted a special film screening of his newest album Mind Power, Mind Control. Donations at the event benefitted the Detroit Public School system music education and Underground Music Academy.
For someone who's been to her fair share of DJ sets at clubs, warehouses and festivals I welcomed the opportunity to switch things up. It really was a special treat to share space with such an instrumental figure in the house and techno scene. Speaking softly and gently, he greeted the small crowd in the theatre before showing the film.
The 60-minute movie is a collection of films extracted from Jeff Mills' personal library created over the course of the past six years. It consists of various film styles and segments relating to the idea and theme behind his newest album. The project examines the art of mental persuasion and our mind's power and vulnerability in this day and age.
The film runs uninhabited and compiled in a manner suggestive of being in a dream-like state. Some segments are recognizable in terms of colors, shapes, and textures, while others are fragmental – elusive in objectivity.
The theme of self-power using the mind, self-defense/reliance, and the subject of special human abilities had been consistent throughout.
The Party Don't Stop
While I only attended one of the afters (no, not Paris Hilton's afters), festival-goers had plenty of options to keep dancing the night away. The number of after-parties (and pre-parties) is one (of the many) things Movement Festival doesn't fall short of.
While a lot has happened in the last two years and continues to do so, it was great to see people take some time to dance away the heaviness from it. There's something to be said of the power behind music. Movement 2022 Festival proved to be the medicine we've all been in need of. See you in 2023!