A Damn Good Time At Amsterdam Dance Event (ADE) 2022

By Kevin C
November 7, 2022 at 6:16 AM PT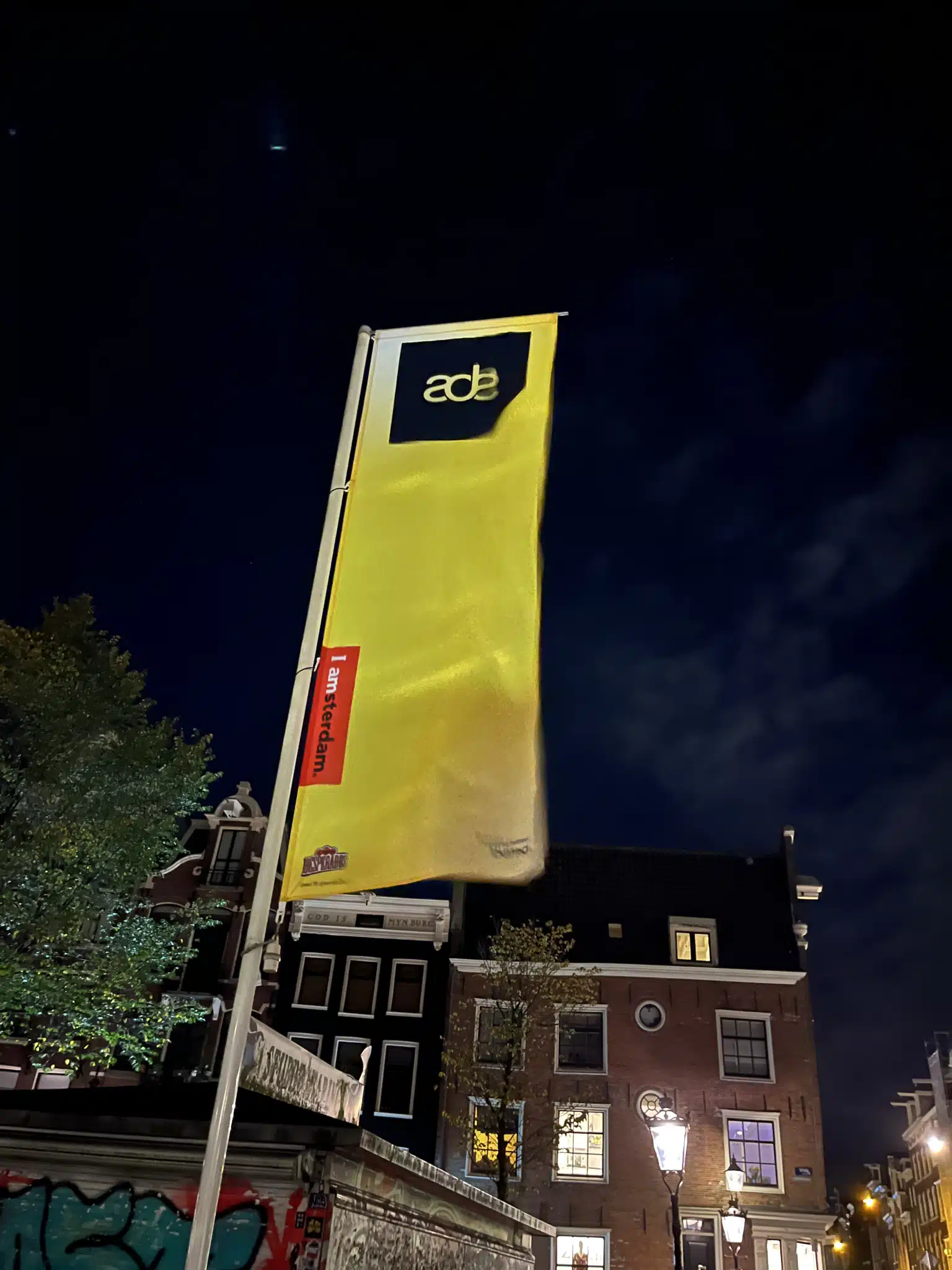 A few years ago, just before the year that shall not be named, I had the great pleasure of visiting the famous city of Amsterdam. I had an amazing time there, and experienced the rich nightlife and culture the city and it's notoriously tall and friendly people had to offer. One moment that stuck out though, was a conversation with a stranger that I met on the dance floor on a Tuesday night. This gentleman mentioned to me that I should come back for the Amsterdam Dance Event, also known as ADE. A few years later, after going through a complete career change and a pandemic; this October I finally had the chance to attend my first ADE.
ADE's Triumphant Return
Since the 1990s, Amsterdam Dance Event (ADE) has been an influential and educational gathering for electronic music. The event has hosted a variety of powerful musical genres and subcultures that continue to range from the experimental to mainstream. As a powerful medium, ADE strongly showcases all developments within the electronic music industry, and these developments have all impacted dance culture to this day on a global scale.
After two years, the festival was finally able to get back on track and reconnect with the global music industry. The numbers are in for this 27th edition of ADE and Amsterdam opened its doors to almost 700 speakers with over 1,000 events and initiatives taking place in over 200 locations across the city, hosting 2,500+ artists and speakers and welcoming a record number of 450,000 visitors from around the globe. With stats such as these, the experience of ADE is surely something that would give major FOMO to anyone else that couldn't make it.
My Personal Experience of ADE
Since this was my first ADE I honestly wasn't sure what to expect. I've been to massive festivals, raw warehouse parties, fancy Hollywood club nights to renegade desert parties; Through these varieties of dance music events I knew that sometimes you just have to let your expectations go and just try to enjoy the experience as it comes.
There are so many different types of people that come to ADE for different reasons. Obviously I came as a representative of 6AM Group trying to network with others within the global dance scene; But I also came as a massive fan of the talent that was carefully curated through all the events, small and large, spread throughout the city. There were so many amazing shows and workshops that I wish I could speak all about but I can only really speak about what I've experienced. Needless to say I was excited to do "all of the above" in this amazing city.
Meeting The Global Dance Scene In Person
For those that don't know ADE hosts a plethora of workshops on all different types of music related concepts bringing together so many different people from all parts of the music industry. On this trip I had scheduled a multitude of meetings with different groups that 6AM works with. I was pleasantly surprised that everyone just came in with the intent of getting to know people more and to understand what everyone else does. It was very much a "get to know you" type of situation.
Perhaps this is how it's always been- but it was definitely a much needed experience as much of the international music community was not able to get face time in for couple of years. I can only speak from my own personal experience, but everyone just seemed excited to see a face beyond the screen. This excitement wasn't just amongst the industry professionals but from everyone, everywhere you went.
Intimate Party Settings
ADE is definitely known for its huge elaborate events but everywhere across the city there are smaller intimate parties thrown everywhere. At night I was able peer into windows of various establishments with flashing lights and people fist pumping. I personally had the pleasure of attending Victor Ruiz's Volta Records launch party on my first night there.
The experience was a familiar one but with a unique vibe and twist. Held on the rooftop bar of the Butcher Social Club, the venue itself wasn't very large and there was probably no more than 100 people there at one time. However, I finally had a taste of the ADE party goers- and the energy they brought could fill a stadium. As everyone in the room stomped to the beat in unison with the music they loved, one of the hosts and artists attending the event Tao Andra put it best by telling me, "This is what it's about."
Everyone was enjoying the music to the fullest giving each other the "nod" and fist bump when the DJ dropped in a heavy hitting track. I'm personally used to the LA party scene where people tend to wear their Saturday bests, fancy rave outfits, or warehouse ready attire. It was an interesting scene to be a part of as everyone was just casually dressed, but rocking hard. Believe it or not there were also multiple couples who were probably senior citizens but were outlasting me with every step.
And the lineup of this party? Just heavy hitters playing one after another. Probably the wildest portion is at the end when Victor Ruiz, Alex Stein, and Sama Abudlhadi did an impromptu raging back-2-back-2-back set. In such an intimate setting where you could literally just reach out and fist bump the dj in front of you; it was nothing short of awesome and surreal.
Massive Events With Massive Style and Substance
Of course even with all the meeting of the musical minds and the amazing intimate parties, I had to experience the ginormous events and venues that are world famous. There were an innumerable amount of huge events happening all across the area, and being that I am only human, I could not attend all of them- But the ones I did attend made everyone at home, jealous beyond jealous.
DGTL
DGTL is a global festival that got its start in Amsterdam in 2013. DGTL has now grown into becoming a global brand with editions in Tel Aviv (IL), Mumbai, New Delhi (IN), Santiago (CL), São Paulo (BR), and many more to come. Not only is the festival known for its plant-based food court and being free of single-use plastics, DGTL became fully sustainable and 100% circular in 2022.
I had the immense fortune to be invited to check out a few of DGTL's parties at their NDSM warehouse. 6AM has curated amazing warehouse parties in great venues all across Los Angeles. But when I say they had a warehouse, it was the absolutely one of the largest party warehouses I have ever seen. Depending on where you're from, you may have never even seen a single warehouse of this size. Upon first entering the venue, I quietly muttered to myself in amazement, "You got to be f*cking kidding me".
In addition to the impressive and elaborate venue, DGTL has both style and substance with their performers and showmanship. The acts brought in were of an impressive variety from Worakls unique live performance shows, to house music stars such as Blessed Madonna, to your favorite hard techno performers that you've also seen at 6AM parties such as Dax J and Paula Temple.
One interesting concept that DGTL introduced to me was their promotion of recycling. If a patron returned their plastic cup they would get a discount on their next drink. This promoted people to go out and find empty cups if they wanted that extra discount on their next drink (most likely Heineken being the drink of choice). As I eventually found out this practice is being promoted by all types of music events in the Netherlands in order to promote their sustainability goals.
The music lovers were all around that massive venue. During funky house anthems the crowd of people would sing along with the track. During massive techno drops the crowd would holler as one would expect. All other times everyone would just dance their way through the night non stop. Unfortunately, as said before, I'm only human and I was not able to attend all of their events at all their venues- but clearly DGTL events cannot be missed.
AWAKENINGS
Awakenings is a massive global event festival that has hosts some of the biggest names and talent in techno music. This ADE hosted 9 events throughout Amsterdam and hosted at the infamous Gashouder, aka "The Techno Temple" and the all mighty Ziggo Dome. At this ADE, Awakenings welcomed 60,000 visitors and almost 300,000 throughout the whole year so far. Celebrating its 25th Anniversary this year, Awakenings did not hold back on their epic shows.
I personally was "only" able to attend the KNTXT party at the Ziggo Dome and the Exhale part at the Gashouder. Once again the scale and epicness of these parties cannot be captured in words or photos. Both these parties had showcased the massive talents that the U.S.A party goers would only see at the likes of massive festivals and events in America. Granted I've experienced acts at large stadiums in the US, but it's not quite the same, as these venues almost seemed that they were made just for events like these and not for anything else.
Ziggo Dome, Courtesy of Media Nanny PR – Photo Cred: Mark Vermeule
Of the two shows, the Ziggo Dome was my first stop, and like every other party, it was the first time going to this venue. The Ziggo Dome was like a massive rock concert arena with an insanely large single light show panel behind the dj booth. I don't think I've ever seen a massive single screen of this size at any event that I've been to in my 20+ years of attending dance parties. From the get go the crowd filled the area and just stomped to all the techno ear candy in front of the epic stage. I wasn't able to stay for the whole event, but just from what I experienced the crowd was surely going to last the entire night.
To be quite honest, I decided to pace myself for the rest of ADE, took a day to just scope out the city of Amsterdam and made the Exhale party at the Gashouder my last event of the trip. Good thing I did, because let me tell you… the Gashouder does not mess around.
The venue itself is an unique industrial behemoth that used to be a gas works factory of all things. Today it hosts a variety of different massive events with a production value that will utterly shock you. A friend told me that on top of the already insane visuals, fireworks are set off within the enclosed venue. I brushed the concept off in disbelief… but rest assured… fireworks shooting just above your head at the Gashouder- is in fact a thing.
The music curated for the EXHALE party was a high energy epically curated journey. The night started off with great banging techno and the tempo and ferocity kept increasing with each artist. When the closing artists, 999999999 came on, the crowd was still alive and pumping. But when the German duo threw on their first massive kick that shook the stratosphere, I looked over at a complete stranger and together we yelled "LET'S F*CKING GO!". Now granted he was yelling in Dutch… but considering we high five'd each other and hollered- I'm assuming we were on the same page.
A Damn Good Week
There were so many more parties and events out there that it would be impossible to write about them all. Many more of my friends and coworkers attended other parties and they all came back with the same sentiment that ADE is a next level festival.
All in all, it was a week of a lot of first experiences for me. Meeting industry people, making random friends, and dancing in epic venues I've only seen on the internet- ADE is surely an experience I would not soon forget. Perhaps it was the universe's fun way of closing things out for me, but true story- As I staggered through the airport on my final day, I was asked by the passport officer how my trip to Amsterdam was. I responded, "It was amazing… You guys really know how to party here."
He looked at me, stamped my passport and said with a smile, "Yes… yes we do."