Arc is Becoming One of the Top Music Festivals in Chicago
The house & techno music festival is giving. Check out this year's highlights and more.

By SIX_AM
September 15, 2023 at 3:06 PM PT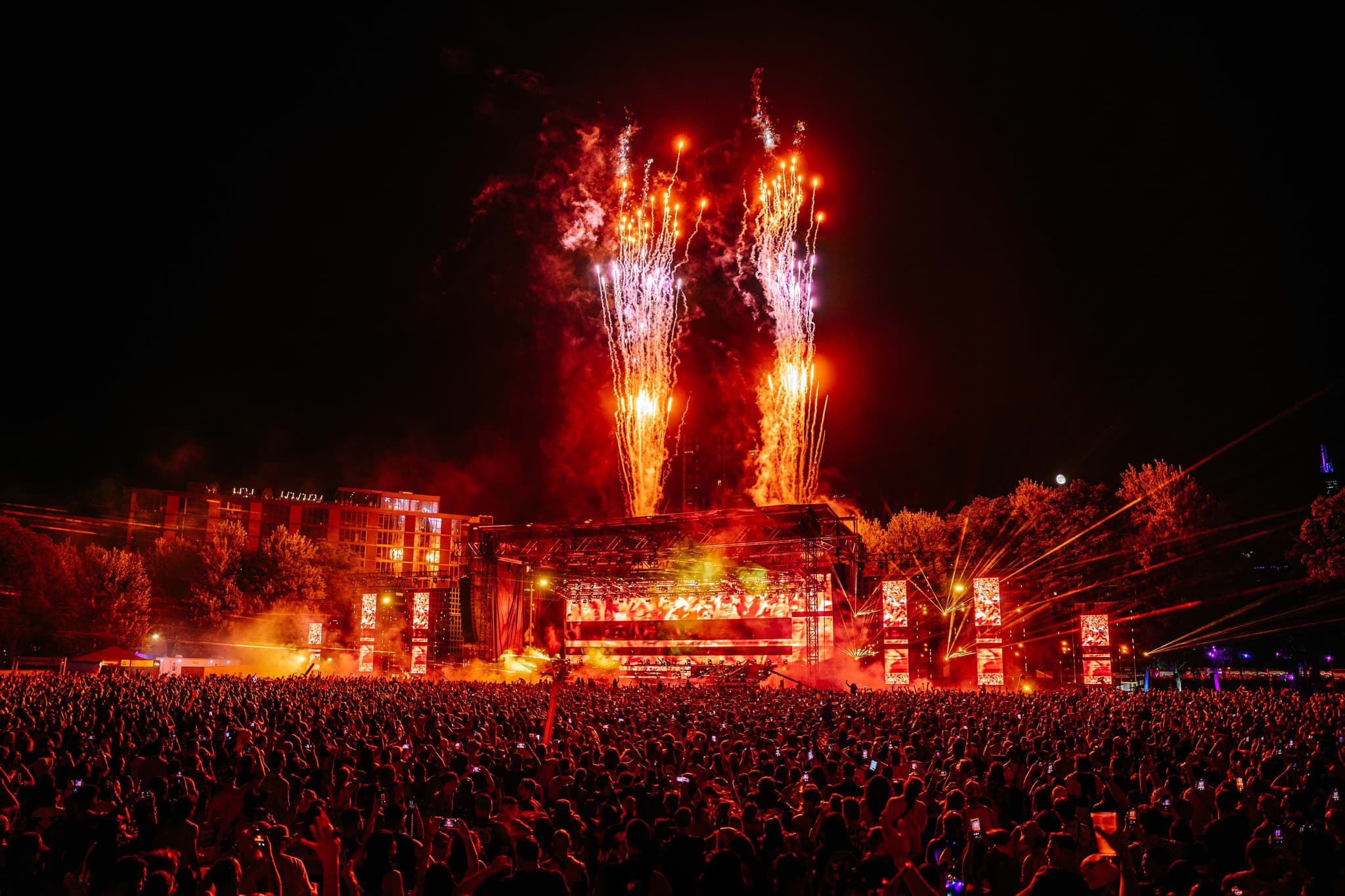 Written by DazyDaze aka Daisy Magaña
Labor Day Weekend wasn't quite smooth sailing for music festivals this year. Unless you were living under a rock, timelines were flooded with photos and commentary of Burning Man dubbed "Trench Foot 2023" or the scandalous New York-based Electric Zoo that continues to find itself in deep scrutiny — the latter now being referred to as "Fyre 2.0" However, there was a festival that surfaced relatively successful amidst such bad press for the electronic music scene: Arc Music Festival. I'd give it a solid eight out of ten in terms of overall experience. I'd be remiss if I didn't give an honorary mention to North Coast Music Festival (NCMF) since it occurred in the same city and weekend, but two things: 1. I didn't attend NCMF so wouldn't be able to speak on behalf of the vibe there and 2. I'd definitely say each festival taps into a different flavor of electronic music — iykyk (if you know, you know).
How Can Arc Music Festival Improve?
Before getting into what Arc did right and all of the goodness I want to give my honest take on it as a whole. A low lift improvement off the get-go is trash cans. Yes, you read correctly and such a simple yet novel idea, right? I (and friends of mine) were surprised at the lack of trash cans you could find throughout the festival, particularly at the Expansions stage. Dancing with empty cans isn't the vibe. "But Daisy, you can just dump or crush them on the floor." Sure that's an option, but honestly, also not the vibe. Let's treat our planet better and also festival workers who are the ones left to pick up the mess. Let's do our part where we can.
Guest services (check-in) on day one was gnarly and felt like I had entered Twilight Zone. I can empathize that there are a lot of event logistics to handle especially on day one where you iron out event kinks but it seemed like no one had an idea what they were doing there. This interaction is reflective of the festival itself and forms one of the first on-site touchpoints of the experience. You need people who know what they're doing or can at least direct you to someone who can help. Hospitality is the bedrock of any event, and if you don't feel welcomed chances are you might not return.
Overall, the lineup was solid, and as someone who's been deeply involved and advocates for greater artist inclusivity (totally appreciate what HE.SHE.THEY are pushing out there; do I smell a potential partnership *cough, cough*) I'd love, and I mean love for festival bookers to truly push the envelope. There continues to be a diversity imbalance of festival lineups.
Even though Chicago birthed house music, ironically, we didn't have a solid music festival in the present-day dedicated to it — that is, until Arc.
Give us something we don't know rather than recycling the same names — build it, they will come. It's evident there's a hunger for this type of event given the number of people who attended this weekend. I don't foresee that shaking up your lineup with booking "lesser" known names will change that. Take a risk.
Okay, now onto what makes Arc one of the top electronic music festivals in Chicago.
Arc Music Festival ain't for the kids
As I level up (aging like fine wine, hair flip), I cannot stress this enough: crowd matters. You can go to the best-planned event, restaurant, etc. but if the crowd is boosti caca, well then, there goes that. I've been to my fair share of American festivals, shows and concerts and I can tell you the times where I would say "the music was great but the crowd was [insert XYZ]." There's just something about house and techno that seems to attract a chill crowd: no pushing, no fighting and no creepers. Bless.
I didn't get any weird or bad vibes from people. And actually, I don't think I heard or saw on social media anything about phones being stolen (not saying it didn't happen but there have been other festivals where this becomes the talk of the town).
Arc will be a good time whether you go solo or with a group of friends. Some little cute pics of my rave families over the weekend.
Intimate Vibes, Let's Keep It as Such
Have a conflict in set times? You can still catch multiple sets if you'd like! You won't find yourself walking an ungodly amount of time or distance from stage to stage. Each stage has its unique ambiance and feel to it.
I made my way around to all of the stages: The Grid, 909, El Row and Expansions and appreciated how each transports you to its own little world. While I didn't spend much of my weekend at El Row, I will say this: it gets weird but in the best of ways. Do yourself a favor and stop by. You won't regret it.
Hopefully, event organizers can maintain the festival's intimate vibe without compromising it by overselling tickets.
Black Coffee is a delicacy
Lordy, lord. Where do I begin. Every artist most definitely deserves kudos, and there were a few standouts for me: Anfisa Leytago, Fatboy Slim, Derrick Carter, Mochakk, Mall Grab b2b Kettama and Hiroko Yamamura b2b DJ Minx to name a few. But Black Coffee takes the crown.
His set tasted like a pairing between crème brulée and a frothy, velvety mocha latte. Need another one? What about the feeling of elevated luxury like satin sheets? Ya, it was kind of like that. He is a not to miss artist if you catch him touring in your city. His mixing was a flirtatious dance between the crowd and him. He's a selector that gives you a set you can dance to from start to finish — no lulls. The South African DJ, producer and songwriter has truly helped put Afro-house on the map. Take a listen to a track I've been rinsing on repeat since hearing it in his set (OUF!).
A little blip into Black Coffee's Arc 2023 music festival - Chicago
Enjoy some professional festival captures from the weekend! And I leave you with four festival hacks:
Festival hack #1: Need to cut through a thick crowd? Become a part of the production. I finagled my way dancing in between the puppets on stilts (no idea what to call them but if you were present you know exactly what I mean).

Festival hack #2: If you're like me, you have a tendency to lose things. If you don't want to worry about losing your precious water bottle, simply bring an empty gallon of water and you'll save trips to the water station (shout out for the painless experience of the water refill stations!).

Festival hack #3: Art installations are your best friends — especially in the day. Why? Because they provide shade. See image below.

Festival hack #4: Let loose, have fun and be a feather in the wind.
Courtesy of ARC Music Festival //KURSZA - @kursza
Courtesy of ARC Music Festival //Victoria Sanders - @veesanders
Courtesy of ARC Music Festival //KURSZA - @kursza
Courtesy of ARC Music Festival //Jordan Landwehr - @landbear


Courtesy of ARC Music Festival //Zach Deloach - @_zachdeloach
Follow Arc Music Festival