Celebrating 15 years of SIX AM with Founder and CEO- Jia Wang
Jia Wang gives the low down on the last 15 years of his journey as SIX AM's founder.

By SIX_AM
September 12, 2023 at 6:30 PM PT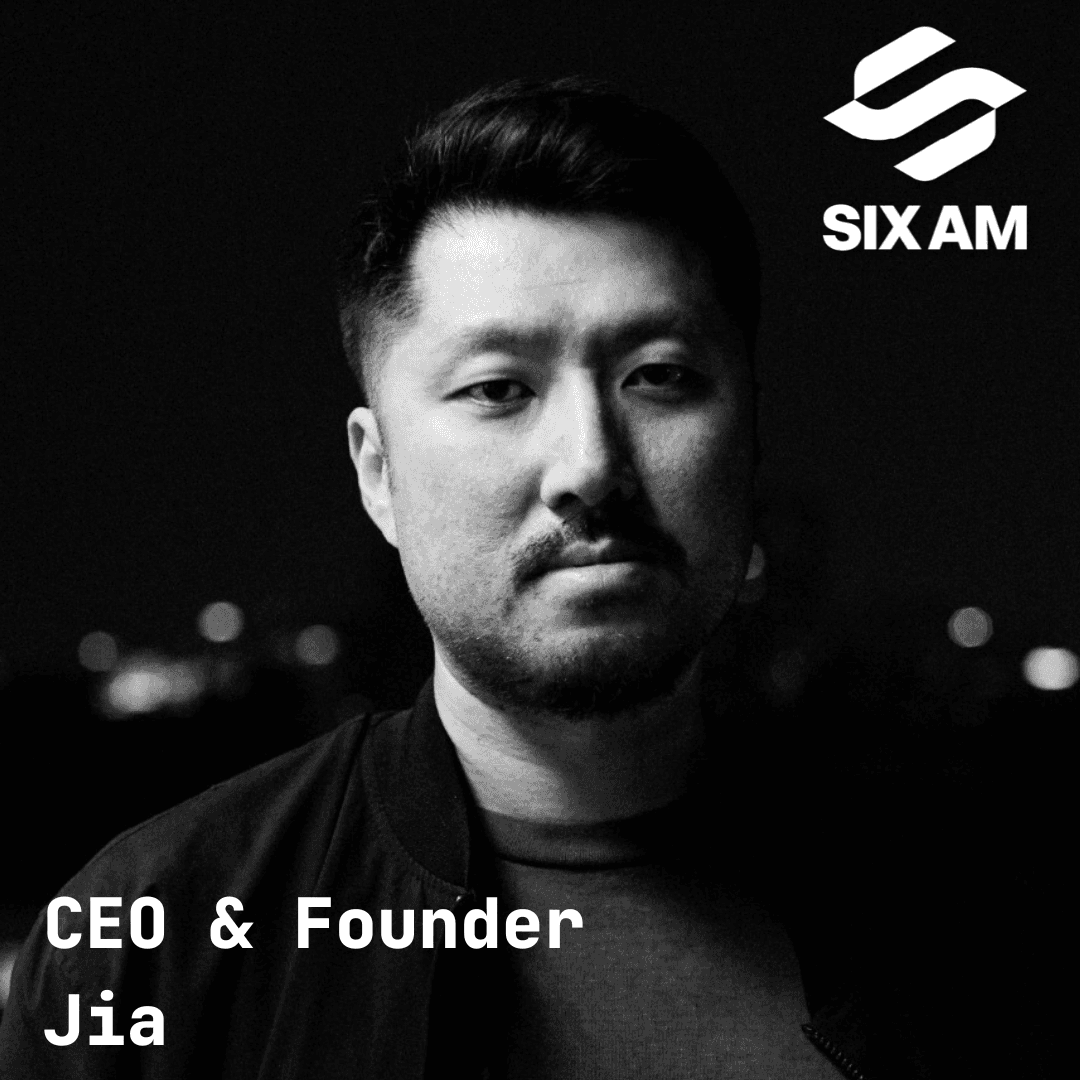 Hailing from Guam, CEO and SIX AM Founder, Jia Wang, has had a deep affair for Techno & House. His 15-year journey has not only helped contribute to the landscape of electronic music in Los Angeles but also transformed the man himself. Amidst the relentless whirlwind of nightlife promotions and global festivals, Jia reflects on the hard truths hidden behind the glitz and glamour, revealing the sacrifices, heartbreaks, and sheer determination that have shaped his path. As the 15-year anniversary celebration unfolds, explore the highlights of the year and peer into the future, where Jia envisions a role as a mentor and guide for the industry, sharing wisdom gained through resilience and relentless dedication. It's a story of passion, purpose, and unwavering commitment to the global electronic music community, a testament that hard work and perseverance can indeed lead to extraordinary success.
Hey Jia! Thanks so much for taking the time for this especially in this momentous occasion, how are you?
Extremely busy lol but also feeling very proud lately of who we are becoming and what we mean to the global community-at-large. I love serving our community and can't get enough of it! It's been a stressful 2023 much like any other year except the stakes are a lot higher these days and that just means we need to stay focused and disciplined for what's to come. I am, however, having the most fun ever doing what we do here at SIX AM!
Your journey to get here has been so interesting. What were some of the key milestones, both rewarding and challenging, that got you to this point?
I think the biggest milestone was starting 6AM in 2008 when I was so clueless on how any of this stuff works (events, promotions, being a DJ, navigating through the journey, etc etc) but it's such an important lesson for anyone out there "thinking" of starting "something" - just fucking do it even if you're clueless because what I have realized after all these years is that starting is how you get to the part of "figuring it out" - if you never start you'll never figure it out and for all those who are trying to figure it out before starting you're doing it ALL wrong. Start first then figure it out!

Then after I would say our 5-year anniversary in Summer 2013 where we launched our Guam Music festival called Electric Island Festival (EIF). We launched this when I was living/working in LA which meant I was trying to do this 6,000+ miles away from the festival destination. That experience of being rejected and going up against the odds has forever shaped my belief that you can do anything if you focus and put in the work even if people say no…that experience taught me how to communicate effectively and efficiently through various time zones, it also taught me what real hard work meant and what real sacrifice means to accomplish your goal. Launching EIF at the age of 29 made me believe that I can do anything I put my mind, focus, and effort into.
Then I would say our 10-year anniversary in March 2018. During that time our warehouse parties were starting to really pick up pace and at the same time all of the people who didn't belong or no longer wanted to continue the journey left; while I was devastated during that time I realize now that I needed people who had the same mindset as me. Surrounding yourself with the right people was a foreign concept to me then; but I learned after that experience that there are people who need to believe in you as well as the people who need to leave you for you to become who you're destined to be.

The last milestone is the current one we are in, our 15-year mark where all of the opportunities I could only dream of back then are now in front of me; I get goosebumps thinking back on how far we have come but the crazy part is that we're only just getting started :)
Listen Now: Global Vibe Radio 245 Feat. JIA

How has your experience changed yourself as a person and as the CEO of the company?
I have been failing and losing for 15-years now. I went through 100+ people in the company, lost a few former best friends, a past life I gave up on just so I can continue this mission. I took out loans where Asian gangsters would be knocking on my door the next week if I didn't pay up, I did whatever it took to be able to stand here right now! You tell me what that will do to a person? Lol

I am the strongest mentally, physically, and spiritually I have ever been in my life. I know my purpose, I know my vision, and I know that nothing is going to stop us from going where we need to go. This experience broke my heart and my soul (and my bank account) but the shatters I was able to pick up and rebuild made me who I am today and anyone who is on my current team or close to me personally know that all the bad shit that happened molded me into the best version of me today period #kintsugi
Everyone has a glorified view of the nightlife and nightlife promotions, what are some of the hard truths that you've learned over the years that you think the general public either doesn't know about or doesn't see?
It's not as fun as it seems and it gets old quick! Just because our work is about throwing parties and festivals while designing cool merch and pumping amazing content doesn't mean we're having the same fun as everyone else. Most of the time, we are working, we are stressed, we are sober, and we are exhausted from prepping/setting up and running the event, the shop, and pumping out content like crazy. Any organization who parties in their own party won't last long (either them as an org or the party itself)

Most of the promoters (and artists) behind the parties are sad, broken, egotistic people who are doing this to fuel their own pride and importance in society. There are promoters and artists who really do care about their community but that is rare and seldom, most are doing it for the clout and you see it (and feel it) at their parties or the way they conduct themselves, it's sad when people put their own clout (ego/pride) over the vibe and goodness of the party or the intention to their music

The nightlife scene will either build you into a better person (aka I worked hard for this moment and will continue to do so) or it will destroy you (aka I need to take drugs to feel good in this environment). But here's the good news, what destroys you and takes you to rock bottom is what's needed for someone to pick themselves up, there's nowhere left to go besides UP when you hit rock bottom.
How has the SIX AM, ethos and work culture changed over time? What are some parts that have not changed and why is that?
When you start this as a hobby that's exactly how you treat it as; so our entire ethos was to party with the party and bend every weekend. It's no different than how most groups start off, the parties are definitely a big influence. Our work culture was also very part-time (half-ass) based since I was working full time and everyone on the team had a FT job and doing what they could to help so it definitely wasn't as intense as it is now where I'm doing this full time along with a handful of people who are taking on some real responsibilities for the company.

What hasn't changed I think is our work ethic and mindset about working hard. I knew from day-1 that if I put in a strong work ethic that out hustles everyone, over time we would start to separate ourselves from the rest. On weekends where I couldn't afford to go to WMC/Ultra or (insert your festival) I would actually double-down on putting in work during the weekend where I had the most free time. This sentiment still hasn't changed all that much. For example, I double down on my grind during Coachella, EDC, CRSSD or any Big festival weekend where I am not attending because I know my competitors are out there doing what we all know they're doing plus the hangovers they come back with gives us more of an edge. While they recover Monday-Wednesday after the weekend we have already put in 4-5 extra days of intense focused work. This is kinda our secret, do we really want to share this? LOL
6 Months into the 15 year anniversary, what have been some of the highlights of the year?
The entire year so far have been a highlight in all seriousness but if you like me to break it down
Our Q1-2023 team meeting where we have set the tone and intention for the rest of this year. I truly have the best team and I ain't just saying that, they prove it to me every day and every week. Without getting them aligned and pumped, we wouldn't have any highlights. All glory goes to the team and they are the main headliners of the year here at SIX AM

Needless to say our 15-year anniversary kick-off event with Richie Hawtin was very special. My history with Richie goes back to 2008 when I first discovered him then I was lucky enough to play with him twice (2015 in Tokyo and 2019 at CRSSD) so to be able to share the decks with him for a third time and in LA for our anniversary is something I could never predict and a moment I will never forget.

Our WORK events this year are starting to take off in ways I never imagined when we first started this series in 2014. Just the sheer support we are getting from this community as well as the bookings we have been getting is just unreal

This year also marks the 10-year anniversary of our Guam Festival, EIF, and through the support of Guam's visitor's bureau we were able to bring our festival brand to Taipei (Taiwan), Seoul & Busan (South Korea), and Tokyo (Japan). Our relationship with the scene in Asia have grown tremendously over the years and it's setting us up for a grand future play down the line

Last but not least, I feel like our team's overall effort for self-development (personal and professional) is going into new heights and that in itself is shifting the way we approach this industry that is overly saturated with weekend bender bros and after-party monsters. One day, I will look back to this period where we took self development seriously as the shifting factor towards our growth and success
Where do you see SIX AM going in the next 15 years?
I see us going through a tremendous amount of obstacles and challenges; it's easy to say "we will grow blah blah blah" but what is crazy about growth is that the trade off are the obstacles and bullshit we have to deal with.

If we can endure and overcome those obstacles then what awaits us on the other side will be something I don't think I can even put into words.

While I do have big goals, it's best to save the nitty gritty details for when it's time to announce so I don't jinx it all LOL.
I know we will still remain true to our ethos for the community and continue to be the global platform that serves our people, there is no other way to go about this journey besides making sure we take good care of ourselves and people in the community and be of service to them.
Where do you see or hope to see yourself going in the next 15 years?
I guess I can share this one publicly, but I really see myself becoming a Coach/Big Brother/Uncle for the industry and it's something I'm already diving deep in especially with the launch of ArtistMap in January 2019. Right now, I am working with a solid handful of artists and industry peers as their "whatever you want to call it" - but I am there trying to push them to grow, challenge them to see their own potential, and guide them to their version of success. To me, this is my purpose in the industry which was unveiled in 2017 during a John Digweed interview I did with him. I found my purpose through my passion and I'm going to double-down on this. It makes me feel alive and I could literally spend all day/night doing this without feeling like it's work. While my original intention was to be the next Tiesto/Carl Cox, I have come to terms that the value I am providing to the global community stems far beyond the DJ booth and I am quite OK with that. I still love to DJ so I will not be hanging it up and if anything I see myself playing more shows (bigger/bucket list shows) since I really really love to play on a big sound system - DJ'ing is why I got into the scene and I will continue to pursue this love as long as I possibly can.
You can also bet that I will be doing everything in my power to give my all to this community in whatever way I can. Our events, shop, content/media and courses will only grow with the amazing team we will continue to foster and build.
Anything else you'd like to add before going out into the next 15 years?
I would like to add that whoever is reading this please understand that I came from a place without a scene (Guam is not a Techno island), no money, no real skills, no experience, and no knowledge about any of the stuff I am doing today yet I am now considered a thought-leader in the electronic music community. I wasn't always in this position and I have to say that hard work while persevering through insanely tough times without quitting is really the most honest answer on how people reach their goals and success.
I have read many books that tell me these exact same things and I never really quite bought into it until more recently when I am seeing things all unfold in front of me…while I am not at the level of success you'd imagine (at least not financially yet). I think for what it's worth now, I have to say we're not doing too bad ourselves and with some tweaks and adjustments I can really see us taking off further than I can ever imagine.

What we do is so much more than a RAVE - this journey taught me shit I could never learn in school or by reading a book. When you find something you are passionate about, try your hardest to find that purpose behind that passion and you will never have to question if what you're doing is right or wrong. Follow your heart and do the grunt work and watch the magic unfold.

Thank you for all the love and support from everyone who has ever been a part of this from the beginning until now - I could cry just thinking about all the times that have passed to bring me here right now, it's heavy but I know this is exactly where I need to be doing exactly what I need to do. We're going to finish our 12-month long celebration of our 15-year anniversary by the end of February 2024 and after that it's back in the lab again, head down, hard work until it's time to face our 20-year anniversary which will be another milestone waiting for us. Until then, you all take care and hope to see you on the dance floor soon!
Much Love!