David Geil Is Always Learning Through Techno

By SIX_AM
October 23, 2023 at 12:00 AM PT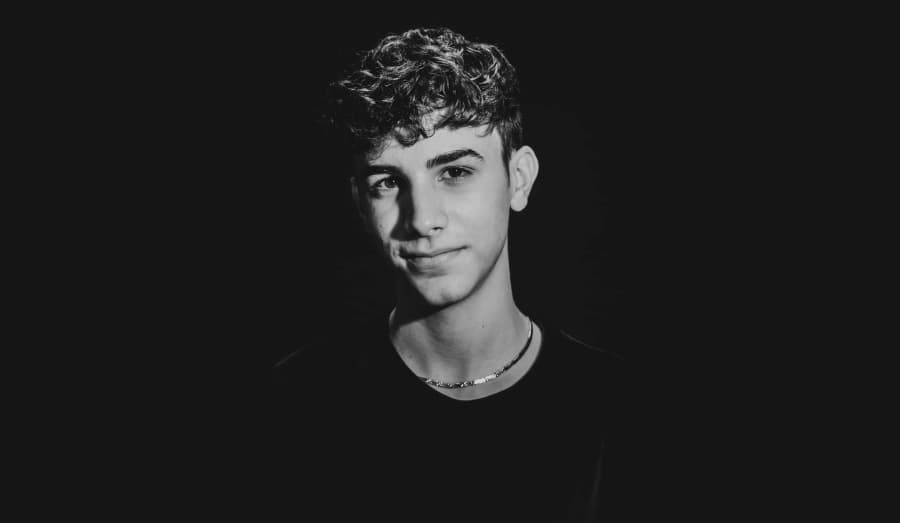 Stage-named artist David Geil (aka Davide Ubaldi) is an Italian DJ and record producer. At just 11 years old, David began cultivating his passion for creating music, and in 2018 he began attending a DJ course at the music establishment Goody Music for DJs — this also led him to begin performing at private parties and late-night gigs. Continuing his music education journey, in 2019 he attended the Rain of Sound DJ Academy, and it was here where his musical technique was perfected. The same year he attended Rain of Sound DJ Academy, in April he participated and won 3rd place at DJ Battle which was also hosted by Pioneer. From participating in the European music contest Tour Music Fest, studying piano, and continuing his artistic career at the AFTEREGO studios to learn more about production and management, it's clear that David's passion for music transcends beyond creating it but learning it authentically and educationally.
From performing at the 2021 Beachland Festival in Kenya, Ibiza's Gardene Festival in Bora Bora (2022), and producing new tracks on labels such as Klap Music, Pure Enjoyment, Monkey Stereo, and Discord's Music, it's apparent that the young artist's talent is not being unrecognized.
Now coming onboard to 6AM, David Geil shares his scholastic perspective of learning music production and management, maneuvering through music at a young age, Italy's rich history with music, as well as his latest EP Spaceworld which was recently released on the label Pure Enjoyment. The EP Spaceworld is now available for full purchase on Beatport.
Welcome to 6AM David, we're excited to get to know you better and get into your artist journey. What have you been busy with lately outside and inside the studio?
Lately, I have focused more on music. In order to improve in production, I study piano. And, my current opinion is that producing your own music is very important in that it helps you grow and makes you more known in the music world. In fact, knowing music gives you a definite advantage over many producers who do not have this knowledge, as you are able to create your own music without resorting to various upper management and producers.As a DJ, learning and understanding music can give you a certain edge.
Listen (Preview): David Geil "Spaceworld" – Pure Enjoyment Recording
As an Italian artist that's from a country with very rich history and music, we'd love to know your perspective on your favorite aspects of the house and techno scene in Italy. What makes the house and techno community resilient in Italy?
I would like to begin by answering this question by saying that I appreciate hearing music of all genres, and this also helps me with certain productions. When I work on particular sounds that I am inspired by, genres are not purely house or techno.
The examples that I prefer most out of these two types of music are minimal, tech house, and many others with certain facets that you can really range with. These resilient variations make the community in Italy more interesting and less boring.
Speaking of music and community, you've had quite the journey of learning DJing and producing throughout your journey. In 2018, you attended Goody Music's DJing course and began to perform at private parties, then in 2019 you were also enrolled at the Rain of Sound DJ Academy, and in that same year, you participated and won third place in a DJ Battle that was hosted by Pioneer. We love to see DJs acknowledge and craft their skills through music education. Currently, what techniques and/or lessons do you still apply to your productions that you've learned from these educational experiences?
Currently, every time I produce a record or perform, it is the result of everything I have learned through the courses — for example, one technique that I use is the bass line with Operator. Another very important point for my productions is to write all the synths, this is thanks to the fact that I have been studying piano for three years and this method helps me with productions.
After enrolling in DJing academies and taking production and management courses, it wasn't that long after that you performed at festivals — festivals such as Beachland in Kenya and even Bora Bora in Ibiza. Congrats on these huge milestones in your career, we know that they were worthwhile. What's been the most rewarding and unforgettable experience of performing at these two festivals? Any funny or interesting moments that you'd like to share?
As for Ibiza, it certainly was a magnificent experience — performing in such a place where all the greatest DJs perform at is such a crazy thing. I feel lucky and very proud because there have been a few younger DJs (a few at the age of 15) that have performed in Ibiza. I hope to come back next season and perform in other local clubs instead.
In regards to Kenya, it was a unique and particular experience, to say the least. For various reasons, it's a completely different civilization from ours, but I also managed to adapt my DJ sets and make people dance — it was the greatest satisfaction, therefore an experience that I would gladly do again.
The only regret of the Ibiza experience was not being able to enter the big parties to see the greatest electronic music artists play due to an obvious age problem. On the other hand, if I had to tell funny moments (and I would tell all), the interesting week I spent by Lío was one where I lived every moment to the fullest — these moments, I wouldn't know which funny/interesting ones to choose.
Your recent EP Spaceworld was released not too long ago on Pure Enjoyment. Walk us through the creative process that went into creating this project.
For Spaceworld, my approach to basic production is that for almost all of the tracks I do that they all come from the inspiration of the moment. One moment I'm doing something and the next I find myself in front of my PC to produce — and so this EP was born too. There is no particular inspiration but only what is musical in my mind at that very moment. I look for the right sound and then with my keyboard I create the melody I already imagined.
Listen (Preview): David Geil "Forest" – Pure Enjoyment Recording
In the track "Forest", I was inspired by the memories of the tour in Kenya. I was inspired by repetitive situations and by remembering the many stars. The stars inspired this Deep house sound that I would then name "Spaceworld".
You've been cultivating music since the young age of 11, and from what we've seen so far, you truly have music in your blood and will continue your path of creating amazing projects. What are you most grateful and proud of when it came to releasing your tracks on Klap Music, Pure Enjoyment, Monkey Stereo, and Discord Music?
When I was 11 years old, I was listening to records. My only thought was to one day be able to create my own music, and today, I managed to reach this goal, and I am grateful and proud. I am only at the beginning of a very long journey, but my goal is to improve myself more and more, and to make my music in higher quality.
I hope soon to make releases with increasingly prestigious labels. To those that have supported me now, I will always thank them.
Thanks again for sharing your experiences with us David. Is there anything else you'd like to share?
Finally, I would like to thank you for the opportunity you have given me. I hope in the future to be able to tell another piece of my musical career, which would mean that my dream has gone on.
Thanks again,
David Geil
Connect with David Geil: Website丨SoundCloud丨Facebook丨Beatport丨Instagram