Ionne Producing with a Classical Music Background and a Conscientious Approach
The musician, producer, and creative visionary known as Ionne has been making music since he was a child studying classical trumpet and piano.

By SIX_AM
September 14, 2023 at 1:06 PM PT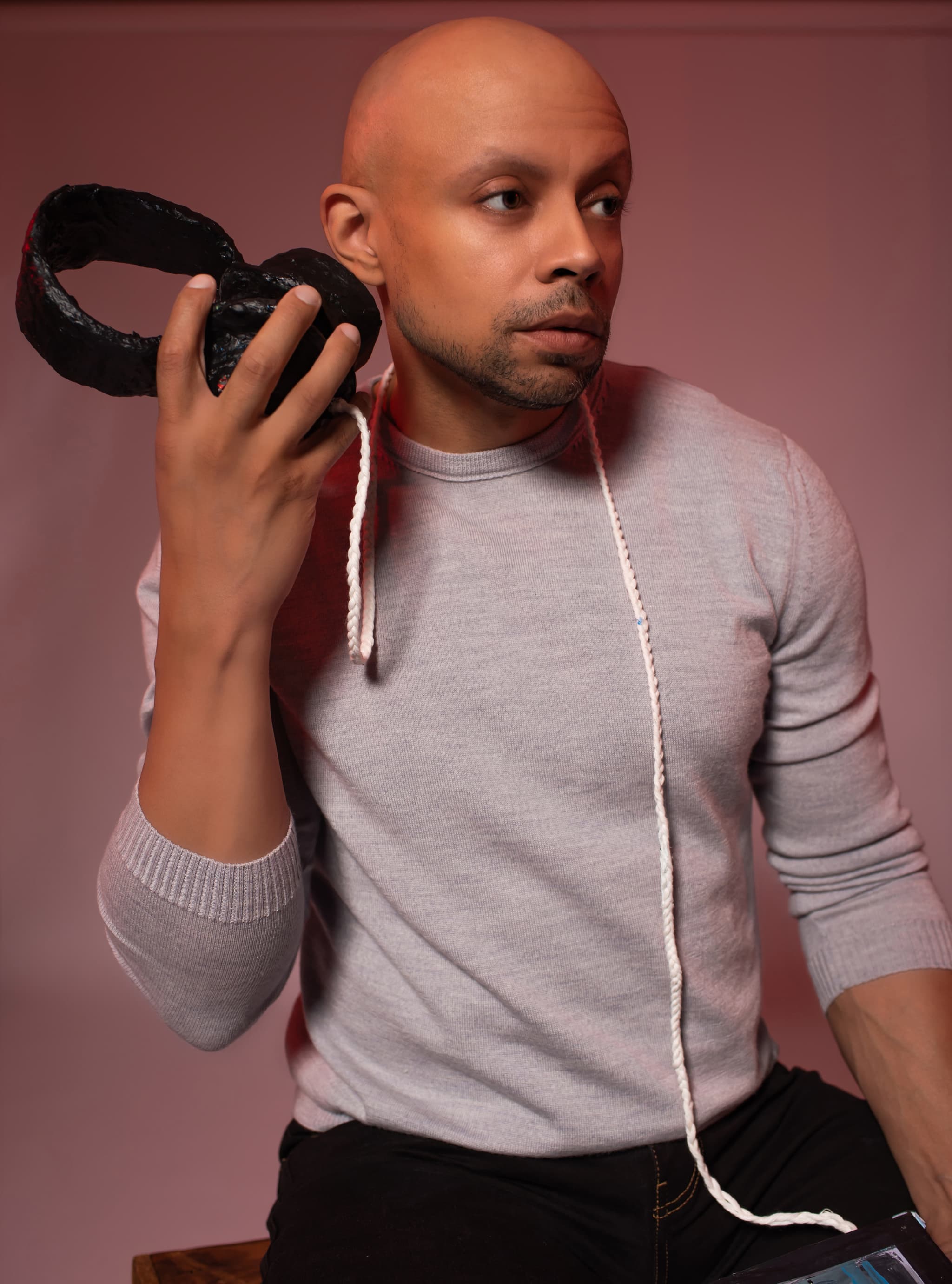 The musician, producer, and creative visionary known as Ionne (pronounced ee-oh-nay') has been making music since he was a child studying classical trumpet and piano. Born in Riverside, California into an Air Force family, he grew up "a little bit of everywhere," he says, from the USA to the UK, across Europe, and back again. Several years in Germany turned out to be especially formative in his early explorations of electronic music.
Today Ionne gets down with SIX AM about his diverse upbringing, classical music background, and conscientious approach to music.
Hi Ionne! Thanks for talking to SIX AM how are you doing?
Thanks for inviting me. I'm doing well!
To start off with, for those that don't know, you grew up in an Air Force family and traveled the world. How does your diverse upbringing and experiences in various countries influence your musical style and creative vision?
Living in and traveling across the UK, Europe, and North America from the time I was born until around my junior year in high school meant that I was absorbing many cultural influences in my formative years. I experienced this in a family with strong connections to its African American heritage and southern U.S. roots, primarily in Georgia and Florida.
Musically, I was absorbing everything I heard. Genre and its cultural underpinnings were concepts I understood from both musical training and lived experience, but I found them difficult to apply. For example, as a teenager studying classical piano, I was scolded by one of my teachers for improvising the lessons. Classical music was all about precision. In hindsight, I credit my adventurousness to my early experiences with gospel, jazz, and rock, and how much I loved their improvisational nature—and the fact that I could play by ear as well as read music. In my young mind, the written score was merely a suggestion of a composer's intention, open to interpretation. I wanted to make the songs my own. I am still like this today—interpretive, adaptive in my approach to musical performance.
I first heard electronic music while living in Germany, and it appealed to me immediately because it was a space limited only by the imagination. I played piano and trumpet at church and in school, but I experimented with electronic music at home. I began to shape a creative vision around synthesized sounds and the transcendence of genre. This does not mean that I rebelled against genre, it only means that I untethered myself from acoustic instruments and singular sets of stylistic criteria that delineated one genre from another. The blending of styles and cultures, and the creation of new, experimental sounds, have become distinguishing characteristics of my work.
Can you elaborate on how your background in classical trumpet and piano contribute to your approach to electronic music production? Are there any classical elements that you can hear in your electronica music?
Trumpet and piano served as my pathways into music theory and orchestral music. I'm certain that they influence my approach to electronic music production in many unconscious ways, but I'll offer just a few examples of ways that I'm aware of. The first example is when an electronic production feels too abstract and needs elements of structure and relatability. I may integrate simulated strings, wind instruments, and percussion as a sort of exoskeleton for an otherwise ambient piece. Just mute the percussion in "Mess" or "Acid & Wine" (2022) to know what I mean. The second example is when an electronic production begins as a piano and vocal composition. I may use that original composition as a scaffold for a dramatic, synth-driven work, as I did in "The Other Side" (2020) and "For Those Who Remain" (2021). The third example is when an electronic production is intended to demonstrate my interpretation of classical techniques such as in "Glacier" (2021) and "Distance" (2020, 2023). Although the latter song is fully EDM, it resembles a classical fugue led by an arpeggiated trumpet-like synth.
All that being said, it's important to note that my background in gospel music growing up in church, and in pop music that I listened to as a youth and tried to emulate at home had just as much of an impact—specifically in how I produce harmonies in backing vocals and how I structure song arrangements with hooks and verses. When I worked at Ligosa Records & Sound Studios in the 1990s, I was learning synth programming and studio engineering from artists and producers who specialized in rock, pop, and to a lesser extent R&B. As a result, I tend to mix electronic music productions with the tonal balance of rock records and, recently, have found myself using a lot of simulated electric guitars in my work. Grungy, sci-fi synth guitars are all throughout the Fracture (2022) album.
You have a very unique and impressive educational background with a PhD in Ethical and Creative Leadership with a specialization in Martin Luther King, Jr. Studies. How has this influenced your work and vision as an artist?
I was raised to value education and had set a goal for myself to continue my studies even though I had begun working full time prior to completing my bachelor's degree. By the early 2000s, in addition to producing music I was working in marketing and communications, and that provided both the resources and the opportunity to go back to university. I developed an academic interest in social change leadership and while studying for my doctorate began to recognize that social change leaders and popular music makers have some important gifts in common: They both help people make sense of the world. They communicate views that others can understand and appreciate, and they influence people to think in new ways. These revelations were, for me, the intersections between music and leadership studies.
In partial fulfillment of my PhD, I produced a two-part creative dissertation. Part one was a 12-song concept album entitled The Garden. Part two was a contextualizing essay that discussed how I constructed the album as a tool for leading positive social change. In my work, I argued that musicians are leaders and their music is, essentially, a leadership tool. I explained how my own attempt at leading positive social change through music culminated in an adaptation of C. Otto Scharmer's Theory U, which I then used as a music production guide. The aim of The Garden was to convey through music an ideology of racial healing inspired by James Baldwin's The Fire Next Time.
Since completing my PhD, the biggest change in my work and creative vision is that I no longer engage in music as a neutral practice, but rather a conscientious one. I embrace my role as a leader by interrogating my sources of inspiration and understanding how they offer insight into the emerging future. I've found that long-format recordings, albums, are a fantastic platform for achieving this kind of interrogation. The album provides space for storytelling, theme-building, and contemplation—ultimately, a springboard for conversation. And I've applied a conscientious approach to my past two albums. For Those Who Remain (2021) explores themes of racial, social, and environmental justice, and Fracture (2022) is all about how systems that we put our faith in—religion, government, family—break down, and how we might rethink and reconstruct our lives beyond the breakdowns.
You seem to be involved in multiple artistic mediums, from music production to gallery exhibitions. How do you use these different mediums to enhance and complement your music, and what does this interdisciplinary approach bring to your art?
The linking of different mediums—in my case, music and visual art—puts the artists in conversation with each other around a creative prompt. It also complexifies the topic in a very good way by providing multiple perspectives for the audience to unpack.
For example, when I was producing Fracture, I knew that it would be an album about the breakdown of systems and objects of faith. I had a storyline in mind, but I wanted a way to captivate the listener for the entirety of the album to convey that storyline. So, I reached out to The Collective NHV, a visual arts team based here in New Haven, Connecticut, and enlisted their support.
The visual art collection they made for Fracture—photography, digital art, and video—chronicles the adventures of a cyborg sent backward through time-space in order to escape an apocalypse and prevent it from happening. The cyborg crash lands in the past only to find humanity at the same critical juncture that awaits the future. "All of this has happened before, and it will all happen again," or so the saying goes. But does it have to happen at all? This is the ultimate question the audience is left to explore.
Each song on the album has its own related visual art piece, contextualization, and contemplation. Thus, the exhibition functions on micro and macro levels. Whenever I have presented the exhibition, I have included a live performance of selected tracks from the album as well—a format that my label, 5015 Records, has dubbed an Excital, a combination exhibition and recital. More about The Fracture Excital can be found on my website at https://www.ionne.com/fracture-excital
The Fracture Excital is now also available as a virtual reality app, providing yet another medium through which to experience the work. Using a VR headset, the app transports the user into a virtual art gallery where they can interact with the exhibition and, when in multiuser mode, engage in real time conversations with users from around the globe. The Fracture Excital can be found in the Oculus App Lab at this link.
By the end of September you will have two remixes release: "The Last Time Remix" on September 8th" and "The End of Summertime" on September 23rd. What can you tell us about these remixes? Do these remixes have a particular significance especially with their timing of the release and their titles? What kind of vibe and energy can audiences expect to hear from these remixes?
I'll start with the latter question: What kind of vibe and energy can audiences expect? Answer: A funky vibe and dance energy! Sometimes I just want to let my hair down. Well, my head is shaved, but you know what I mean. Not to mention, I've been DJing quite a bit lately and have felt the urge to remix some of my previously released material so that I can add it to new continuous mixes.
"The Last Time (Club Mix)" is out now. It's a deliberate departure from the album version. The new mix has a house beat and feels more liberated than the album track, which was epically heavy. I had fun composing the new musical arrangement around the original vocals to create a whole new sonic atmosphere.
The forthcoming remix for "The End of Summertime" hits deeper than the original 2020 mixes. The original versions have a light optimism to them. The dance comes from the shoulders and feet. The new mix has a dark determination to it. The dance comes from the hips and the soul. I originally released "The End of Summertime" just ahead of the 2020 U.S. presidential election. At that time, the song could have been interpreted as either a celebration of the end of a poisonous administration, or a call to grassroots activism, depending on the election outcome. This year, the song resurfaces just as campaign news begins to fill the headlines once again. The release date, September 23, 2023, marks the autumn equinox and is, in this context, a symbolic line between tyranny and freedom.
Could you provide more details about the upcoming gallery exhibition "Sonos Lumia II" and how it relates to your music? How does this exhibition reflect your creative vision and collaboration with other artists like Mary and Ben Britton?
Back in August 2022, abstract expressionist painter Mary Barr Rhodes, projection designer Benjamin Britton, and I collaborated on an audio-visual installation titled Sonus Lumia: Perception. It was the first of a two-part exhibition that explores humanity's relationship with light.
Sonus Lumia: Perception was a 16-minute multimedia experience consisting of four songs that I wrote and produced, which served as the inspiration for a series of mixed media paintings by Mary. Ben photographed and reconstructed Mary's paintings as projections set to the music.
Following the success of last year's exhibition, Mary, Ben, and I developed Sonos Lumia II and will open the exhibition on October 27, 2023, at the Pendleton Art Center in Cincinnati, Ohio. It will be a wonderful demonstration of how our processes have evolved in relation to the original prompt. For my contribution, the music is heavier and more complex this time around. In our conversations leading up to this iteration of the work, we talked quite a bit about micronovae and singularities—phenomena that generate enough gravity to stretch and absorb light. I wanted the music to have that kind of weight.
Guests are encouraged to bring their smartphone and earphones to scan QR codes linking the visual works to the music. It almost goes without saying that the music from Sonos Lumia: Perception and Sonos Lumia II is the basis of my next album coming in 2024.
Thanks so much for your time! Is there anything else you have on the horizon that our audience can look forward to?
Thank you for asking such incredible questions. There's always something new on the horizon lately, which is exciting. I want to give a shout out to my colleagues at Midnight Oil Collective and 5015 Records who support my journey and keep me engaged in a community of brilliant creators. For updates on the latest projects, subscribe at https://ionne.com or follow @ionnemusic on socials. Love and light!
Connect With Ionne: Instagram | Facebook | Soundcloud