By SIX_AM
October 9, 2023 at 12:00 AM PT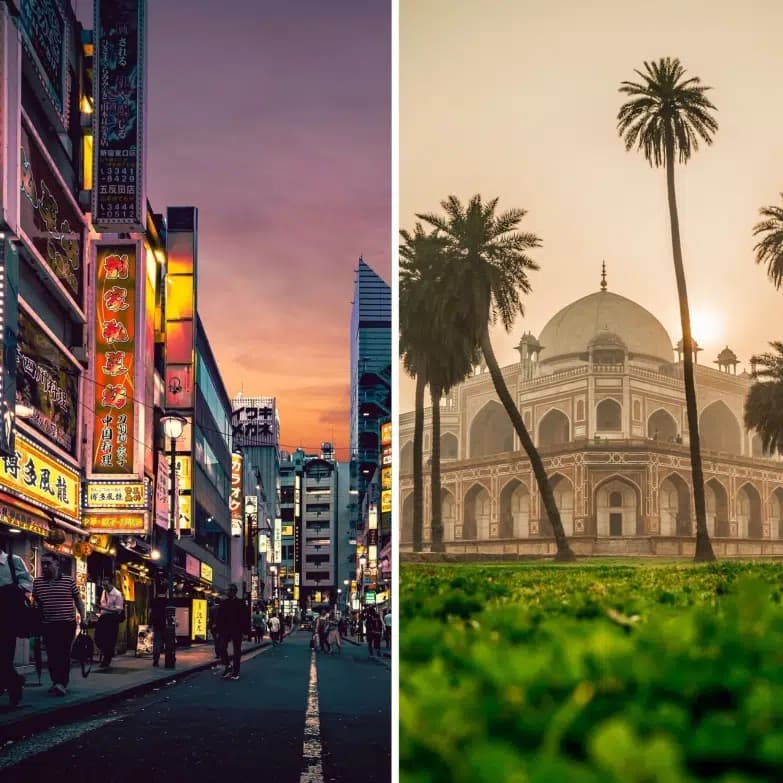 Have you ever wondered where the best house and techno clubs are located worldwide? If yes, consider yourself in luck. In no particular order here are 21 of the best clubs for house and techno in Asia.
Best in China:
1. Dada Bar – Beijing, China
The Dada Bar hosts DJ and live electronic music parties every Friday and Saturday, often with international guests. Other nights of the week feature local DJs and art, culture, and film events. Located on the east side of the Drum Tower, the Dada Bar has been known for its excellent sound systems, stellar music, and relaxing atmosphere since its opening in 2012. They have also been booking a selection of fine underground DJs such as Pei, Boflex, Zhiqi, Oshi, Aled, A Guy Called Gerald, Kode9, DJ Hell, and more.
Dada Bar
2. Playhouse – Chengdu, China
Playhouse is leading the way with promoting culture. This iteration of Playhouse in Chengdu is the third to be opened, after previous ventures in Guiyang and Chongqing. Playhouse offers more than just its Mainstage, Loud Stage, Party Room, and Lounge Bar, the club also contains its own clothing outlet, Fashion Collection.
Playhouse
3. Club Galame – Foshan, China
A cathedral-like space built with a purpose. Titled, "The Electronic Heart Of Foshan", Club Galame operators similarly to a European club. Because it shares a similar European club scene, this means that Club Galame places a firm emphasis on music and rave culture, rather than luxury VIP areas and big-spend guests.
Club Galame
4. Catwalk – Guangzhou, China
Known as the most prominent dancing destination as well as the nightlife powerhouse of Guangzhou. In August 2021, Catwalk opened a brand new sister venue, Catwalk +, which offers a more diverse music policy, as well as becoming a firm positioner of being a "spiritual leader of night entertainment". With a combination of using Asia's most-renowned visual companies, PR Lighting, EAW Avalon sound, and a 360-degree LED display screen with immersive effects it's no wonder why Catwalk attendees and residents come back for another unforgettable experience.
Catwalk
5. Openpie Party Space – Guigang, China
A club that plays a broad spectrum of sound from trance, hip-hop to EDM. Openpie prides itself as a multi-use venue with "an unlimited-style club, including brand, business, social, online and offline events". The club has worked on forging close relations with clubbers and businesses in the local area as well. Openpie's brand and popularity have grown across the whole Guangxi province and now it is known across the wider Chinese music scene.
Openpie
Best in Japan:
6. WOMB – Tokyo, Japan
Featuring Asia's largest mirror ball and a top-class sound system with high-quality lighting and laser productions, WOMB brings the world's top artists to its acclaimed main floor, but also the latest Tokyo artists dominating the local scene onto three diversified sub-floors for attendees to enjoy. Ranked #2 in the world in 2005, #5 in 2008, and #4 in 2009 according to the yearly ranking carried out by London's celebrated music magazine "Mixmag," WOMB is well-known as a hotspot for top artists and music fans all over the world and as a club representative of Tokyo.
WOMB
7. VENT – Tokyo, Japan
Club VENT Tokyo features optimal acoustics within its walls in order to provide attendees with a one-of-a-kind music experience. Attendees get the best of both worlds: A place to dance to a crafted selection of house and techno music all night, and a lounge where they can sip on their favorite drinks and relax. The club's structure and building materials were also carefully chosen to aid in the natural refraction of sound throughout the space.
VENT
8. WARP Shinjuku – Tokyo, Japan
Defined as "two different time zones, three kinds of atmosphere, all combined with music." WARP lies in the heart of Tokyo's nightlife district and is placed as one of the capital's key clubbing locations. Divided into three main areas for clubbers of various persuasions, WARP offers the UNIVERSE FLOOR; an area for VIP guests that serves up EDM throughout the night. BAR METEO offers specialized DJ sets for those in search of edgier club sounds. The last area is the COSMOS ROOM, the smallest space of the three that provides an ambient, yet homely retreat. A fourth floor was announced in November 2021, but with no details on said upcoming renovation.
WARP
9. Contact – Tokyo, Japan
An event space that began in the basement of Dogenzaka, Shibuya as a base for transmitting music culture. Not only do the world's top DJs perform at Contact, but also up-and-coming artists from the real underground scene in Tokyo perform here as well. As a place where new culture is created, Contact has a unique presence as a venue with not just a focus on high-quality music, but even in branding fashion as well.
Contact
Best in South Korea:
10. Faust – Seoul, Korea
Faust is an intimate two-room club that hosts top international DJs as well as the best of the local Korean scene. Techno lovers can immerse themselves in the dark in an acoustically treated main room that features a world-class, hand-crafted Kirsch Audio system; if that's not your style, then you can find a more downtempo and relaxed social scene at Tanz bar. Faust was built both for the true lovers of the underground scene as well as for those who are seeking a richer, deeper musical and nightlife experience. Featuring previous performances from "We Faust Again," the club has introduced the talents of: Suman, Stann Lumo, Kim Bo Yeon, Joon Kwak, UNREALNUMBERS, Marcus L, DAMIE (KR), Short Finger, and many others.
Faust
11. MODECi – Seoul, Korea
Opened in 2017 by the popular apparel shop HENZ SHOP, MODECi has a broad mix of musical genres. Despite the club playing different genres, Korean DJ's such as DJ Soulscape, who is well-known in Korea's underground scene, DJ's from overseas, and even bands occasionally perform here, attracting a wide range of people. From the attendees can enjoy a panoramic view of the city, making it a nice spot to cool down from dancing. The rooftop area is also often used for a variety of parties. In the basement of the same building, there is another club called HENZ CLUB, which is run by the same company; this club focuses solely on bass-heavy music.
MODECi
12. Vurt. – Seoul, Korea
Opening in 2014 with the slogan 'Ancient Future', is Vurt.; a small underground concrete bunker located down an alleyway near to Seoul's bustling Hapjeong station. Open between 3 – 4 times per month, Vurt.'s music policy is geared towards techno, with the focus generally on underground local talent from Seoul; artists such as Unjin, DJ I, Xanexx, Koshin, and Soolee. International bookings ranging from Europe to the U.S. have also played in the South Korean club as well.
Vurt.
Best in Taiwan:
13. Pawnshop – Taipei, Taiwan
Pawnshop is the new space brought to you by the same team that presented Korner. Consisting of two floors – Pawnshop, which is focused on heavier club sounds, and Downbar (an intimate room for uplifting music), the venue focuses on showcasing talent from Asia and beyond. Outside the musical realm, it features a third space, 'Known', which centers on live performances, workshops, and art events.
Pawnshop
14. Studio9 – Taipei, Taiwan
A new music venue located in the heart of Ximen in Taipei City. Studio9 is a spacious venue that operates as a lounge bar and sunset terrace during weekdays and on weekends Studio9 transforms into the hype-est venue for music lovers. The venue host an array of electronica events such as Space Travel that took place February 26 (2022) with DJ Ace from Kaohsiung, House Nation that took place March 12 (2022), and Studio9 Terrace X Eden Hill Festival Pre Party with House and Techno DJs Guy L, Lucy Pova, and Molly and Venci taking place Mar 26 (2022).
Studio9
15. Ai Nightclub – Taipei, Taiwan
Ai is known for leading the clubbing scene in Taipei, but also more broadly across Asia. Part of the reason for that is its investment in a sleek, modern look: the club was designed by one of Asia's leading design firms, Howard Liao Design. From its design, Ai is famous for its unique lighting, lasers, and curved features. As of recent in 2022, the club has produced a lineup such as: DJ Kasha, DeejayJunior Lin, DJ LYNNE, DJ Abby, DJ KODY (KodySie), and many more.
Ai Nightclub
Best Clubs in the Rest of Asia:
16. antiSOCIAL – Maharashtra, India
A place dedicated to expression, deep in the underground of Indian subculture. From showcasing inclusive, genre-bending events to hosting up-and-coming independent artists and free expressionists, antiSOCIAL is a forward-thinking space where creators and collaborators thrive.
antiSOCIAL
17. Auro – Delhi, India
A contemporary bar dedicated to modern Indian cuisine & fusion cocktails. Auro is a new-age modern Indian fusion restaurant and as the name suggests is paying homage to the Aurobindo market. Along with great dining, the venue also hosts live music.
Auro
18. Zouk – Singapore
From repurposing its 31,000 square feet into a restaurant, adding a spin cycle gym, pop-up cinema, and an immersive lighting rig that's ironically nicknamed 'The Mothership', Zouk has continued to entertain its local music lovers and diners. In June of 2020, Zouk even managed to throw a three-day Zoom festival called Phuturescape. With club residents such as: Nash D, Jeremy Boon, Hong, Ghettoo, LeNERD, and Che'Molly Zouk will continue to diversify its environment with the best elements of nightlife.
Zouk
19. WHITE Dubai – Dubai, UAE
The club took Dubai by storm by being #1 regionally and #15 internationally. Being a known leader to all that is nightlife, White Dubai takes on fresh, transformative energy for its attendees to get involved with. From high-tech shows that range from unique and galvanizing, White Dubai carefully crafts themselves as a spectacle, and nothing less than. Crafted with a clubbing-meet-cabaret tone, White Dubai is still home to DJs who have roamed the world over.
WHITE Dubai
20. Insanity – Bangkok, Thailand
Launched in 2015, the last six years have seen the club welcome a selection of international artists, including NERVO, Ferry Corsten, Rave Republic, and Marina Bo. With Insanity, local DJs have a history of playing out a mixture of electro, EDM and open-format sounds. Seasonal events such as New Year's Eve, Valentine's Day and Chinese New Year are huge spectacles at the club, while weeknights are made just as big, hosted by Damien N-Drix, DJ Litchi, and Martin Hygard.
Insanity Nightclub
21. JiroKL – Kuala Lampur, Malaysia
Pronounced as 'jai-ro', JiroKL goes beyond the boundaries of deep house and celebrates the variety that underground electronic music brings within a community. Located in the heart of Bangsar, Jiro's aim is to explore a new wave of the underground soundscape by delivering only the best acts from all around the world. Examples of past acts that have played at Jiro in 2016 include Tiga, Eagles & Butterflies, Darin Epsilon, and Hito. JiroKL also offers two VIP areas, one that is located right behind the DJ console for those who wishes to party and be the live of the party. JiroKL also caters for private events at the main VIP room where customers can enjoy premium bottle service, a private DJ, a private waitress, and an exclusive area for attendees to host or to party.
Jiro