Sit Back & Relax, This Is Your Guide to Melodic Techno

By SIX_AM
May 17, 2022 at 3:19 AM PT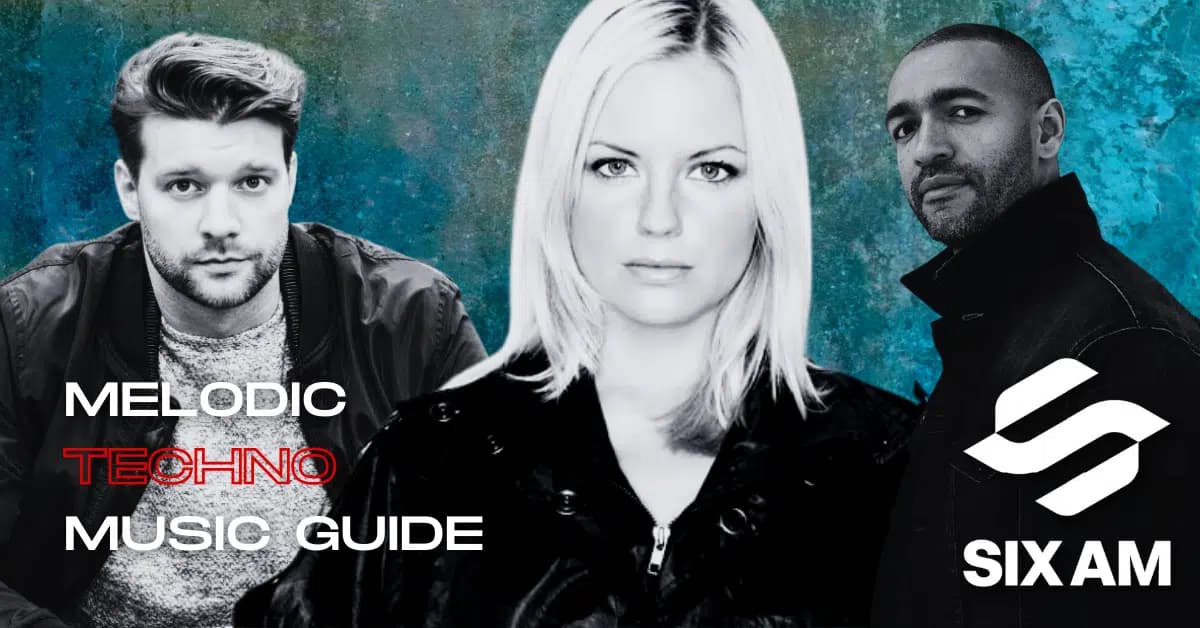 Techno is an incredibly diverse genre. While we've rounded up six techno sub-genres that you need to know about, keep in mind that within electronic music alone there's nearly recognized 298 sub-genres. This can feel very overwhelming even for seasoned crate-diggers. A good place to begin your quest for knowledge and sonic goodies is our beginner's guide to techno music. Otherwise, sit back, relax, and enjoy the lovely ride that is melodic techno.
What Is Melodic Techno?
Melodic techno is a sub-genre of techno that has a (debateable but highly likely) heavy influence of trance music. Melodic techno often focuses more on melodic progressions than your standard techno. It has a slower tempo than trance, normally between 120-125 BPM, and softer percussion that draws from minimal techno.
Characteristics of Melodic Techno Music
Melodic techno is characterized by arpeggiated minor melodies. The chords are usually clean, delicate plucks with long reverb and stereo delay. These sounds, in turn, are complimented by ambient pads and deep, rolling bass lines. Mixed together, they create a spiritual and hypnotizing atmosphere reminiscent of early trance.
Melodic techno's gradually progressing structure makes it different from later forms of trance and harder or drop-oriented forms of techno that were popular in the late 2010s. For these reasons it is often considered a sub-genre that resurrects 90s trance. In any case, melodic techno continues to cultivate its own unique sound.
Listen: Beatport Best New Melodic House & Techno
Brief History Of Melodic Techno
Melodic techno established itself in the mid-to-late 2010s. The Italian duos of Tale of Us, Mind Against and Agents of Time are among the sub-genre's pioneers. In 2013 these artists went in a new direction after previously producing deep house. Stephan Bodzin also became an important figure, by naturally evolving his style, as well as other minimal techno artists such as Patrice Bäumel.
Diynamic Music and newly founded Afterlife became the sub-genre's main labels. In the years following they promoted new and prominent artists like Undercatt, Innellea, and ARTBAT. More established DJs also dovetailed into the sub-genre, including Maceo Plex, Kölsch and KAS:ST.
Melodic techno cultivated a large following in several European and South American countries in the late 2010s. Its success is connected to both techno becoming more generally popular as well as other trance and progressive house offshoots gaining popularity such as melodic house and progressive breaks.
Melodic Techno Artists
Stephan Bodzin
German DJ, producer, and Herzblut label owner Stephan Bodzin became infatuated with nocturnal club sounds after composing music for European theaters. A classically trained musician, Bodzin's signature techno style is driving and hypnotic with memorable melodies.
Patrice Bäumel
German DJ and producer Patrice Bäumel moved to Amsterdam to get into business school. In Amsterdam, Bäumel worked at a call center, moved to an advertising company, and then became a multimedia designer before going freelance. The artist actually hadn't considered DJing a job until he attended 2002's Red Bull Music Academy in São Paulo. Three years later, Bäumel released his first record on Trapez, and the rest is history.
Ida Engberg
Swedish DJ and producer Ida Engberg received her big break at Stockholm's most famous clubs, Spy Club. She's now recognized globally for stripped back, sweat-on-the-ceiling techno and her discerning ear for melodic techno and deep house.
ARTBAT
ARTBAT comprises of Artur and Batish, two experienced DJs and producers from Kiev, Ukraine. Within a few years, ARTBAT worked their way to the top of the charts and became one of the best-selling artists in the Beatport Melodic House & Techno Charts worldwide.
Yotto
Otto Yliperttula, known professionally by his stage name Yotto, is a Finnish DJ, songwriter, and record producer. He's had five Essential New Tune nods from Pete Tong, and two "Hottest Record In the World" selections on Annie Mac's BBC Radio 1 show. Helsinki-based, Yotto stepped away from Anjunadeep and in 2019 began his own imprint called Odd One Out.
Melodic Techno Labels
Afterlife Recordings
Afterlife represents: introspective electronica, euphoric peak-time cuts and more subtle rollers. The record label was founded by Berlin-based duo Tale Of Us. Although information about the label is scant, its impressive catalogue tells you more than words ever could. Just listen, Afterlife is an odyssey through the realm of consciousness.
Anjunadeep
Anjunadeep is an independent record label based in London. Founded in 2005 by Above & Beyond and their manager James Grant, Anjunadeep began life as an outlet for records usually found at the deeper, progressive end of Above & Beyond's club sets. Today, the label is one of dance music's most respected, independent imprints.
Diynamic Music
Diynamic Music was a pioneering label at melodic techno's onset. Their motto? "Do It Yourself." Founded in 2006 by Solomun and Adriano Trolio in Hamburg, it's grown to be a presence around the world: Diynamic Festivals in Amsterdam, Berlin and Brazil, and two own weekly residencies on Ibiza including the infamous "Solomun +1" events at legendary night club Pacha.
Stil Vor Talent
Oliver Koletzki's Berlin-based label Stil vor Talent has cultivated a following for 16 years. Stil vor Talent is known for its DIY-attitude, graphic design, booking roster and musical diversity. Their catalogue spans from mystic organic house to heady electronica and floor-shaking techno.
Conclusion
Melodic techno is a calmer and more introspective offshoot of techno. It's just as powerful in other ways, and boasts an incredible following around the world. If you liked this guide, then consider checking out our music guide to dub techno. A good dose of dub is nice compliment to a suave melodic techno track.