What is Industrial Techno? Here's What You Need to Know

By SIX_AM
August 30, 2023 at 3:20 AM PT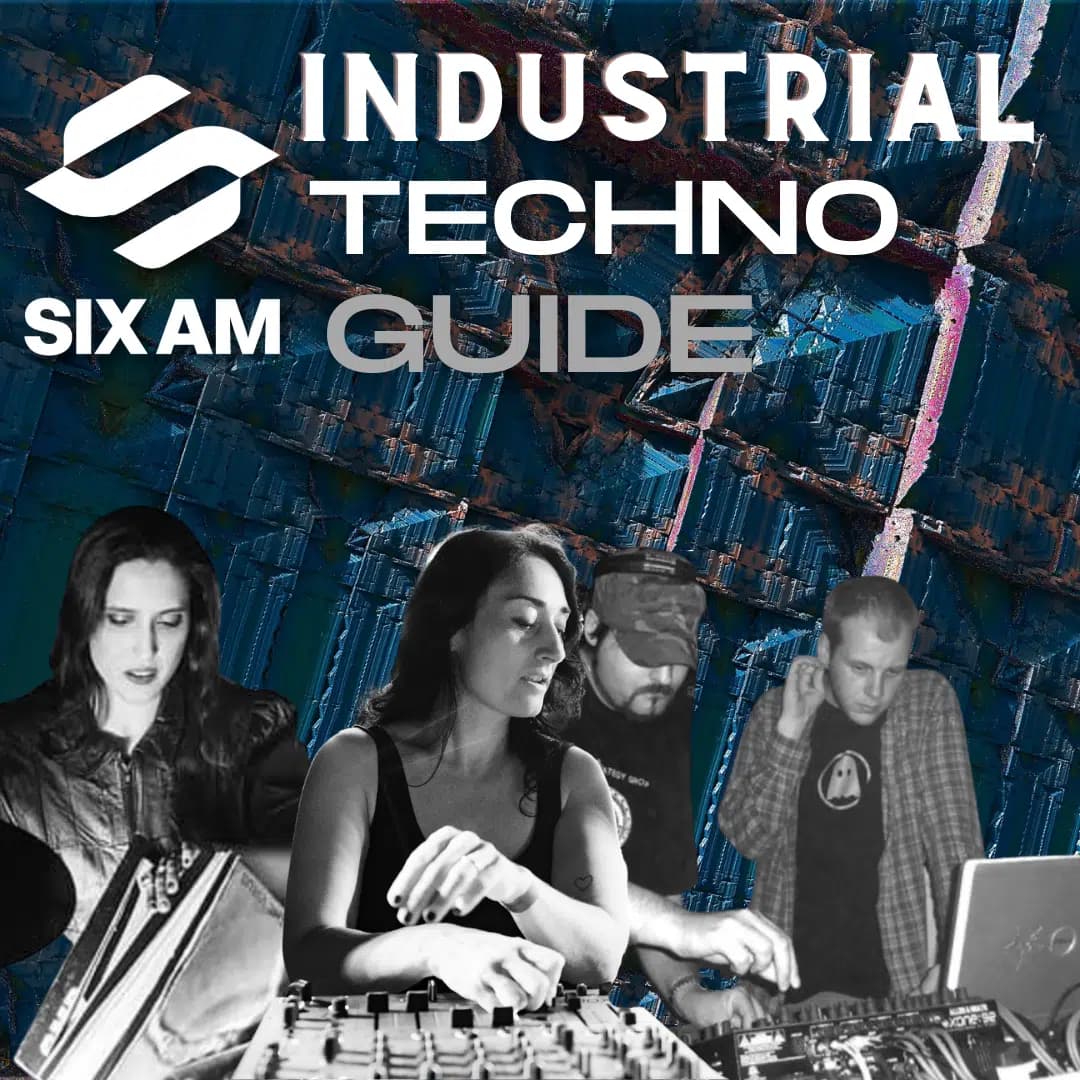 Welcome to the school of techno here with 6AM! Today we are going to take a look at one of the most dark and hard techno subgenres of them all, industrial techno. If you're not familiar with this series, we have several other different techno sub genre guides if you want to continue your quest for techno knowledge after this. But first, let's jump into the world of industrial techno.
What Is Industrial Techno?
Industrial techno is one of the most raw and pounding variations of techno around. It gives off a bleak, dystopian vibe with a hammering bassline that takes heavy focus in the sound. The term 'industrial' was coined for the subgenre as the music aims to mirror the mechanical rhythm of industrial factory equipment, while also emulating the sterile aesthetic of a factory setting as well. In fact, many avid industrial techno heads will tell you that the music is best listened to in a dark, abandoned warehouse in a sketchy part of town. The sub genre is all about the cold, barren, dehumanized themes that techno is privy to evoke.
Characteristics of Industrial Techno
Industrial techno makes use of stripped down repetitions with clanging, noisy sounds creating a blaring and chaotic soundscape. It gets played hard and fast and can be heard up to an aggressive 155 beats per minute. With heavy, moody overtones the subgenre is known for setting a dreary, desolate atmosphere. While a lot of popular techno music features noises that one would think came from outer space, industrial techno plays music that seems like it came straight from the apocalypse.
Brief Industrial Techno History
Industrial techno originated in the 1990's and was heavily influenced by industrial music, particularly from the likes of industrial acts Throbbing Gristle and Cabaret Voltaire, as well as the record label Wax Trax!. The genre went under the radar for quite some time until it made a resurgence back in the early 2010's, riding a wave off the UK post-dubstep scene, giving people the syncopated rhythms and heavy sub-bass that was missing as the dubstep genre deviated from it's dark and dubby roots.
Industrial techno has recently been put on the map thanks to prevalent artists such as Perc, Paula Temple, Tommy Four Seven, Monoq, and many others by tearing up a local abandoned warehouse near you. While there are no specific club venues historically that have been dedicated to industrial techno, the sub genre often gets incorporated into many techno DJ's sets, and there are many underground rave promoters that dedicate events strictly to industrial techno.
Industrial Techno Artists
The list runs much deeper than just the artists that got mentioned in the previous paragraph. There are many artists on the forefront of industrial techno that helped pave the way for the genre as we know it. Here are a few more noteworthy artists that made an impact on industrial techno.
Paula Temple
For over 15 years Paula Temple has been pursuing her own unique musical path. As a self-confessed noisician she specialises in a noisy, phantasmagoric techno sound, where the dial is rarely turned below 200% and every moment of silence seems deafening. Such refreshing high voltage music has placed Paula at the forefront of today's techno scene.
Ancient Methods
Ancient Methods is a DJ and producer heavily involved in industrial techno. He can often be found playing in abandoned warehouses in L.A. and has played his music internationally. Originally a duo consisting of Conrad Protzmann & Michael Wollenhaupt, the project now features Wollenhaupt as a one man show.
Surgeon
Anthony Child, AKA Surgeon, is an industrial techno producer who releases tracks on his very own labels Counterbalance and Dynamic Tension. Also being featured on established labels such as Tresor and Soma, the UK native has been laying down the industrial beats since way back in th early 90's.
Forward Strategy Group
Formed back in 2008, Forward Strategy Group has been on the forefront of industrial techno ever since their conception and is regarded as one of the most unique techno acts around. FSG has released tracks on their own label, as well as other prominent labels in such as Perc Trax and Stroboscopic Artefacts. Being known to go on marathon sets, FSG has an impressive cult following and remains as one of the most influential industrial acts in the scene today.
Helena Hauff
German industrial techno DJ and producer Helena Hauff is an industrial icon. With her own stripped down take on techno, the producer is known for only using analog equipment when making her tracks. In 2017, she was the first female to ever be named BBC radio 1's essential mix of the year. She operates her own label, Return to Disorder.
Industrial Techno Clubs
As stated above, there aren't really any dedicated clubs specifically for industrial techno. Although never 100% oriented around the sub-genre, most warehouse venues and events that play techno usually will have industrial techno in the rotation at one point or another. With that being said, here are a few of the most notorious spots for supplying all the industrial vibes you need.
Berghain, Berlin
Berghain, one of the most famous (or infamous) techno clubs in all of history. An old industrial power plant transformed into a techno power house, Berghain features every kind of techno sub-genre you could fathom, including industrial techno. With one of the longest lines and toughest chances of getting in, Berghain certainly does a good job of giving off the cold, bleak, dehumanized and intimidating vibes industrial techno is known for.
Printworks, London
With a 6,000 person capacity and 6 different unique spaces across 6 different levels, techno can be heard bumping all day and all night at the grand industrial complex Printworks in London. Giving off very similar vibes to Berghain, Printworks is the picture perfect venue for industrial rave vibes, even being depicted on the big screen in the recent 2022 blockbuster film, 'The Batman.' While many types of techno can be found here, you can certainly hear the industrial noise if you listen closely and wander off into the right room.
Kappa Futur, Turin
Formerly home to huge production lines pumping out Fiat and Michelin models, the only thing this place is pumping now is techno. A string of ginormous factories littered with metal ramps, girders and bridges, the spot is now known as Parco Dora and is home of the annual techno festival Kappa Futur, which boasts heavy weight techno acts year after year, including the likes of those who play industrial techno.
Techno For Machines
There you have it class, that sums up the our abridged lesson on industrial techno. Whether you want to pretend you're a cold steel machine hard at work, pretend you're a rider of the apocalypse, or just want to dissociate from humanity all together, the bleak and dystopian vibes of industrial techno will be there to facilitate all of your tech-needs. See you at an abandoned warehouse soon!