What the Hell is Witch House Music?
Get your spooky music on with this elusive genre

By SIX_AM
October 31, 2023 at 12:00 AM PT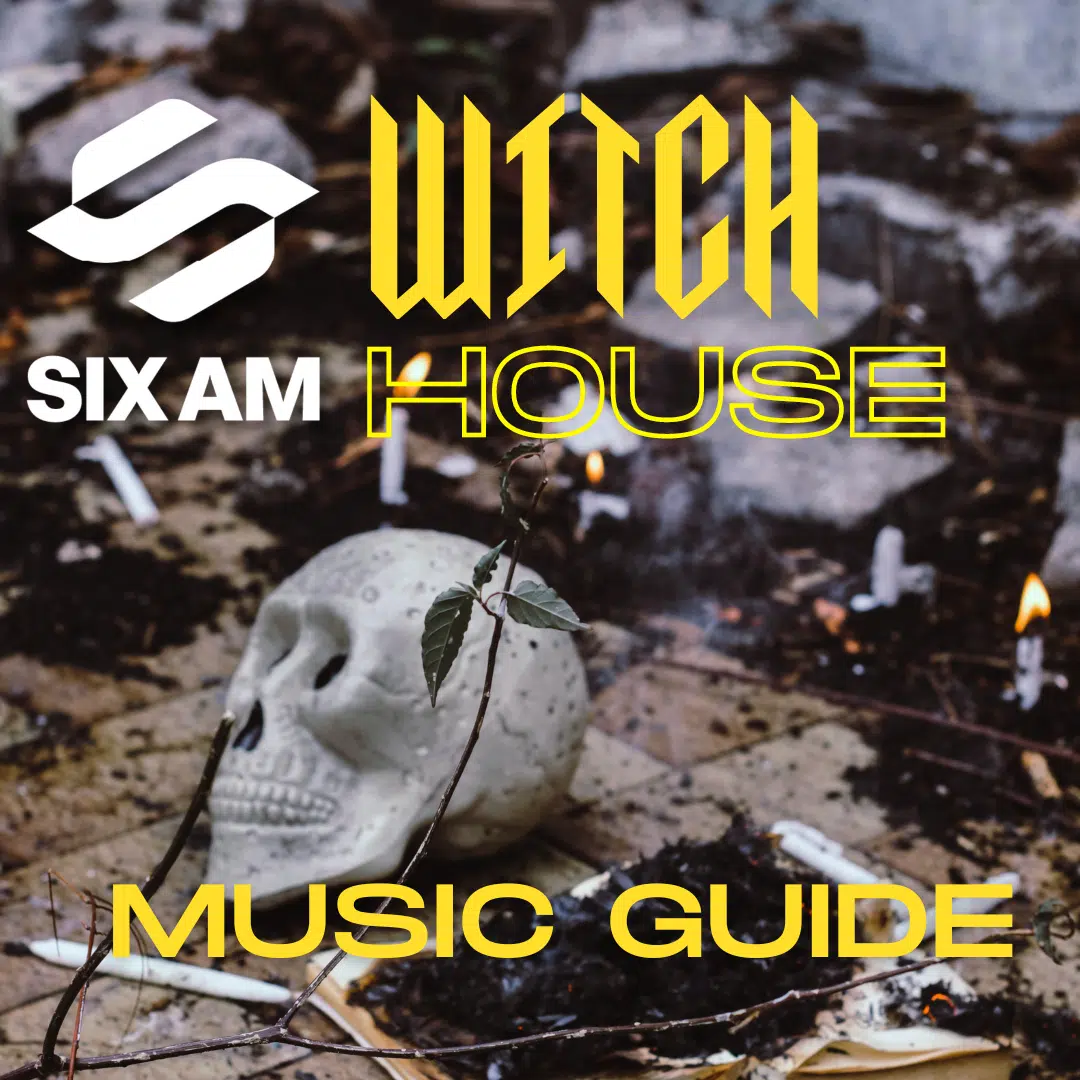 Hello and welcome fellow sorcerers and spellcasters! Mages and magicians! Warlocks and wickens! Get your wands ready and open up your spell books to page 6AM as we hex it up with a lesson in everyone's favorite spooky subgenre, Witch House! If this is your first time visiting our dungeon, make sure to check out our other Techno music guides, ranging from hard to hypnotic, deep and dubby, and anything else on the EDM spectrum. But if you've read our spells before, put on your oversized pointy hat and saddle up on your broomstick as we let the witch house ritual begin!
What is Witch House Music?
Witch house is a type of electronic music known for its dark, occult themes frequently accompanied by eerie, horror influenced aesthetics. Images depicted in witch house culture usually include witchcraft and shamanistic inspired artwork, often layering in hidden messages through unicode text and symbols such as triangles, crosses and other wicked imagery. Emerging in the late 2000's and early 2010's, the vibe of witch house was incited by the likes of popular paranormal films such as The Blair Witch Project, Twin Peaks, Charmed, and various horror/terror themed dark web videos and pop culture references. Witch house culture is often paired with the dark aesthetic of gothic and dystopian fashion.
Although the genre has "house" in its name, it doesn't really resemble house music much. In fact, rather than the fast, up beat tendencies of house music, witch house bears more similarities to hip-hop, taking its 'chopped and screwed' style and significantly slowing down the tempo, while making use of skipping, stop-timed beats. Aside from hip-hop, witch house is also influenced by industrial, noise, dream pop, and ethereal wave music, while garnering inspiration from experimental bands of the 1980's such as Psychic TV, Coil, and Cocteau Twins. Incorporating synthesizers, drum machines, atmospheric noise, heavily distorted samples and droning vocals, witch house emits a creepy, paranormal vibe that the genre is well known for.
History of Witch House
The phrase 'witch house' originated in 2009 by electronic music producer Travis Egedy (AKA Pictureplane), who was originally joking when he coined the term, describing the type of sound he developed as "occult-based house music". Discussing a genre that didn't yet exist at the time with Pitchfork, after Egedy claimed that 2010 would be "the year of witch house", the phrase took off and the genre witch house was born, increasing in popularity as the decade progressed. Early stages of witch house started off with producers releasing on sound cloud with elements of the music ranging all over the place. It wasn't until later when the likes of SALEM, CRIM3S, and Unison helped merge all the varying elements of the genre into a unified sound, creating a more defined structure for the emerging genre.
Witch House Artists
Throughout the lifespan of the genre, there have been many sound casters bewitching listeners with the spells of witch house. While there are many to choose from, here are a few of some of the most noteworthy faces in the witch house community.
White Ring
White Ring is a witch house band formed in New York City after the founding members Bryan Kurkimilis and Kendra Malia met each other on MySpace back in 2006. After Malia suggested that the two of them write a song together, the two began working closely together until Kurkimilis moved to NYC 3 years later, and the band White Ring was formed in 2009. Their debut single released in 2010 with fellow witch house artist oOoOO, and the duos debut EP released the next year in 2011. After making witch house music together for 13 years, it was reported by the official White Ring facebook page that Kendra Malia had died at the age of 37.
oOoOO
oOoOO is an American witch house producer, often being credited as one of the leading pioneers of the genre. oOoOO has been casting witch house since 2010 when he released his debut 6 track CD-Rk off of Disario records, and has been going strong ever since, releasing many works on many labels, and even releasing on a label he co-founded himself in Turkey, called Nighjgt Feelings. oOoOO has cited Matteah Baim and Jana Hunter as his influences.
SALEM
SALEM is a witch house band from Michigan, who is widely recognized as another one of the pioneers of the witch house genre. Founded in 2008 by Jack Donoghue, John Holland, and Heather Marlatt, the band was inactive since 2012, returning in 2020 with their mixtape "Stay Down", followed by their second album titled "Fires in Heaven," both without Heather Marlatt. SALEM blends southern hip hop with electronica, creating an ethereal, dreary soundscape.
CRIM3S
Formerly known as Story of Isaac, CRIM3S is an electronic duo from London, and is one of the most prominent figures in witch house. Composed of Rou Rot and Sadie Pinn, the two debuted a self titled EP in 2011 off of Black Bus Records, and released their second EP in 2013, titled "Stay Ugly." The duo has played many shows, and in 2017 was featured in Sweden's "Sound of Stockholm" music festival. They have also been known to throw illegal squat raves in London with a true punk attitude, featuring themselves as not only an artist, but an event organizer and promoter as well.
Witch House Mix
To get a scope of the sound being casted by the witch house scene, here's a prime witch house mix. It fully encapsulates the vibe of the genre, playing spooky, drawn out beats, edgy vocals, and featuring fiendish imagery in the background of the video. Shut the door, close the blinds, light a candle and cast a spell while things get witchy in this 2 hour mix.
Bewitching Music
Witch house is spooky, witch house is wavy, it's quite dreamy, and it might just be your new favorite nightmare anytime you want to take your mind to a creepy place. It's not conventional house music, or conventional music in general, but conventional is not what you're looking for when you seek out witchcraft. It has all the aspects of your favorite horror scene, except you don't need to go deep into the woods to get freaky (although it is recommended!)