By SIX_AM
July 31, 2023 at 9:00 AM PT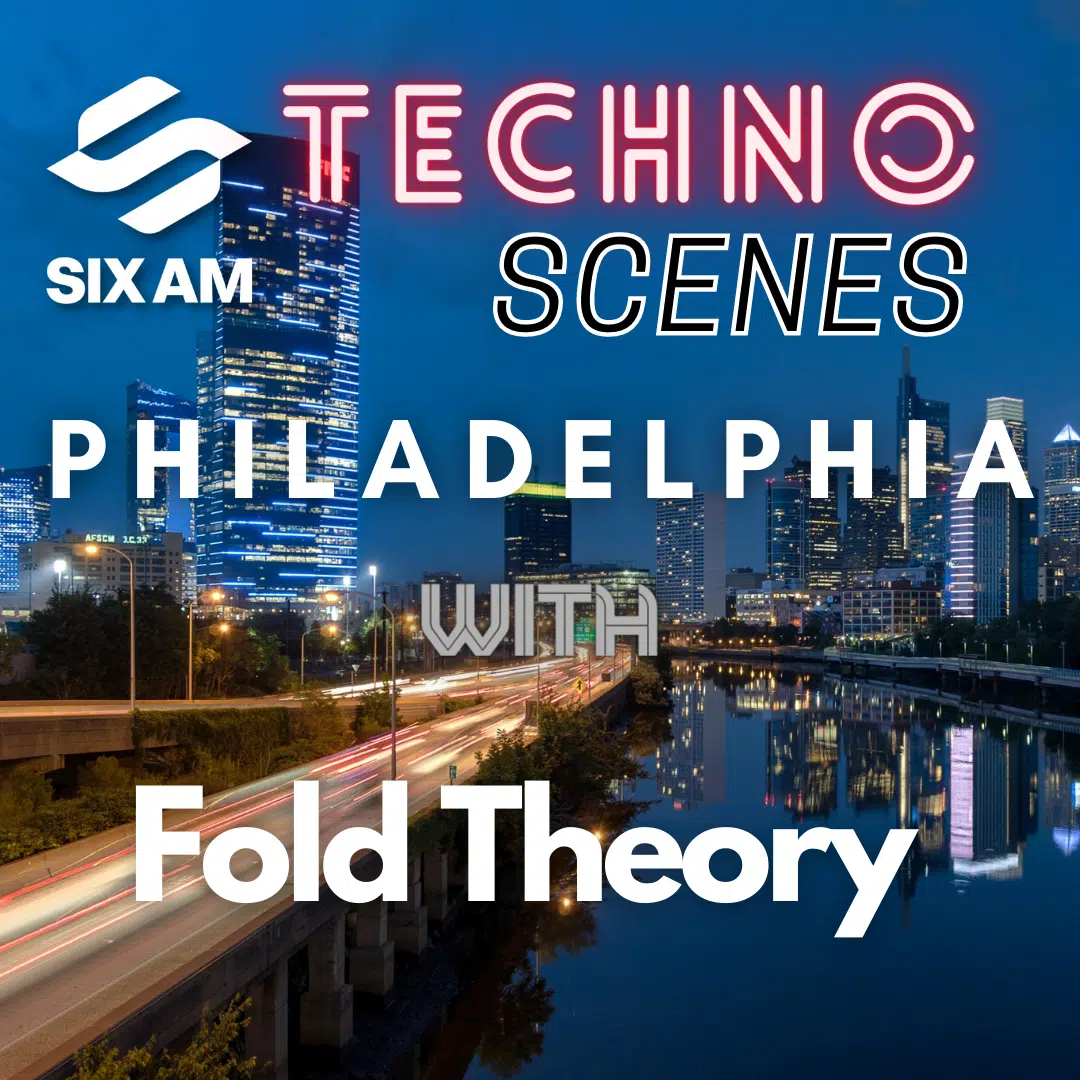 Welcome to the gritty and soulful city of Philadelphia, a place that never fails to captivate with its rich history, mouthwatering food, and unmistakable blue-collar charm. But beneath the surface of this iconic metropolis, where cheesesteaks and Rocky Balboa often steal the spotlight, lies a hidden gem that echoes with pulsating beats and electrifying rhythms—the burgeoning Techno scene. Yes, my friends, the City of Brotherly Love isn't just about the Liberty Bell and Independence Hall; it's also home to a small yet thriving Techno movement, masterfully orchestrated by a group of passionate visionaries known as Fold Theory.
As I ventured into the depths of this underground electronic wonderland, I couldn't help but be drawn to the infectious energy that envelops the city's dance floors. From dimly lit warehouses to tucked-away speakeasies, Philadelphia's Techno enthusiasts are carving out their own niche in a landscape that often favors the mainstream. Join me on this journey as we explore the soul of Philadelphia's electronic heartbeat, the soul that keeps it grooving and evolving, night after night, beat after beat. So, put on your dancing shoes, loosen your inhibitions, and let the rhythm guide us through the urban labyrinth as we unravel the enigmatic allure of Fold Theory and their pulsating world of Techno
Fold Theory, the visionary brainchild of the city's Techno revolution, has been diligently paving the way for a vibrant underground scene, and their efforts have not gone unnoticed. Ashley Powers, the mind and curator behind Fold Theory, has been at the forefront of this pulsating movement, shaping the sonic landscape and attracting fervent followers from all walks of life.
In this exclusive interview with Ashley Powers, we caught a glimpse of the dedication and passion that fuel the Fold Theory phenomenon as well as some of the notable spots and eats we should be checking out as visitors into the city. Powers' relentless pursuit of cutting-edge sounds and captivating beats has made her a driving force behind the city's techno movement.
Thanks for talking to SIX AM Ashley, and giving our readers some insight into your local scene. To start, what are the top local parties people need to hit up when first coming to your town, Philly?
The Shakedown & Goodie crew is who first welcomed us into the Philly scene. They're a proper representation of this house music town. Subsurface & Making Time also do some really great events. Of course, we always love to welcome new people to our Philadeep events for Progressive House and our Fold Theory shows for Techno raves!
What are some aspects of your local scene that you feel are unique to your area compared to other cities?
This is a small scene so what we love most about it is that you can come into a party knowing no one and walk out knowing everyone. Everyone is so welcoming in this scene. It's not as competitive as a Miami or New York for DJs or promoters to get their foot in the door here.
What are the most common things the regulars at your party typically do outside of your shows for fun?
Park parties, Eagles, Phillies & Sixers games, enjoying the great food scene or hitting up one of our many museums.
What are the best pre-game places to hit up before going to any party there?
Sadly, this city closes down at 2am so pre-games aren't really that big of a thing. Usually the main event is the pre-game for the afters which you have to search for in the underground scene here.
What are some of the best places to hang after the party is done to help wind down the night/morning?
This is a very communal scene, so usually folks are in our kitchen and we've got the decks rocking. Or at another friend's house maybe on a rooftop or in their basement.
What's some of the best immediate post party foods that all locals eat?
Cheesesteaks & Pizza!
What are some tourist-y things that must be done when first coming to your town?
We love to take our out of town artists to see City Hall and the Rocky Steps of the Art Museum.
What are some tourist-y things that are really not worth a person's time?
The liberty bell tour is more of a wait than it's worth. You can just walk behind the building and look at it through the glass if you really want to see the bell. It's not that exciting in our opinion.
Top food spots and restaurants to hit up?
Murph's in Fishtown is a very eclectic Philly spot.. it's an Irish bar with an Italian chef serving up incredible homemade pasta dishes. Most people hit up Pat's & Geno's in South Philly for cheesesteaks but there's a lot of controversy over which is the best cheesesteak in the city. You can get a solid cheesesteak anywhere in the city in our opinion. Terakawa for Ramen in Chinatown is a favorite.
What are some non-house/techno events that people should come to your town for?
The Roots Picnic
Mark your calendars and prepare for an electrifying experience like no other, as Friday, August 4th promises to be a night of Techno-fueled euphoria in the heart of the City of Brotherly Love! A sensational collaboration between SIX AM and the renowned Fold Theory as we host Suara label boss, Coyu, as he is set to ignite the dance floors, sending shockwaves of Techno through the very soul of Philadelphia.
The anticipation is palpable as the air crackles with excitement, knowing that Coyu's distinct, raw, hard, and hypnotic sound will blend seamlessly with the soulful vibe of Philadelphia. A night with Suara's mastermind is not just a mere performance—it's an otherworldly experience that transcends the boundaries of time and space.
This collaboration between Fold Theory and SIX AM is more than just a party; it's a coming together of Techno souls, a cosmic alignment of rhythm and emotions that will unite everyone present in a mesmerizing dancefloor communion. The vibrant energy of Philadelphia's dance scene combined with Coyu's masterful sonic journey will leave you breathless, craving for more.
So, if you find yourself needing an escape from the ordinary, a night that will sweep you off your feet and plunge you into a world of sonic wonder, then mark your calendars for Friday August 4th 2023. Prepare to be transported to a dimension where music becomes an extension of your very being, where Fold Theory, SIX AM, and Coyu will weave their magic, igniting a fire within that will keep you dancing long after the night is over. This is not just another event; it's a milestone in Philadelphia's techno history, and you won't want to miss it for anything in the world if you happen to be a Techno lover in the city of Brotherly love. Let the countdown begin as we gear up for a night of pulsating beats, wild abandon, and the sheer joy of losing ourselves in the Techno wonderland crafted by Fold Theory in the heart of Philadelphia.