By SIX_AM
September 12, 2023 at 9:00 AM PT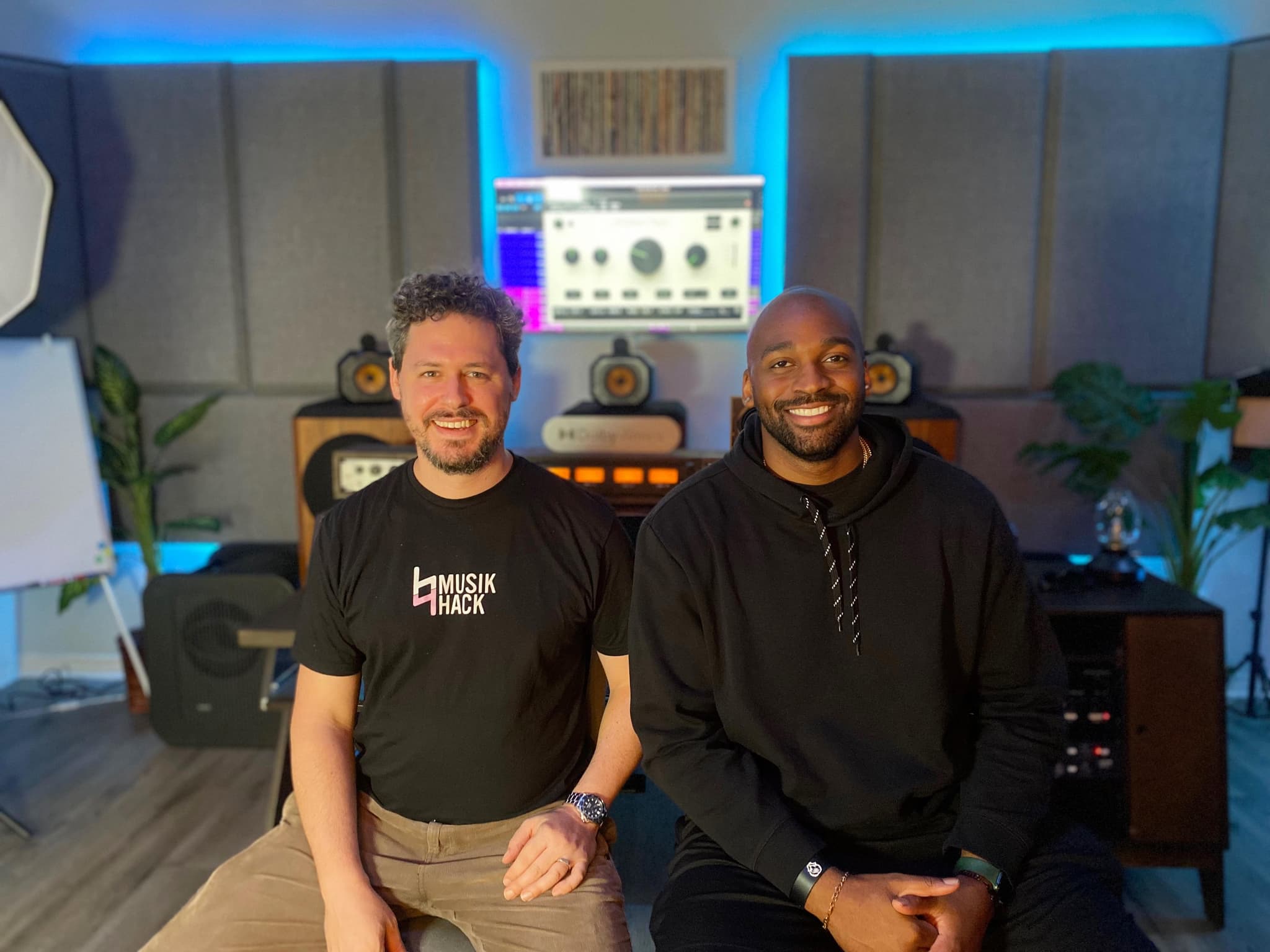 Musik Hack is the brainchild of Grammy-nominated producer and engineer Stan Greene, and composer / plug-in developer Sam Fischmann.
Stan has mixed records on Billboard #1 projects such as Rihanna's "Anti", Big Sean's "Dark Sky Paradise", and Wale's "The Album About Nothing". He's also worked on O.T. Genasis's multi-platinum smash hit singles "CoCo", "Cut It", and "Push It', Jaden Smith's multi-platinum single "Icon", and songs from Pharrell, Saweetie, and Busta Rhymes. He is a protege of Manny Marroquin, who he worked with at the renowned Larrabee Recording Studios.
Sam is a seasoned software developer whose portfolio spans audio/DSP, Web development, and embedded systems. He's also a composer and longtime musician. Sam is obsessed with building creative, functional, major-label-quality products that don't look like airplane cockpits. If you ask nicely, he can also cook up a mean marinara...
The partners talk to SIX AM about their new flagship mastering product "Master Plan" and how it's making some big noise within the producer's community.
Hi Stan and Sam of Musik Hack! Thanks so much for talking to SIX AM, how are you doing?
Sam: Doing well!
Stan: Everything is great. Thanks for having us today!

In your own words what kind of plugin company is Musik Hack?

SAM: We started Musik Hack because we saw companies releasing the same products every day, and it's boring! They're either esoteric analog emulations or digital mazes… We care massively about quality, but we also refuse to sacrifice creative control, and we're all about handling the technical stuff so we can show you controls that just describe what they're doing to the sound. We'll be technical, you be creative.

STAN: Musik Hack, at its core, is an audio tech company that specializes in creating innovative products that are extremely easy to use and also extremely powerful. It's essential that we don't come to the market with products that could easily be replaced with something similar. Our commitment to excellence ensures that every release you see from Musik Hack represents the very best in its class, guaranteeing an unmatched experience.

How did Musik Hack get started? What was the reason to start your own software company? What were some of the challenges of starting this company?

SAM: Musik Hack got started when a mutual friend sent a plugin I was working on to Stan. There was a weird installation hiccup and Stan legitimately thought I was trying to hack his machine! I walked him past it and he thought the plugin sounded great and wanted to meet. We tossed around ideas, came up with a first product, and Musik Hack was born. Stan came up with the name in a brainstorming session, but we gave "Musik" its "K" when somebody tried to sell us musichack.com for $20,000.

Our biggest challenge right now is that people have been taught to look for a one-knob plugin/AI solution with zero creative control, or an airplane cockpit that asks you to be clinical and analytical. Neither of these are ideal, and neither of these describe Master Plan. The hard work of making a good tool is eliminating decisions that users have no interest in making, without removing creative expression. I would rather turn up a transparent loud knob than fiddle with threshold, ratio, attack, release, curve, etc. to search out that transparency.

Also, there is a lot you have to set up to run a software company, and a lot of it is boring and bureaucratic. We don't want some foreign government coming after us, or people getting Windows pop-ups calling Master Plan a virus, so it's important to learn what solutions there are, who can truly help you, and what it's going to cost. If you want to get into this line of work, do the research!

Your main plugin is called "Master Plan". What exactly is "Master Plan" and how is it unique compared to other plugins that are out there?

STAN: The concept of creating a mastering suite plugin came together pretty quickly after Sam and I initially met. When I moved to LA back in 2011, my first studio job was interning at Larrabee Studios which, at the time, housed 3 of the top mix engineers in the world (Manny Marroquin, Dave Pensado, and Jaycen Joshua). I went from intern, to runner, and then to assistant engineer where I worked under Manny. It was great watching him work. Any mixes that came through his studio went through his hybrid mixing setup. All first mix passes would run through his carefully selected pieces of analog gear and then summed into his SSL 9000J. After the initial mix was finished, we would help print stems at the end of night so that one, all of the analog richness and depth was printed onto the audio, and two, recalling the session for any mix notes would be quicker and much more convenient. From there, if any additional processing was needed, we would use plugins.

After leaving Larrabee to mix independently, I spent my first few years trying to chase the analog vibe I was accustomed to hearing so I could use it in my own sessions. I bought, tested, and compared every plugin you can think of and have gone through hundreds of combinations to find the perfect marriage between analog and digital. Master Plan is the result of finally finding that combination and putting it into a product that is extremely easy to use and deceptively powerful.

SAM: I've got a bunch of algorithmic reasons I'm not at liberty to share, but a lot of my job in this was to find the technical solutions to all the stuff Stan had discovered and was relaying to me, without compromises. For example, we must have made at least 25 different tape emulations before settling on what we have. I think a lot of plugin companies are driven either by the product people, where the developers take short cuts, or driven by the developers, who don't understand sound the way Stan does. We work together the whole way to get the best of both worlds.

With all the different plugins in the world, what were some specific issues and music production pains you were trying to address?
SAM: AI mastering services are mediocre, it's very hard to make tracks loud without making them sound worse, and most plugins are either too simple and lack creative control, or too complicated to be expressive. I'm a super technical guy, but even I know: complexity is a crutch.

STAN: It was really important for us, before we even started developing Master Plan, to understand the current plugin market and the vast amount of options out there. We are definitely not naive to the fact that there are probably hundreds of mastering plugins out there that each do something competently. But as someone who mixes and masters for a living, nothing ever blew me away. The advancement of digital technology over the years has brought more expensive and rare pieces of gear and processes into a more affordable arena for the majority of people. I didn't see a reason why, even with some more established company names, music creatives still had to pay to go to an additional person to master their music when the same technology could easily be at their fingertips.

Our competition isn't necessarily other digital limiters. Our algorithm is more transparent and powerful than anyone in that market. We want creatives who have smaller budgets to feel comfortable that when they use Master Plan, it competes with any professional mastering house out there.
In some of your own promotions "the loudness wars" are mentioned. For those that don't know what is "the loudness wars" and how has Musik Hack addressed this phenomena?

SAM: In the 90's, digital audio engineers discovered new techniques that allowed you to push the volume of your track without causing overs. Louder music sounds better to us psychologically, and our listening environments often bury quiet music. So, the average volume level crept upwards for years, as software and music engineers kept one-upping each other in a bid to get the most radio play. However, if you put too much emphasis on loudness, you stop listening to what else happens to your music when you do all this stuff to it, and suddenly your drums are losing impact, your mix pumps oddly or hangs in one space like some clown on the internet TYPING IN ALL CAPS. These are the loudness wars.

Since the mid-2000's, there has been major backlash to focus on quality. This is good! But the pendulum swung too far, and there are several publications and influencers offering bad advice. If you follow all of it, I guarantee your music will never sound professional or radio-ready. The guidelines might help you avoid squashing your sound using typical tech, but they'll also keep your track relatively quiet. Master Plan uses an entirely unique algorithm that embraces loudness as a force of good, but not at the expense of quality, clarity, or impact. We're pushing the pendulum back.

Who do you feel is going to be the main users of Master Plan and where/how do you see it being most useful to them?

STAN: The reason why we chose Master Plan as our first release was because we wanted to create something that would be useful to absolutely anyone that works with audio, no matter the industry or genre. Most people don't have the luxury of being able to use expensive, properly maintained analog gear or have the budget to get their songs mastered by professional mastering engineers charging $300-$500 PER MASTER.

SAM: Right! Now you can pay less than that, one time, and get that sound forever, without gimmicks that sacrifice quality for the loudness you get.

Our content director is a techno producer and when he used "Master Plan" he stated word for word: "This thing has made a mockery of the last few years of my life." Have you gotten many praises and reviews such as that about Master Plan? What do you think is the key reason why producers give it such glowing reviews?

SAM: 100%, that sentiment is something we hear over and over. In Master Plan, we designed each control to make clear, focused, audible differences to the sound (loud, smooth, wide), rather than transform the signal in a specific way (threshold, ratio, Q). Then, we removed everything else, unless it gave you useful creative power. In contrast, a lot of mastering advice relies on manually tuning complex, sensitive signal chains, which require a lot of mental strain to balance, and often do more harm than good. By allowing you to focus on building creative, rather than technical muscle, we're giving you a breath of fresh air.

STAN: Yeah we have gotten a lot of messages like that and surprisingly, all have been in that kind of tone. Either extreme disbelief or outright anger that they previously spent money on plugins that weren't able to get their mix as loud and without artifacts. There are a few prominent producer and mix engineer buddies of mine who won't even go on record to say how good Master Plan is because they don't want anyone else to know about it, which I guess is good and bad, haha.

I think the reason why we have gotten such positive feedback is because we genuinely care about the sound quality of what we are making. Sam and I have had many many conversations and debates about what we would be bringing to the table in the world of audio. If we weren't actually making a tangible difference or adding value, we didn't want to do it. So another reason why we have been getting such glowing reviews is because, before we decided to officially release it, we made sure our plugin actually sounded better than everyone else's.

Are there any other plugins or features that producers can look forward to from Musik Hack?

SAM: I have a million ideas so the lame answer is, "just about anything and just about everything." It's only a matter of time! In the short term, we plan on making plugins that focus on one aspect of what Master Plan does, with a little bit more creative control, for use in mixing or producing. Right now I'm working on a free plugin that sweetens and widens anything you throw at it.
Thanks so much for talking to us, is there anything else you'd like for our readers to know?
SAM: We got lucky meeting your events guy Tommy and are super grateful he passed on our info and this all happened! I'm hoping to get out there more and really help people push their music farther with this plugin than they ever thought possible!

STAN: We appreciate you guys and the platform you have created for producers, DJ's and artists. We hope that your readers can find some use with our current plugin Master Plan and have the same reaction you did!