Celebrating 15 years of SIX AM with Chief Growth Officer- Marco
Sit down with the Marco Sgalbazzini and learn about his journey with SIX AM

By SIX_AM
September 12, 2023 at 5:38 PM PT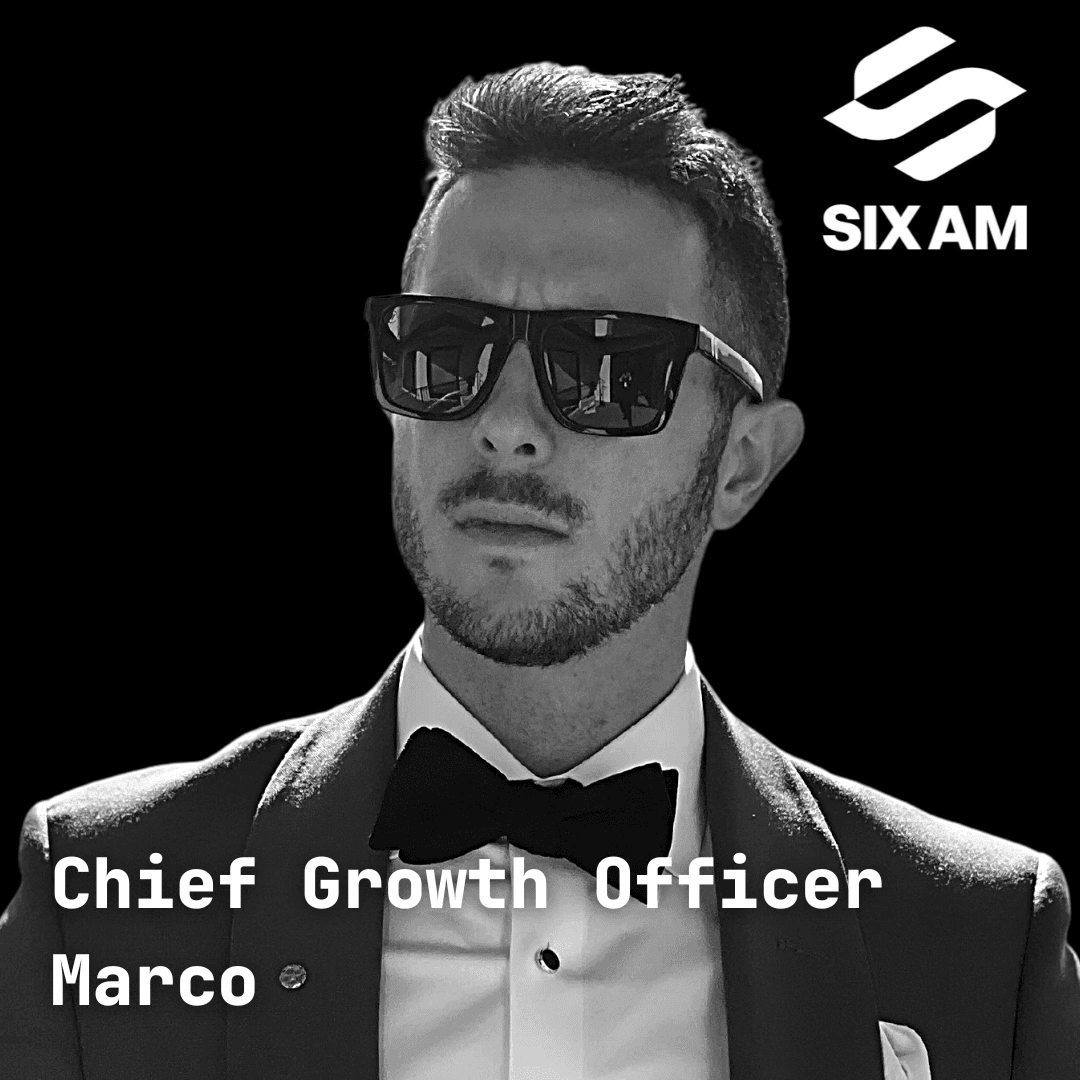 In the midst of a momentous year for SIX AM, have a seat with Marco Sgalbazzini, the company's versatile Chief Growth Officer and Events Director. From his humble beginnings as a writer for SIX AM's website and a social media wizard to his current pivotal roles, Marco has witnessed the company's transformation up close. Dive into the challenges and rewards he's encountered along the way, explore his role as the talent buyer for SIX AM, and discover how he inadvertently introduced Stoicism into the company's ethos. Marco shares insights into the highlights of the 15-year celebration and offers a glimpse into the future of SIX AM.
Hey Marco! Thanks so much for taking the time to talk to our readers especially in this big year for us, how are you?
Hi, you are very welcome! I am doing good and this is the first time being interviewed by SIX AM actually so I am excited to chat with you and hope you are well also!
You're currently the Chief Growth Officer but you've gone through so many positions at SIX AM. What were some of the positions/responsibilities that you found the most challenging? What were the ones that were the most rewarding to you and why?
That's a good question. I think every position had its challenges and rewards, but of course the higher the position the higher the stakes have become because the responsibilities I took on took a far larger meaning for the company in terms of growth, finances, impact and so on.
I would say that my current position as CGO and Events Director is the most challenging I have faced though, and for a number of reasons. Firstly growth is uncomfortable, and easier said than to actually achieve. Further, growth means something different to many people and it can be measured differently, so working to find that balance, and common ground on what growth means for the company so that all key stakeholders are aligned has been a challenge.
Although SIX AM has been around for 15 years, the most significant growth of the company began in 2016 onwards, so we are still very much operating like a start-up and that has its challenges, mainly in the form of financial and personnel issues.
As Events Director there is a constant challenge of keeping up with the market trends without veering off of our ideals and musical direction, booking the right artists, focusing on the underground ethos that makes our events special and ensuring the community is engaged and happy with the work we are putting in to deliver memorable experiences for them. As with all events, there are operational and logistical challenges too, and the underground aspect of our events of course adds an extra layer of complications there also.
Listen Now: 6AM In Interview with Marco Sgalbazzini
I would also say that after finding our rhythm and place in the underground events that we do, it has proven challenging to scale RE/FORM as a daytime multi-day and multi-stage event. But we are not giving up and we are learning from our mistakes, improving day by day.
As for the rewards, I would have to say that every single position has been rewarding in its own way. It was rewarding to connect with the global community when I was writing articles for SIX AM's site, or running all our social media accounts and growing them to where they are now. It is certainly extremely rewarding to put an event together, from all the booking emails to the production, operations, marketing and finally seeing it unfold in front of my eyes. I would say that producing these events is my life's calling and where I really find myself truly in my element, as I feel I am truly doing "what I do best" if you will… even if I am constantly trying to improve and grow there too!
You're also the talent buyer for SIX AM, how do you decide on what artists to feature in our shows? Has your process changed over the years? What are some of the major challenges when you have to decide who to book?
There is no clear cut way I decide who to book. I try to not only keep up with trends and the market, but to anticipate what is coming in the world of techno and beyond, and to stay at the forefront of it all as much as I can.
I try to book artists that have demonstrated quality in their respective sub-genres, while of course ensuring that there is a homogenous booking strategy that correctly represents the LA techno scene and the underground through its diversity.
The biggest challenge has been "not selling out" but instead using hype or popular bookings as an avenue and tool to engage with the community and educate them on the various nuances of techno. This means that when I look at a calendar year of bookings, it's important for me to try to represent techno in its many forms, but to also use what is popular now to introduce the community to new sounds, encouraging them to dig deeper and experience something they haven't before.
As part of this, it's my mission to feature up-and-coming acts that I feel represent the imminent future of techno's sound, as well as quality acts that may not be so well known and hyped by the community but that I know will be enjoyed if I win the next battle of my job after each booking: educating the community and getting them to trust me and us in the bookings we have curated for them.
By building trust and brand equity, I hope to achieve a scenario where people will come to one of our events regardless of lineup, simply because they know that they can expect a memorable experience regardless of whether the headliner is a hype hard techno act, or a lesser known deep and hypnotic artist.
You've often been credited to bring Stoicism into the SIX AM ethos. What compelled you to make it part of the company mindset? Or was it something that everyone just naturally adopted?
Truth be told I never set out to make it a part of the company mindset. I simply felt the need to share the philosophy that saved my life, quite literally, with one of my best friends and business partner. That person is Jia, the founder and CEO of SIX AM. Naturally, since Stoicism helped him he saw value in working with me to introduce it into the company's culture.
I think it has been an undeniable element of our company's success and growth over the last six to seven years, and I can say without a doubt that it is one of the key ingredients to my personal happiness and, as I define it at least, my personal success.
So far what have been some of the highlights of the 15 year celebration?
The kick-off celebration night with Richie Hawtin was an outstanding experience, both in terms of size of execution and of course simply because… we had Richie Hawtin at the WORK warehouse!
Most if not all of the events since have been great in their own way.
Some specific highlights include our shows in Miami with Domicile and Montreal with Front Rite, being able to host Speedy J, Luke Salter and Ø [Phase] on the same lineup at RE/FORM (something I would have never dreamed of when I started at SIX AM), as well as our events with I Hate Models and the 360-degree Live A/V Techno show last weekend with Colin Benders, ONYVAA, David Castellani and Trovarsi + ALX-106. Last but not least our events in Detroit for Movement weekend were also fantastic!
It has also been amazing connecting with our community more and more through our Discord channel, as well as through the continued work of our Shop by SIX AM team and the Content Department who is working with great success both through our articles and features, as well as our social media accounts.
Where do you see SIX AM going in the next 15 years?
Onwards and upwards!
I would love for RE/FORM to become the flagship Techno & House event that we want it to be, and for WORK and COMPOUND to continue to be the spearheading warehouse and techno series that they have become not just in LA but in the West Coast and the entire North American continent. My goal is to use these platforms to connect with underground artists from all over the world and keep cementing Los Angeles as one of the leading techno cities of the world.
This year we have started doing expansion events in key cities in North America, and we look forward to also working with like-minded partners in Europe and Asia. Needless to say in 15 years I hope that SIX AM is present in all these continents (and more?!) on a more regular basis, working with the right people to provide unforgettable experiences that forward the underground ethos and keep the true spirit of Techno and House alive for the next generation.
Looking a little bit closer to home, I hope we can keep growing internally to turn SIX AM into the company it deserves to be. Soon i would love for us to stop thinking and operating like a start-up and to be able to give to all our team members and partners the benefits we all deserve!
Where do you see or hope to see yourself going in the next 15 years?
Right alongside all of the above goals really, as one of the leaders to take SIX AM to the next level and to leave a legacy for the next generation of techno and house fans in Southern California and beyond.
Personally I know that my life's passion is in organizing and curating our events, so I will be focusing on building a strong team who, alongside me, will be able to keep doing so without compromising our values and integrity, while always looking to improve and grow what we do, and how we do it
Anything else you'd like to add before going out into the next 15 year anniversary?
I would like to give a massive thanks to everyone who has been a key part of SIX AM's last 15 years, whether you are still a part of the journey or not. Everything does happen for a reason, and if we are here it's all thanks to the mistakes, the lessons learned and also the stepping-stone successes along the way.
The biggest thanks and appreciation goes to everyone in our current team and all our partners and vendors that make what we do possible, and of course to the community that is taking all these steps alongside us. We are in this journey together and the feedback, help, direction and support you give us is the only reason why we are still here 15 years later doing what we are doing. THANK YOU!